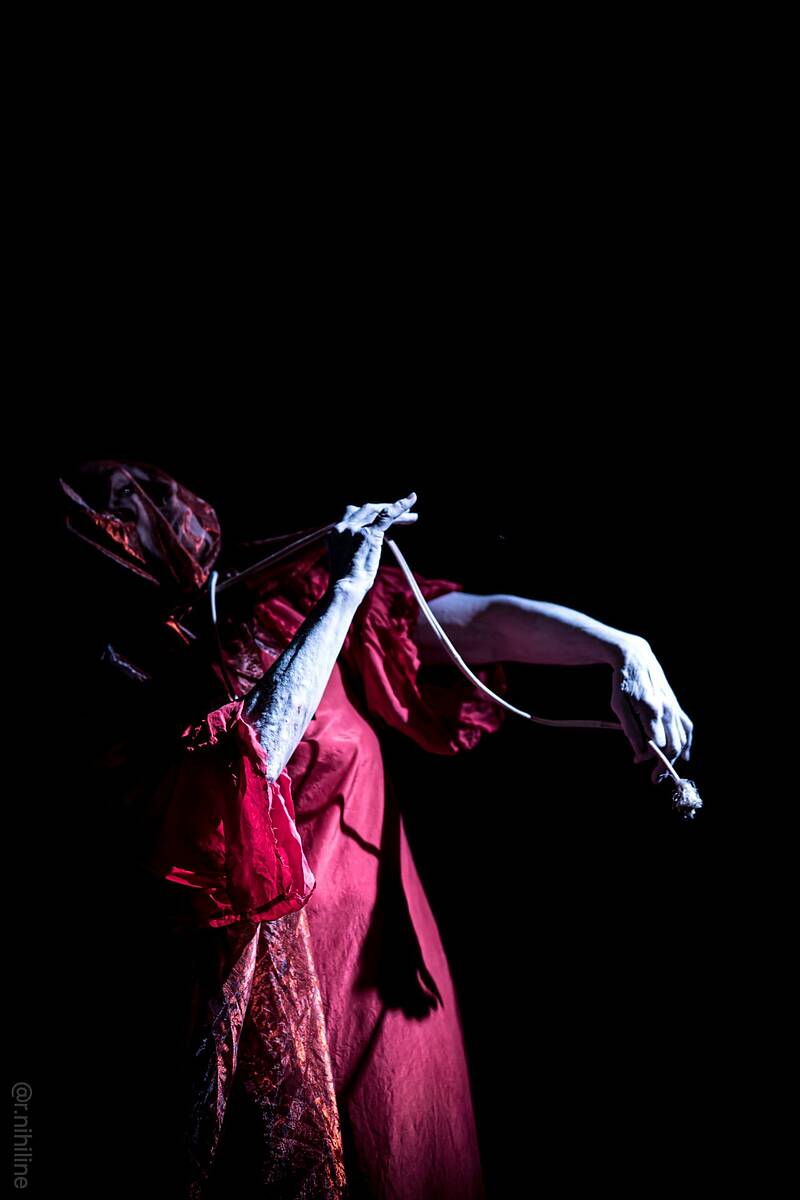 Performance
Rivers Running Red
April 6 – April 8, 2023
8PM
Vangeline Theater/ New York Butoh Institute, in association with Triskelion Arts, presents Rivers Running Red, an iconic work by American Butoh pioneer Joan Laage. Performances are April 6-8, 2023 at 8pm at Triskelion Arts. Tickets are $20 in advance ($25 at the door) and can be purchased at triskelionarts.org/joan-laage-kogut-butoh-2023.
Rivers Running Red is a homage to the female body and menstruation. The piece is inspired by an article exposing the practice in certain traditional societies of sending women off to the mountains to remain in huts and, all too often not surviving the harsh conditions. This practice is fueled by the belief that women are unclean while menstruating. It is also a reflection on this monthly cycle being celebrated as a sacred passage in other cultures. With a commissioned score by Joan's frequent Seattle collaborators Michael Shannon and Joey Largent and costume by Seattle artist Shoko Zama, it was first performed as a duet with Italian Butoh artist Kea Tonetti in Milan, then as a solo in Pontedera, Italy at Spazio NU during Atsushi Takenouchi's intensive workshop event and in Antagon theaterAKTion's Winterwerft Festival in Frankfurt, Germany in 2020, and more recently, in DAIPANbutoh Collective's Seattle Butoh Festival 2021.
Vangeline Theater will open the show with an excerpt of The Slowest Wave. The Slowest Wave investigates through the use of scalp EEG how brain waves during Butoh dancing compare to those emitted during other conscious or unconscious motor behaviors, such as speaking or meditating. Moreover, the study will elucidate the functional neural networks of the dancers and the neural synchrony within and between them. This project is meant to foster connections and understanding between dancers, artists, scientists, engineers, and audiences from around the world.
ABOUT JOAN LAAGE
After studying with Kazuo Ohno and Yoko Ashikawa in Tokyo in the late 80s and performing with Ashikawa's group Gnome, Joan Laage settled in Seattle and directed Dappin' Butoh from 1990-2001. She is a co-founder of DAIPANbutoh Collective, which produces an annual butoh festival. Joan has performed at many festivals including the first New York butoh festival, and most recently, at Vienna's Hybrid Butoh Festival and Paris' En Chair et en Son Acousmatic Festival. A Ph.D. from Texas Woman's University, who wrote on the butoh body and Certified Movement Analyst (NYC), she is featured in Sondra Fraleigh's books and in Tanya Calamoneri's Butoh America. She creates site-specific work for Seattle Japanese gardens annually and tours every winter in Europe. She is an avid Tai Chi practitioner with a background in traditional Asian dance/theater and a professional gardener. Since living in Krakow 2004–2006, she has been known as Kogut (rooster).
ABOUT VANGELINE
Vangeline is a teacher, dancer, and choreographer specializing in Japanese butoh. She is the artistic director of the Vangeline Theater/New York Butoh Institute (New York), a dance company firmly rooted in the tradition of Japanese butoh while carrying it into the twenty-first century. With her all-female dance company, Vangeline's socially conscious performances tie together butoh and activism. Vangeline is the founder of the New York Butoh Institute Festival, whichelevates the visibility of women in butoh, and the Queer Butoh festival. She pioneered the award-winning, 15-year running program The Dream a Dream Project, which brings butoh dance to incarcerated men and women at correctional facilities across New York State.
She is the winner of a 20222/23 Gibney Dance DIP artist Residency; a 2022 National Endowment for the Arts Dance Award; is a 2018 NYFA/NYSCA Artist Fellow in Choreography for Elsewhere, and the winner of the 2015 Gibney Dance Social Action Award, as well as the 2019 Janet Arnold Award from the Society of Antiquaries of London.
www.vangeline.com
VANGELINE THEATER/ NEW YORK BUTOH INSTITUTE aims to preserve the legacy and integrity of Japanese Butoh while carrying the art form well into the future. The unique art of Butoh originated in post-World War II Japan as a reaction to the loss of identity caused by the westernization of Japanese culture, as well as a realization that ancient Japanese performing traditions no longer spoke to a contemporary audience. The Vangeline Theater is home to the New York Butoh Institute, dedicated to the advancement of Butoh in the 21st century.
TRISKELION ARTS, lovingly referred to as Trisk, is an artist-run, nonprofit organization and live performance venue. Trisk offers NYC-based dance and movement artists high-quality, sustainable opportunities to create and present work. Trisk acts as an incubator to counterbalance mainstream ideologies. Trisk partners with artists creating trailblazing work that broadens the cultural dialogue and elevates their community's many voices and perspectives. Trisk is a home for artists and audiences to create and connect, to make things happen, to make magic.
 
Rivers Running Red is supported in part by the Howard Gilman Foundation, the Mertz Gilmore Foundation, an award from the National Endowment for the Arts, and by public funds from the New York City Department of Cultural Affairs in partnership with the City Council, and the New York State Council on the Arts with the support of the Governor and the New York State Legislature.
Related Events
Performance
06/07/23 – 07/02/23
Rent