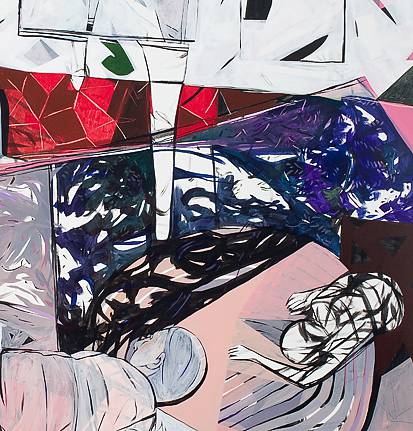 NARS Studio Artists Group Exhibition: unfettered
March 15 – April 28, 2013
6 – 5PM
unfettered
March 15 – April 28, 2013
Opening Reception: Friday March 15, 6 – 8pm
On view in the Parlor Room, and opening concurrently with the annual Juried Solo Exhibition, the New York Art Residency & Studios (NARS) Foundation is pleased to present unfettered, a group show featuring paintings by Jaqueline Cedar, Ketta Ioannidou and Noah Landfield. Their works evoke metaphysical landscapes and traverse sensibilities while exploring the medium with a fresh and viscerally stimulating perspective. Each artist embraces the transformative tension between elements of color, structure, and form. Their pictorial fields create whole environments that are simultaneously immense and intimate; a final destination and a dynamic, directed action. Unhesitatingly emoting bold and rapturous energy, each piece offers viewers an opportunity to engage physically and undividedly.
Jaqueline Cedar is a Brooklyn-based artist. Her solo exhibitions include Pretend to lose your place, Wharton + Espinosa Gallery (2013) and Realm of Interaction, Yace Gallery (2012). Her group exhibitions include Four Artists, Fredericks and Freiser Gallery (2011) and I Am Who I Am: The Portrait Reconsidered, Steven Zevitas Gallery (2011). Cedar has been awarded a Three Arts Fellowship, Columbia University (2008) and a Regents Scholarship, UCLA (2007). Publications include The Huffington Post and New American Paintings. She received her M.F.A. from Columbia University and her B.A. from UCLA.
Ketta Ioannidou received a BA from Central Saint Martins in London and an MFA from School of Visual Arts. She represented Cyprus in the 9th International Cairo Biennale, the 24th Alexandria Biennale and Rome Biennale. Solo shows include chashama and PS122 Gallery in New York, Go North in Beacon, New York, and Diatopos Center of Contemporary Art in Cyprus. Group exhibitions include the Bronx Museum, the Carriage House at the Islip Art Museum, the Indianapolis Museum of Contemporary Art. Awards and residencies include the AIM at the Bronx Museum, Emerge at Aljira and LMCC's Swing Space.
Noah Landfield received his BFA with honors in painting and printmaking at the School of Visual Arts and his MFA in painting at Hunter College. He is the recipient of numerous awards including the Joan Mitchell Foundation Grant for Painters and Sculptors in 2010, and the Tony Smith Award in 2009. He has exhibited his work in galleries and art spaces such as George and Jorgen Gallery, London, Sloan Fine Art, NY, Sideshow Gallery, Brooklyn, and Nurture Art, Brooklyn, among others. He lives and works in Brooklyn, NY.
Organized by
NARS Foundation
Contact
info@narsfoundation.org