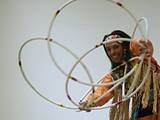 Thunderbird American Indian Hoop Dance with teaching artist Marie Ponce
June 3 – June 24, 2014
6:30PM
Thunderbird American Indian Hoop Dance With Teaching Artist Marie Ponce
Tuesdays, 6:30pm-8:00pm
June 3- June 24, 2014
4 Classes Full Session - $100 / Single Class - $30 Location: Pearl Studios, 500 8th Ave.
Lotus Membership is Required for Prepaid Workshop Rate.
Please Note: Please bring sneakers and loose clothing(jogging pants, dance leotards) suitable for stretching and sweating. Optional: Hoops may be purchased online for this class at www.marieponce.com Native American Indian storytelling dance from Taos, New Mexico celebrates the circle of life bringing the hoops to life in a continuous motion. Optimize stamina, train to dance in area POW wows, and expand your knowledge of Native American culture. Native POW wow songs and drumming, culture, nature regalia tips, resources and events are included. Featured in Indian Country, Marie Ponce is a lifetime member of the Thunderbirds American Indian Dancers which is in its 51st year. Marie Ponce shares over 15 years of expertise as a professional dancer. Her warm-up combines indigenous knowledge with martial arts, modern and yoga to build dancer longevity, stamina, flexibility and balance. Learn fancy dance footwork while transforming the hoops from forces of nature to living beings and back.
Tags
Organized by
Lotus Music & Dance
Contact
info@lotusmusicanddance.org