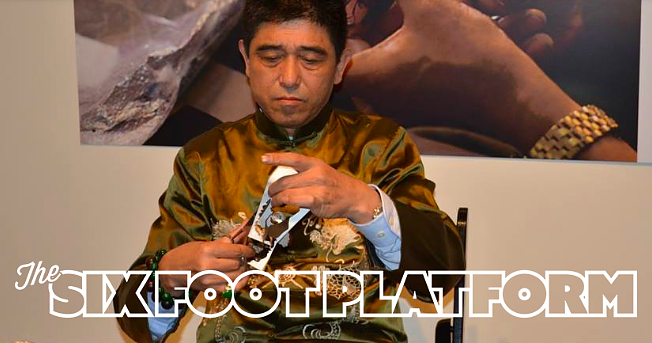 Performance
The Six Foot Platform: A Day in DUMBO : Ming Liang Lu
Saturday, August 6, 2022
1 – 8PM
THE SIX FOOT PLATFORM
An experimental art + performance program presenting Brooklyn-based artists
On a 6x6 Platform
On Washington Street (@Water St.) –Brooklyn's most photographed block.
Summer Saturdays | 1 - 8pm
AUGUST 6
A DAY IN DUMBO
BY MING LIANG LU
3D paper cut portraits for lucky passersby by master paper-cutter MingLiang Lu!
MingLiang Lu "master of 3D paper portrait cutter" was born in Shanghai, China where his artistic practice focused on stone sculpture and the Chinese stone stamp-seal carving. Master Lu practices several ancient Chinese art forms, including teaching Chinese calligraphy, Chinese brush painting, and paper cutting at New York Chinese Cultural Center for over 20 years. Paper cutting dates to the Han dynasty and the muster Lu started exploring paper-cutting art at age of five with his father who encouraged him to learn fine art. His paper-cutting artwork has been exhibited in the American Museum of Natural History and he credits his work. MingLiang Lu has been future on New York Times articles of his 3D paper portrait cutting: Making Faces in the Subway, Using Paper and Scissors.
Lu has been conducting Chinese cultural programs and art workshops for QPL, BPL, and NYPL in person and online since 2016.
MingLiang Lu is New York City Artist Corps Grant Recipient of 2021; New York Brooklyn Arts Council 2022, 2020 Grantee - SUCASA Teaching Artist; at present, he is teaching Chinese Calligraphy, Chinese Brush Painting and Paper Cutting Art at JCCGCI SENIOR CENTER in Brooklyn, CBN COVELLO SENIOR CENTER in Manhattan and CPC NANSHAN SENIOR CENTER in Queens, New York.
PRESENTED BY THE DUMBO IMPROVEMENT DISTRICT IN PARTNERSHIP WITH BROOKLYN ARTS COUNCIL.