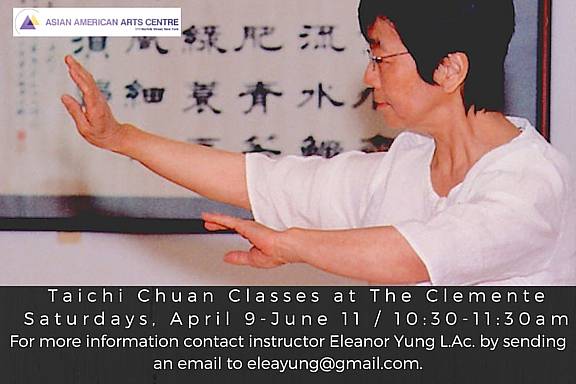 Taichi Chuan Classes at The Clemente
April 16 – June 11, 2016
10:30 – 11:30AM
Taichi Chuan, a martial art form of ancient China, promotes health and wellness. A series of slow continuous movements with low impact on the body, Taichi increases energy and vitality, relieves pain and fatigue, improves balance and coordination, as well as many other health benefits. Coordinated with breathing, Taichi Chuan is known as moving meditation, a practice done regularly builds to enhance mental acuity and wellness.
Classes start on April 9th, and will continue for 8 classes until June 11th except for May 14 and May 28. Classes will take place every Saturday from 10:30 to 11:30 AM at Studio 202 at the Clemente
The cost for the series is $220. CSV residents, CSV and AAAC staff, and seniors enjoy a 40% discount at $130.
Individual classes are $35.
For those interested, please register with instructor Eleanor Yung L.Ac. by sending an email to eleayung@gmail.com.
Organized by
a4 - Network Admin
Contact
alex.f.g.young@gmail.com