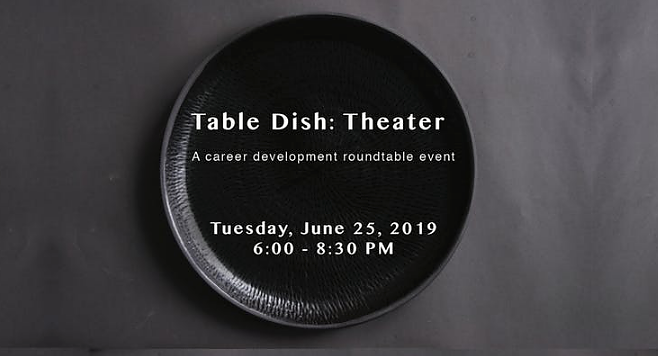 Professional Development
Table Dish: Theater
Tuesday, June 25, 2019
6:30 – 9PM
The Asian American Arts Alliance is excited to launch a new initiative to further the careers of Asian Americans pursuing careers in the arts. Table Dish, our new professional development series, will bring together experts in specific disciplines with aspiring professionals in a roundtable setting to answer questions, provide advice, and create networking and mentoring opportunities.
Our inaugural event focuses on the field of theater. Established professionals (artistic directors, actors, directors, theater designers, playwrights, and producers) will dish out career advice and lead candid discussions about different career paths and opportunities. The roundtables are designed to provide emerging and mid-career professionals the opportunity to network and build relationships with peers and mentors, offer a genuine way for A4 established professional community members to give back, and help nurture Asian American artists and arts leaders to ensure a robust pipeline of talent.
Table Dish: Theater will be composed of three 30-minute networking sessions. Professionals will remain at the same table while small groups of individual participants will move around every 30 minutes to meet with a total of three different leaders.
Participating Leaders:
Pun Bandhu, actor
Clarence Coo, playwright
Nelson Eusebio III, director
David Henry Hwang, playwright
Ying Le, producer
Diana Oh, actor
Suzette Porte, producer
Jeanette Yew, lighting and projection designer
There is a $15 nonrefundable fee to register. Please list your top three leader preferences for networking sessions when you register. Due to the number of participants, we cannot guarantee matches, but the earlier you apply, the better your chances of getting paired with your top choices.
NOTE: Doors open at 6:00 and sessions begin promptly at 6:30. We cannot reschedule your sessions if you arrive late.
Tags
Contact
a4@aaartsalliance.org