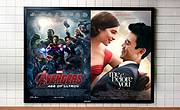 #StarringJohnCho: The Call for an Asian American Lead
May 18 – July 7, 2019
All Day
It's not just a hashtag — it's a cultural movement. Screenwriter, creative strategist, and cultural activist William Yu started the #StarringJohnCho project to address the lack of Asian American representation in Hollywood and to bring to life the idea of an Asian American leading actor.
Now the hashtag is brought to life in a multimedia installation. Reminiscent of a movie theater lobby, the installation invites viewers to the imagined world of John Cho as a lead actor, and makes tangible the possibilities for a new kind of movie going experience for Asian Americans.
Join us for the opening reception: May 18, 5 to 7pm. Free and open to the public.
Tags
Organized by
Pearl River Mart