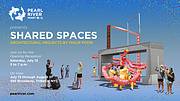 Shared Spaces: Architectural Projects by Philip Poon
July 13 – August 31, 2019
All Day
"Shared Spaces" is an invitation to imagine how people of diverse backgrounds might share the same physical space, particularly Manhattan's Chinatown. Using large scale models and images, architect Philip Poon explores architecture's role in shaping worlds in which those with differing viewpoints, values, and experiences might coincide, and the possible conflicts – and harmonies – that come with that. Three projects will be on display: a proposed Chinatown gateway, a monument to humanitarian Keshia Thomas, and photo-collages documenting Chinatown's changing landscape.
SHARED SPACES will be on view from July 13 through Aug. 31. Join us for the opening reception on Saturday, July 13, from 5 to 7 p.m., in our TriBeCa gallery. Free and open to the public.
THE ARTIST: Philip Poon is an architect based in New York City. After studying architecture at Rice University and English Literature at Columbia University, Philip worked as an architect in Japan, the Netherlands, and Switzerland before completing his Masters of Architecture at the Harvard Graduate School of Design in 2018, where his design thesis was "The New Chinese-American restaurant." His current interest is finding an architecture that represents minority cultures in an increasingly polarized and segregated America.
PEARL RIVER MART GALLERY: Established in 2016, Pearl River Mart Gallery is housed in the iconic, family-owned Asian emporium Pearl River Mart, and is one of few galleries in Lower Manhattan dedicated to showing works that speak to Asian American experiences.
Tags
Organized by
Pearl River Mart