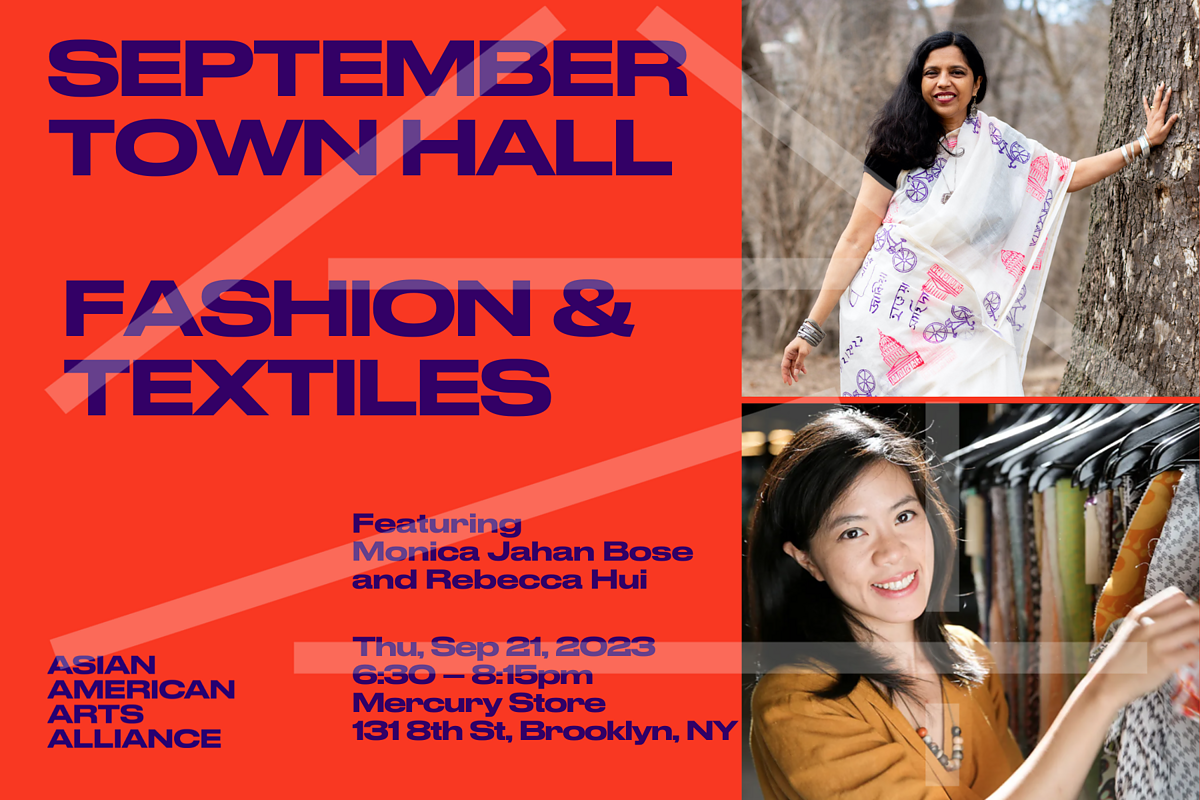 Town Hall
September Town Hall: Fashion & Textiles
Thursday, September 21, 2023
6:30 – 8:15PM
Asian American Arts Alliance (A4) welcomes you to attend and participate in September's Town Hall on Fashion and Textiles in celebration of Textile Month and Fashion Week in NYC. We'll be hosted by Mercury Store in Brooklyn, NY.
The history of textile arts is as old as human civilization; our textiles tell stories and serve many purposes, including as the underpinning of fashion. What we wear, how we wear it, and how it's designed or made holds cultural significance and is one of the most visible forms of expression. As a trillion-dollar global industry, fashion reaches all of us and impacts our climate, well-being, and relationship to our bodies.
We invite you to learn about the diverse and exciting creative projects and opportunities coming out of the Asian American textile arts and fashion community at Town Hall's rapid-fire line-up of pitches, and meet our featured presenters: artist Monica Jahan Bose and Rebecca Hui, CEO and Founder of Roots Studio!
After the presentations, we'll host a potluck, so please bring something to share; homemade or store-bought goods are welcome. Tell us what you're bringing when you RSVP. A4 will provide drinks.
This event is FREE and open to the public. RSVP is required to pitch and/or attend, but you do not have to pitch to attend.
Accessibility: The building is completely ADA accessible. If you need ASL interpretation, large print, or any other accommodations for this event, please email jlee@aaartsalliance.org at least one week before this event.
To keep everyone safe and healthy, if you are not feeling well or have been exposed to COVID-19, please stay home. We will provide masks.
Interested in pitching? Please carefully read about the pitch process below.
About the Pitch Process
A4 Town Halls are a forum to share an upcoming project or exhibition, promote an event or opportunity, find collaborators and venues, or simply introduce yourself to the community. There are two ways to pitch at an A4 Town Hall: a two-minute pitch which requires pre-registering, and a thirty-second pitch which you can sign up for at the event.
Two-minute pitches
Sign up ahead of time for a two-minute pitch by completing the following steps:
Register for a "Pitch" ticket via Eventbrite (either with or without a donation), and

Complete this pitch form with details about your pitch at least three days before the event.
If you do not complete the form by the deadline, you risk not being included in the line-up.
In your pitch form, please include any images, video, or slides you would like presented during your pitch. We encourage you to share your website and social handles so that we can promote on the event page and in the slides – which we share with all attendees after the event. Slides will be presented in the order in which they are uploaded. If you would like to ensure your slides appear in the correct order, please number them. A4 Staff will be compiling and driving the master slideshow. Presenters will not be able to use their devices to present.
We cap the two-minute pitches to 14 total presenters on a first come, first served basis which we will manage through Eventbrite. If we reach capacity, and you would like to be put on the waitlist, please email jlee@aaartsalliance.org.
Thirty-second pitches
After the featured presentations and two-minute pitches, we invite anyone from the audience to provide a thirty-second pitch. This requires signing up at the event via an online form we provide.
About A4's Town Hall
Town Hall is A4's bi-monthly community gathering event that features presentations, pitches, and power networking! We welcome artists of all disciplines, as well as arts organizations, to pitch upcoming projects, find collaborators, or discover new opportunities in a lively space.
About Monica Jahan Bose
Monica Jahan Bose is a Bangladeshi-American artist and climate activist whose work spans painting, printmaking, film, performance, and public art. Her socially engaged work highlights the intersection of climate, racial, gender, and economic injustice through co-created workshops, art actions, and temporary installations and performances. Bose uses the sari — a precolonial 18-foot-long unstitched garment that is always recycled and never discarded — to represent women's lives and the cycle of life on our planet. She has exhibited her work extensively in the US and internationally (20 solo shows, numerous group exhibitions, and more than 25 performances) including solo exhibitions at the Bangladesh National Museum and MACRO Museum of Contemporary Art Rome. Her ongoing collaborative project STORYTELLING WITH SARIS with women farmers from her ancestral island village has travelled to 10 states and seven countries and engaged thousands of people.
About Rebecca Hui
Rebecca Hui is an entrepreneur and artist passionate about bridging cultures globally through beauty and wonder. She is the CEO of Roots Studio, a collective of future-forward creatives, technologists, and indigenous creatives reimagining cultural sustainability onto new formats through equitable bridging. Roots Studio represents 31 indigenous communities globally, bridging indigenous arts and knowledge to partnerships with groups like Patagonia, Chanel, Cartier, amongst others. Roots Studio has been featured in The Business of Fashion as "The Antidote to Cultural Appropriation," and also in Forbes, Vogue Business, PBS, WWD, TechCrunch, MIT Technology Review, Stanford Social Innovation Review, amongst others.
Two-minute pitches:
Amanda Phingbodhipakkiya
Website: www.alonglastname.com
IG: @alonglastname
Chufeng Fang
Studio Wenjüe Lu
Website: www.wenjuelu.com
IG: @wenjuelu
Yanyan Huang
Website: www.cloud-poetry.com
IG: @cloudpoetry_
Georges Bridges
Asian American Film Lab, Inc.
Website: www.film-lab.org, https://www.eventbrite.com/e/unfinished-works-fall-screenplay-reading-workshop-series-tickets-722925358207
IG: @AsAmFilmLab
Rei Xiao
Website: www.reixiao.com
IG: @reixiao_
Rujuta Rao
Ruga Project
Website: www.rugaproject.com, www.rujutarao.com
IG: @rugaproject, @rujutarao
Siyan Wong
Website: www.siyanwong.com
IG: @artistsiyanwong
Kim Westfall
Website: www.kimwestfall.net
IG: @fallwestkim
Sally Kong
Website: www.sallykong.com
IG: @sallylab
Tomo Mori
Website: www.tomomoriart.com
IG: @tomomoriart
Ami Park
Website: www.amipark.com
Shannon Yu
IG: @hsiangru.yu
Lulu Meng
Website: www.lulumeng.space
IG: @lulumeng.space
30-sec pitches:
Caroline Lim
Website: https://www.asianculturalcouncil.org/
IG: @asianculturalcouncil
Shahzad Ahsan
Website: http://wearzorsay.com
IG: @zorsay.nyc
###