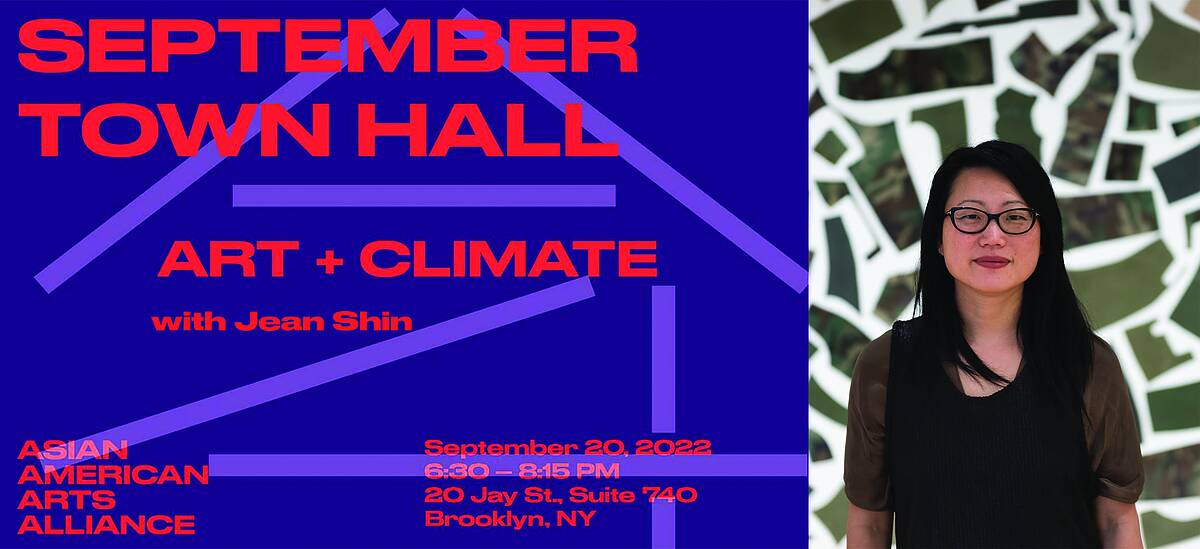 Town Hall
September Town Hall: Art + Climate
Tuesday, September 20, 2022
6:30 – 8:15PM
The Asian American Arts Alliance (A4) welcomes you to attend and participate in our September Town Hall , focusing on the intersection of art and climate.
The climate crisis and our natural environment inform our work and creativity. The AAPI community has been creating more sustainable practices at the individual and industry level, making space to reflect on our relationship to our environment, and telling stories where climate is central.
Learn about the diverse and exciting creative projects and opportunities at the intersection of art and climate during Town Hall's rapid-fire line-up of 60-second pitches, and meet our featured presenter, artist Jean Shin!
Sign up to pitch and share an upcoming project or exhibition, promote an event, ask for help, find collaborators and venues for your work, inform others about an opportunity or residency, or simply introduce yourselves and your work to the community. There will be time to network and converse with fellow attendees.
This event is FREE and open to the public. RSVP is required to pitch and/or attend, but please note you don't have to pitch to attend.
We're excited to see you in-person and welcome you back to our space in DUMBO after a long hiatus due to COVID-19.
To keep everyone safe and healthy, we ask that you respect the following COVID-19 Guidelines in our space:
RSVPs are required to help us prepare and ensure spaciousness and safety;
We require that attendees are fully vaccinated, and remain masked indoors at all times. If you are presenting or pitching work, you may remove your mask for the duration of your presentation;
We encourage attendees to take a rapid test before attending our Town Hall, and to stay home if you are feeling unwell, experiencing symptoms of COVID-19, or have been exposed to anyone who has tested positive within 7 days of the event.
A4 Staff will be monitoring COVID rates in New York City leading up to the event and will confirm and communicate to all registrants whether or not the event will take place in-person at least three days before the event. If COVID rates are high, we will shift our program online to Zoom.
Note: The building is completely ADA accessible. If you need ASL interpretation, large print, or any other accommodations for this event, please email jlee@aaartsalliance.org at least one week before this event.
About A4's Town Hall
Town Hall is A4's bi-monthly community gathering event that features presentations, pitches, and power networking! We welcome artists of all disciplines, as well as arts organizations, to pitch upcoming projects, find collaborators, or discover new opportunities in a lively space.
About Jean Shin (Featured Presenter)
Known for her large-scale installations and public sculptures, artist Jean Shin transforms accumulations of discarded objects into powerful monuments that interrogate our complex relationship between material consumption, collective identity and community engagement. Often working cooperatively within a community or region, Shin amasses vast collections of an everyday object or material—Mountain Dew soda bottles, mobile phones, 35mm slides—while researching its history of use, circulation and environmental impact. Distinguished by this labor-intensive and participatory process, Shin's poetic yet epic creations become catalysts for communities to confront social and ecological challenges. As such, her body of work includes several permanent public artworks commissioned by major agencies and municipalities, most recently a landmark commission for the MTA's Second Ave Subway in NYC.
Born in Seoul, South Korea, and raised in the US, Shin works in Brooklyn and Hudson Valley, New York. She is a tenured Adjunct Professor at Pratt Institute and holds an honorary doctorate from New York Academy of Art. Shin's work has been widely exhibited and collected in over 150 major museums and cultural institutions, including solo exhibitions at The Museum of Modern Art in New York, Philadelphia Museum of Art, Smithsonian American Art Museum in Washington DC, and Asian Art Museum in San Francisco, where in 2020 she was the first Korean-American woman artist featured in a solo exhibition. Shin has received numerous awards, including the forthcoming Frederic Church Award for her contributions to American art and culture. Her works have been highlighted in The New York Times and Sculpture Magazine, among others.
Tags
Organized by
Justine Lee
Contact
jlee@aaartsalliance.org