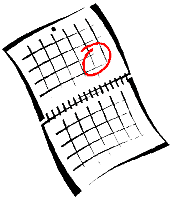 Screening: Alwan & 3rd i NY Present: "Arwad" by Samer Najari and Dominique Chila
Wednesday, February 11, 2015
7 – 9PM
ARWAD Directed by Samer Najari and Dominique Chila Canada, 2013, 105 min (Arabic/French with English subtitles)
Directors Samer Najari and Dominique Chila convey the story of an immigrant from the perspective of Ali, his wife Gabrielle and his mistress Marie. This unconventional and melancholic film strays from chronicles of the current Syrian crisis and focuses instead on unearthing the struggles from within. A sincere, soberly filmed, balanced and consummate debut, Najari and Chila give their characters room for emotional development and exploration.
Arwad
A deep feeling of nostalgia takes hold of Ali following his mother's death, causing him to slowly drift away from his family. Although Gabrielle senses her husband's distress, she fails to console him. In an attempt to reconnect with his roots, Ali travels to Arwad, an island located off the Syrian coast. Leaving Montreal and his family behind, he is accompanied by Marie, his mistress, who is discovering the island for the first time. After an unexpected turn of events, the confrontation between Gabrielle and Marie becomes inevitable.
BIOS
Director SAMER NAJARI was born in Moscow in 1976 to a Syrian father and a Lebanese mother. At 18, he entered Damascus University to study architecture. Having arrived in Canada in 1994, he obtained a Bachelor of Fine Arts in film production at Concordia University in 2000. In 2001, he was selected for a two-year residency at the Studio National des Arts Contemporains in Le Fresnoy, France. Back in Canada, he then made two short films, both of which won prizes in various international festivals. "Arwad" is his first feature film and is co-directed by Dominique Chila. Previous short films by Samer Najari include "La neige cache l'ombre des figuiers" (2010) and "Le petit oiseau va sortir" (2006).
Director DOMINIQUE CHILA was born in Montréal in 1974 from a Canadian mother and an Italian father. She studied photography before moving into film. In 1997, she started her BFA in Film Production at Concordia University. After obtaining her Bachelor's in 2000, she was awarded a two year residency at the Studio National des Arts Contemporains, Le Fresnoy in France. Since returning to Montréal in 2003, Dominique Chila has been working closely with Samer Najari in creating a number of short films. "Arwad" is her first feature-length film and is co-directed by Samer Najari.
Organized by
Alwan for the Arts, 3rd i NY
Contact
sophie.couche@gmail.com