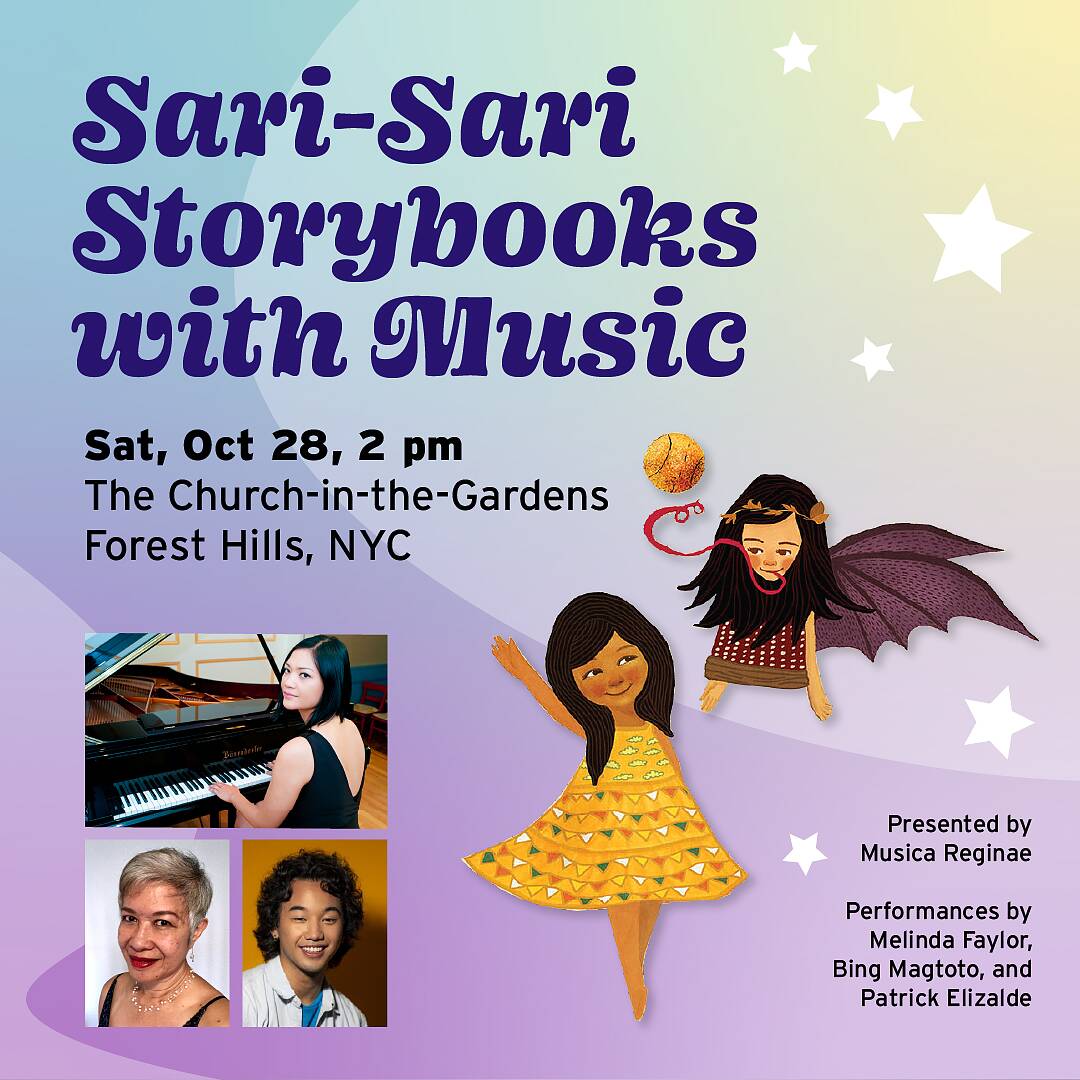 Family Friendly
Sari-Sari Storybooks with Music
Saturday, October 28, 2023
2 – 3PM
These magical children's books take the reader on a journey through the Philippines, from Batanes to Cebu, Leyte to Zamboanga City. The books are read by actors Bing Magtoto and Patrick Elizalde, with music by Melinda Faylor. The music for Sari-Sari Storybooks is inspired by the provinces of the Philippines in which all of the stories take place, using solo piano, nature sounds, and sound effects for an immersive experience. Images of the stunning artwork from each story are projected during the reading.
"Melo the Umang-Boy: an Ivatan Tale" tells the story of a painfully shy little boy living with his grandmother and uncle. One day he visits a magical, busy city on the bottom of the ocean, filled with talking sea creatures. Disaster strikes the city, and he must overcome his shyness to help the sea creatures rebuild. "Kalipay and the Tiniest Tiktik: a Cebuano Tale" shows us how friendship can overcome differences and create happiness for everyone. Daydreaming comes easily to Kalipay, but she doesn't know how to make bullies leave her alone. One day, she makes an unusual new friend in Gamay, who tells the school bully, Juan, to stop teasing Kalipay. Other children are afraid of Gamay—her strange tongue, split body, and bat wings—but Kalipay is fascinated by the things that make her new friend different. "Amina and the City of Flowers: a Chavacano Tale" tells the tale of Amina, a young Yakan weaver, who is homesick for Basilan; but she finds inspiration for her loom in the diversity and color of her new home, Zamboanga City.
Sari-Sari Storybooks are published and written by Christina Newhard, along with co-author Alyssa Sarmiento-Co and illustrators Jaypee Portez, Happy Garaje, and Robbie Bautista. Funding for this project is made possible in part thanks to the New Music USA Creator Fund grant and the Queens Art Fund New Work grant, administered by NYFA and the DCLA.