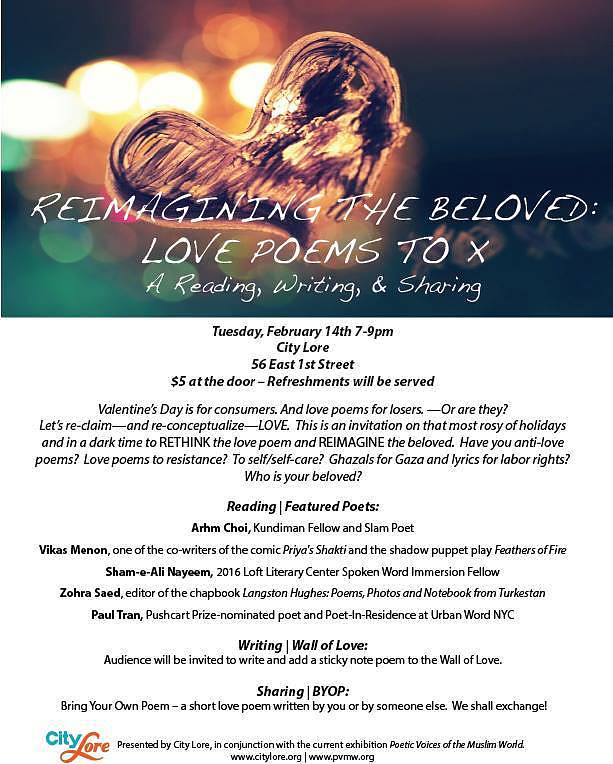 Reimagining the Beloved: Love Poems to X Presented by City Lore
Tuesday, February 14, 2017
7 – 9PM
On the most rosy of holidays and in this dark time, City Lore invites you to RETHINK the love poem and REIMAGINE the beloved. Have you anti-love poems? Love poems to resistance? To self/self-care? Ghazals for Gaza and lyrics for labor rights? Who is your beloved? Share with City Lore's Reimagining the Beloved: Love Poems to X!
READING | Featured poets:
Arhm Choi, Kundiman Fellow and Slam Poet Vikas Menon, one of the co-writers of the comic Priya's Shakti and the shadow puppet play Feathers of Fire Sham-e-Ali Nayeem, 2016 Loft Literary Center Spoken Word Immersion Fellow Zohra Saed, editor of the chapbook: Langston Hughes: Poems, Photos and Notebook from Turkestan Paul Tran, Pushcart Prize-nominated poet and Poet-In-Residence at Urban Word
NYC WRITING | Wall of Love:
Audience will be invited to write and add a poem to the Wall of Love.
SHARING | BYOP:
Bring Your Own Poem - a short love poem written by you or by someone else. We shall exchange! $5 at the door | Refreshments will be served
Learn more