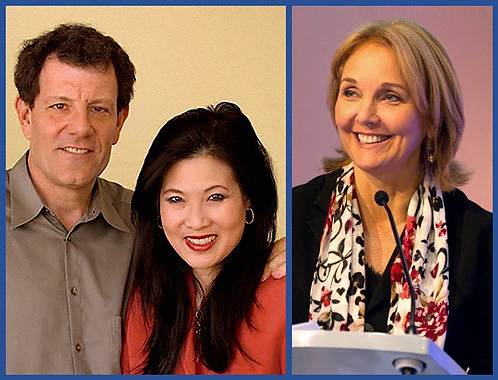 President's Forum: Nicholas Kristof and Sheryl WuDunn
Thursday, February 26, 2015
6:30 – 8PM
Join us for an inspiring evening with Pulitzer Prize-winning journalists and social activistsNicholas Kristof and Sheryl WuDunn. Having built a reputation for insightful and crusading journalism, Kristof and WuDunn are now at the forefront of advocating to change the way we address pressing issues in the world, including violence and women's oppression.
Their book Half the Sky has inspired the Half the Sky Movement, which seeks to put an end to the oppression of women and girls worldwide through a transmedia project involving video, web content, games, and other educational tools. Their latest book, A Path Appears: Transforming Lives, Creating Opportunity, calls for the general public to play a fuller role as global citizens to make the world a better place for all.
At this special program they will join Asia Society President Josette Sheeran for a wide-ranging and provocative discussion involving topics such as China, journalism, advocacy, and philanthropy.
Organized by
Asia Society
Contact
printern@asiasociety.org