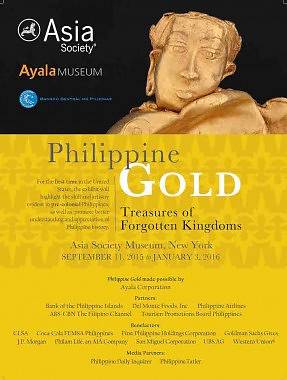 Philippine Gold
September 10, 2015 – January 3, 2016
All Day
Manila, Philippines – This September, Asia Society and Ayala Museum, with special participation from Bangko Sentral ng Pilipinas (BSP), bring a groundbreaking gold exhibition from the Philippines to New York. Between September 11, 2015, to early-January 2016, the exhibit Philippine Gold: Treasures of Forgotten Kingdoms will feature over 120 spectacular gold objects dated between the 10th and 13th century, on loan from the collections of Ayala Museum and the Bangko Sentral ng Pilipinas (BSP).
The Philippine Gold exhibition in New York brings to fore in the world stage a truly fascinating yet little known aspect about the Philippines' rich heritage.
Over a three-month period, Asia Society Museum is hosting a spectacular display of pre-colonial gold treasures such as gold necklaces, chains, waistbands, bangles, ritual bowls, implements, and ceremonial weapons. These rare artifacts reveal the sophisticated civilizations that flourished before the Spaniards arrived at Philippine shores. The gold pieces also portray the thriving maritime trade in the region, exemplifying the influence of Indians, Indonesians, and the Chinese, among other peoples, on the Philippine culture.
Beginning with the opening gala dinner on September 10, an exciting line-up of activities is scheduled to expand the spotlight on Philippine culture. Surrounding programming include academic lectures, a pop-up Philippine food bar, musical events, art and design exhibitions, a film festival and live cultural performances. These activities will be supported by other events organized by Asia Society Philippines in Manila.
Driving the Philippine Gold exhibition are Gala Benefit Committee chairs Doris Masaysay-Ho, Fernando Zobel de Ayala, and Loida Nicolas Lewis, with support from BSP Governor Amando Maglalang Tetangco. For this national undertaking, they have entrusted Nina Capistrano-Baker, curator at Ayala Museum, and Adriana Proser, John H. Foster Senior Curator for Traditional Asian Art at Asia Society New York, to co-curate the Philippine gold treasures at the New York exhibition.
Doris Magsaysay-Ho, Asia Society Philippine chair, believes that the Philippine Gold exhibition is extremely timely just as the country hosts the Asia Pacific Economic Cooperation (APEC) CEO Summit this November. "While the Philippines has a lot of press coming out on economic issues, we thought there could also be a cultural story," says Magsaysay-Ho. "These artifacts are also very little known scholarship-wise, so with the opportunity to bring them to New York, we are holding symposiums that place the collection in the whole realm of historical scholarship in the Austronesian context."
Ayala Corporation's Fernando Zobel de Ayala anticipates the pride the exhibition will instill in Filipinos around the world. "We are delighted to have this opportunity to exhibit this exceptional Filipino 10th to 13th century gold from the Ayala Museum and Bangko Sentral collections at the Asia Society in New York", says Zobel de Ayala. "It will give Americans and visitors to New York the opportunity to get to know more about our rich culture and I have no doubt that it will also give Filipino Americans great pride to see these pieces from their country."
Learn more
Organized by
a4 - Network Admin