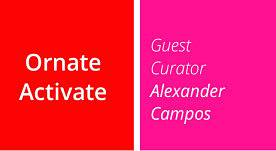 Ornate Activate
June 11 – July 9, 2015
11 – 6PM
Visual Arts Exhibition: Ornate Activate
The South Asian Women's Creative Collective in collaboration with Shirin Gallery is pleased to present SAWCC's Annual Visual Arts Exhibition featuring 22 artists:Ornate Activate.
Guest Curator – Alexander Campos Exhibition Coordinator – Negin Sharifzadeh
Exhibition: June 11 – July 9, 2015 Opening Reception: Thursday June 11th, 6pm – 8pm Walk Through with Curator: Thursday June 25th, 6pm – 8pm
Shirin Gallery 511 W 25th St New York, NY 10001
Ornate Activate examines the use of decorative motifs, architectural elements, cursive scripts and other forms of pattern-making by artists to create and imply content. The exhibition also examines the employment of culturally specific motifs as social and/or political commentary, as well as cultural indicators of historical referencing. The goal of the exhibition is to bring together a body of work that demonstrates a current interest by contemporary artists to merge and reclaim decorative and craft elements as meaningful and critical content signifiers.
Artists: Nida Abidi, Fariba Alam & Shagun Singh, Kamal Badhey, Shelly Bahl, Marcy Chevali, Priyanka Dasgupta, Roya Farassat, Asha Ganpat, Parisa Ghaderi, Zainab Hussain, Monica Jahan Bose, Vandana Jain, Umber Majeed, Radhika Mathews, Indrani Nayar­-Gall, Kaveri Raina, Nirmal Raja, Sausan Saulat, Asma Shikoh, Suran Song, Udita Upadhyaya
Organized by
a4 - Network Admin