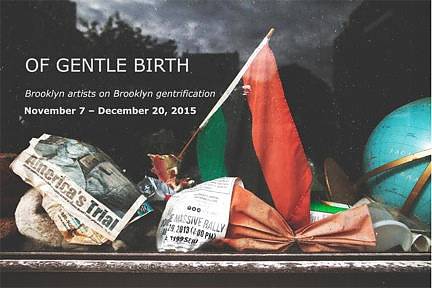 Of Gentle Birth
November 9 – December 20, 2015
All Day
Crown Heights, Bedford-Stuyvesant and Lefferts Gardens are three neighborhoods increasingly populated by newcomers; this change is part of a larger Brooklyn transformation. In response to this, artists from these neighborhoods were asked to produce and share works that engage with these places and themes. Participants are hoping that these artworks, as well as a series of artist talks and readings presented as part of OF GENTLE BIRTH will be a platform for investigative and honest conversation.
Featuring work by:Daniel Bejar Zachary FabriHeather Hart Carl E. Hazlewood Naomi Safran-Hon Steffani Jemison Baseera Khan Kameelah Janan Rasheed Gabriel Specter Hidemi Takagi Claudia Weber
Curated by:Jonathan Allen
November 7 – December 20, 2015Open Thursdays, Fridays, Saturdays12–6pmFREEClosed November 26–29
Saturday, November 7 6–9pmOpening Reception - Join artists and organizers to kick off this group show and series of live events.
November 10 5–7pmARTIST TALK: ALL AMERICAN BOYSNovelists Jason Reynolds and Brendan Kiely read from their unforgettable new novel in which two teens—one black, one white—grapple with the repercussions of a single violent act that leaves their school, their community, and, ultimately, the country bitterly divided by racial tension.
November 18 7:30–9pmPARTICIPATORY EVENT: STORIES OF CROWN HEIGHTSLongtime residents of Crown Heights share personal stories.
December 12 3–5pmPARTICIPATORY EVENT: BARTER TOWNAs part of her ongoing Trading Post series, Heather Hart presents what may look like a carnival or block party but is run on bartering only. Participants are invited to bring ideas, services, songs, stories, unwanted goods, canned goods, handmade art, appliances, anything they think hold value, and haggle for something that they want.
Organized by
a4 - Network Admin