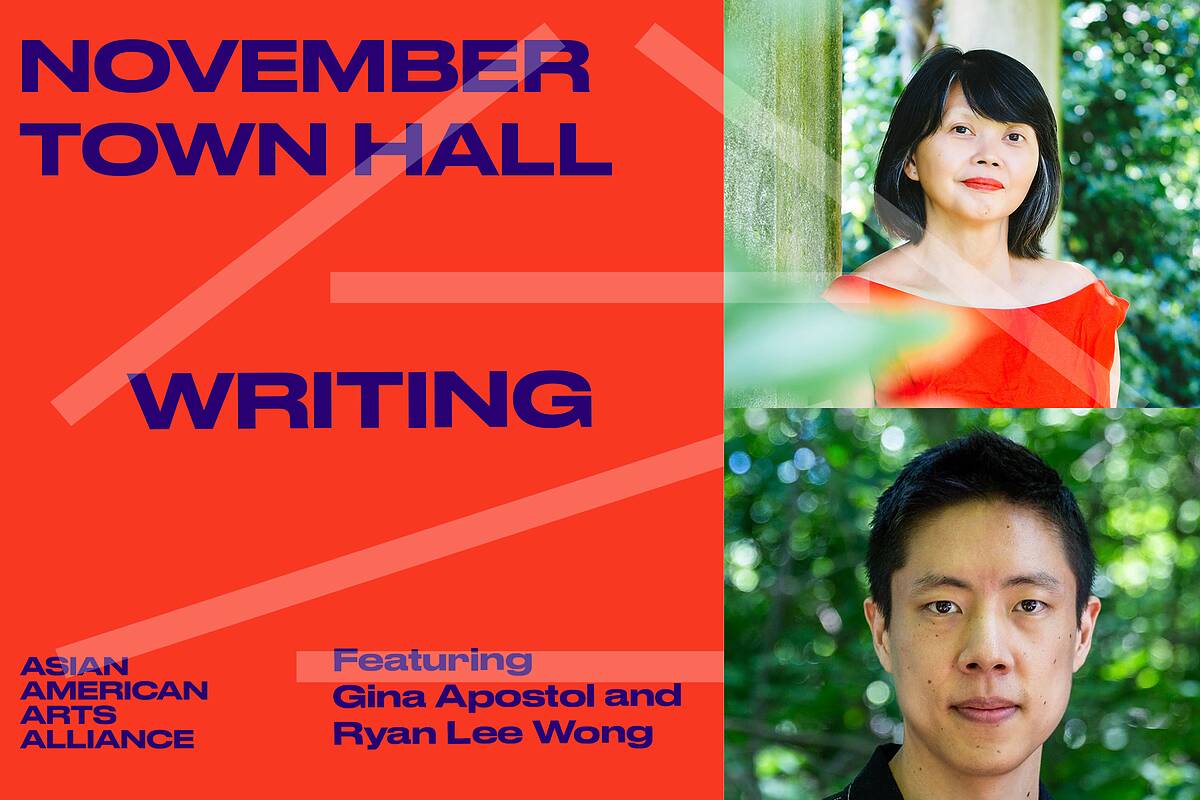 Town Hall
November Town Hall: Writing
Tuesday, November 15, 2022
6:30 – 8:15PM
The Asian American Arts Alliance (A4) welcomes you to attend and participate in our November Town Hall, focusing on writing and literary arts.
The AAPI community has been busy writing, reading, and bringing their stories into the world! We're gathering writers of all forms for our final Town Hall of the year.
Learn about the diverse and exciting creative writing projects and opportunities during Town Hall's rapid-fire line-up of 60-second pitches, and meet our featured presenters Gina Apostol, author of Insurrecto, and Ryan Lee Wong, author of Which Side Are You On Please find their full bios below.
Sign up to pitch and share an upcoming project or exhibition, promote an event, ask for help, find collaborators and venues for your work, inform others about an opportunity or residency, or simply introduce yourselves and your work to the community. After presentations and pitches, there will be time for impromptu 30-second pitches, and to cap it off, time to network in Zoom breakout rooms with fellow attendees.
This event is FREE and open to the public. RSVP is required to pitch and/or attend. Please note, you do not have to pitch to attend—RSVP to enjoy the presentations, idea exchange, and the virtual company of fellow artists and organizers. We'll send the Zoom meeting link to all registered attendees.
If you need ASL interpretation for this event, please email jlee@aaartsalliance.org at least one week before this event.
About A4's Town Hall
Town Hall is A4's bi-monthly community gathering event that features presentations, pitches, and power networking! We welcome artists of all disciplines, as well as arts organizations, to pitch upcoming projects, find collaborators, or discover new opportunities in a lively space.
About Gina Apostol
Gina Apostol won the 2022 Rome Prize in Literature to write her next novel, on womanhood and radicalism in fin-de-siécle Europe. Her last book, Insurrecto, was named by Publishers' Weekly one of the Ten Best Books of 2018, selected as an Editor's Choice of the NYT, and shortlisted for the Dayton Prize. Gun Dealers' Daughter won the 2013 PEN/Open Book Award. Bibliolepsy and The Revolution According to Raymundo Mata, now out in the US from Soho Press, both won the Juan Laya Prize for the Novel (Philippine National Book Award). Her newest book, La Tercera, will be out in May 2023. She has received fellowships from Civitella Ranieri and Emily Harvey Foundation, among other residencies. Her essays and stories have appeared in The New York Times, Los Angeles Review of Books, Foreign Policy, Gettysburg Review, Massachusetts Review, and others. She lives in New York City and western Massachusetts and grew up in Tacloban, Leyte, in the Philippines. She teaches at the Fieldston School in New York City.
About Ryan Lee Wong
Ryan Lee Wong is author of the novel Which Side Are You On He was born and raised in Los Angeles, the son of a fifth-generation Chinese American father and a Korean immigrant mother. Ryan organized the exhibitions Serve the People at Interference Archive and Roots at Chinese American Museum, both focused on the Asian American movements of the 1970s. He has written on the intersections of arts, race, and social movements. He holds an MFA in Fiction from Rutgers-Newark and served on the Board of the Jerome Foundation. He lived for two years at Ancestral Heart Zen Temple and is based in Brooklyn, where he's the Administrative Director of Brooklyn Zen Center.
Tags
Organized by
Justine Lee
Contact
jlee@aaartsalliance.org