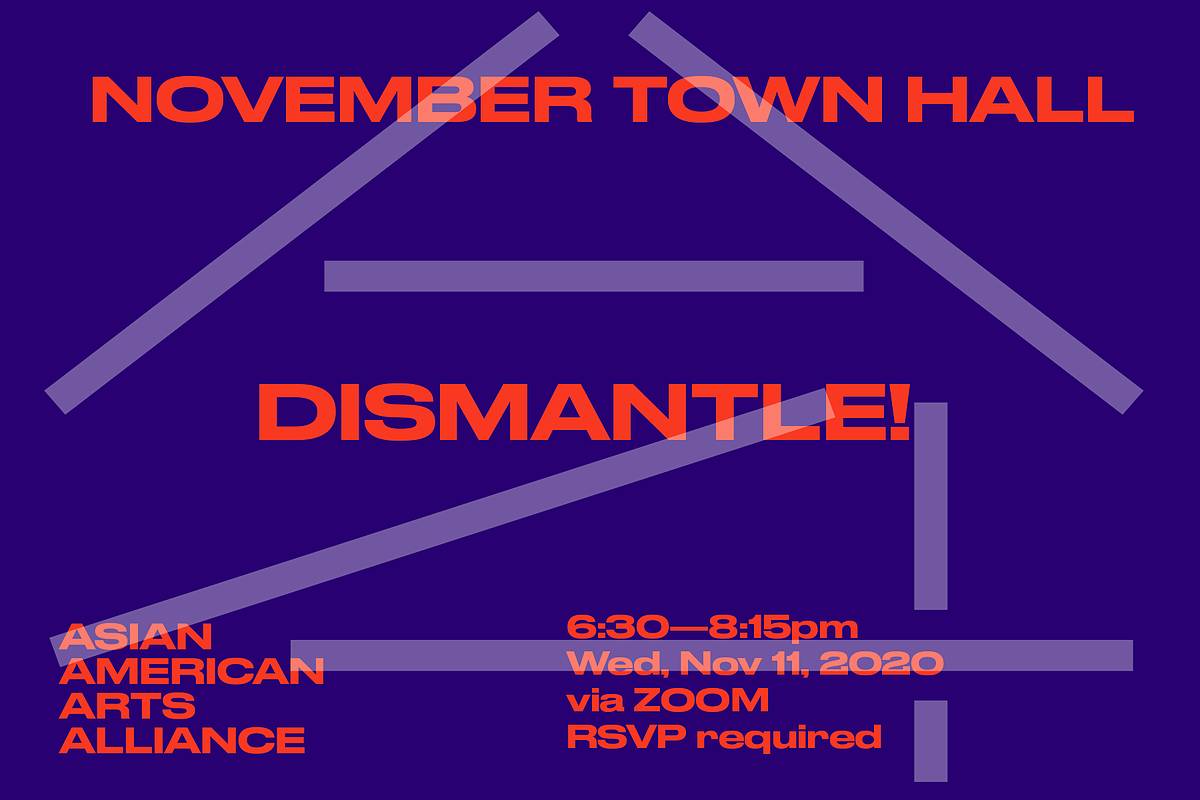 Town Hall
November Town Hall: Dismantle!
Wednesday, November 11, 2020
6:30 – 8:15PM
Asian American Arts Alliance (A4) invites you to participate in our November Town Hall: Dismantle! In times when current systems and ideologies are not working for many of us, we look to artists and creatives to give us inspiration to dismantle and rebuild a more just world. This Town Hall represents a space to showcase those who are pushing the boundaries and fighting for social change, whether as individual artists, collectives, or organizations. It's time to Dismantle!
Featured Presenters:
Artist, activist, and educator Amy Khoshbin will present a survey of her work that aims to push formal and conceptual boundaries of artmaking to foster progressive social change.
Actor, producer, and activist Pun Bandhu is the co-founder of the Obie Award-winning Asian American Performers Action Coalition (AAPAC). He will discuss The Visibility Report, a report presented by AAPAC that covers employment statistics by race for actors, playwrights, composers, librettists, and directors for the 2017-18 season for all of Broadway and the 18 largest non-profit theatre companies in New York City.
Sign up to pitch and share your idea or project, promote an online event, ask for advice, find collaborators and resources for your work, or simply introduce yourself to the community. Each pitch is 60 seconds long, though we are happy to make accommodations as needed!
Pitches:
Asian American Film Lab
www.film-lab.org
IG: @AsAmFilmLb
Hypokrit Theatre Company
www.hypokritnyc.org
IG: @hypokritnyc
Crossing Jamaica Avenue
www.crossingjamaicaavenue.org
IG: @crossingjamaicaavenue
The Industry Standard Group
www.theindustrystandardgroup.com
IG: @TISG_Fund
After the pitches and presentations, stick around for some virtual networking and conversation in Zoom breakout rooms with fellow attendees. Instead of our usual potluck, we're asking participants to share a resource that fits into the topics of this event. It can be a quote, a funding campaign, a social media post, a book, a song, or anything.
You don't need to pitch to attend—RSVP to enjoy the presentations, idea exchange, and the virtual company of fellow artists and organizers!
This event is FREE and open to the public. RSVP is required to pitch and/or attend. We'll send the Zoom meeting link to all registered attendees.