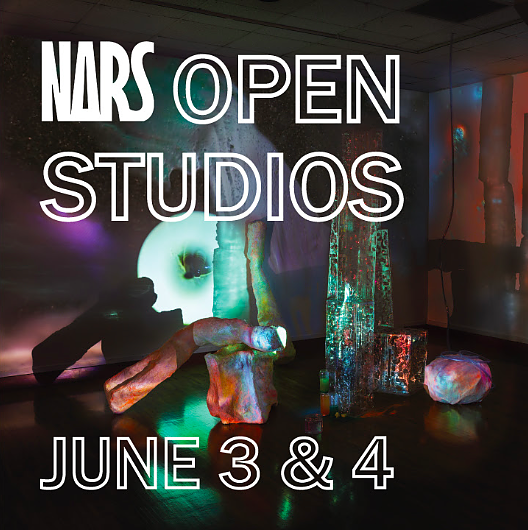 Exhibition
NARS 2022 Spring Open Studios
June 3 – June 4, 2022
6 – 5PM
NARS Spring Open Studios, a two-day exhibition of international contemporary art, showcases the residency and studio artists working in our growing artist community. This event, co-presented with J&M Studios, invites the public to meet over 50 artists from all over the world and to experience the artistic process and the diverse range of artistic mediums presented in the intimacy of the studio environment.
Friday, June 3 | 6-9 pm
Saturday, June 4 | 1-5 pm
In parallel with our Open Studios, NARS is pleased to present the openings of Memento Mori: The Approachable Shining Stars, a solo exhibition by NARS Alumni Ming-Jer Kuo, and /ˈkapCHər/, the Season II International Residency Exhibition. Both opening receptions will take place on June 3, from 6-9pm.
Featuring NARS Residency Artists:
Allyson Glenn | Anne Büscher | Daniel Anthony Vasquez | Guillaume Adjutor Provost | Huidi Xiang | Hyemi Kim | Hyeree Christina Mary Ro | Jennifer Chia-Ling Ho | Jenny Rafalson | Jon Ek | Katie Hubbell | Kumi Kaguraoka | Layla Klinger | Lau Wai
J&M Studio Artists:
Amanda Leung | Ana Villagomez | Angela Kehlenbeck | Anissa Lewis | Carole d'Inverno | Charlotte Laporte | Cindy Zaglin | Cj Priester | Damien Ding | David Lindberg | Douglas Paisley | Fred Fleisher | Ginna Triplett | Ian Myers | Isabelle Fernandez | Jean Auguste Alix | Kalya O'Donoghue | Katherine Kisa | Liva Isaksson | Lucy Nordlinger | Mari Renwick | Matt Ro | natchie | Naomi Andree Campbell | Naomi Nakazato | Niamul Bari | Nikolina Kovalenko | Peter Walsh | Rachael McArthur | Ragini Bhow | Richard Kessler | Richard Rosenblatt | Rives Wiley | Robert Melzmuf | Skyler Ford | Sophia Chizuco | Sparklezilla | Stephanie Hargrave | Tara Ohanian | Umber Majeed | Weston Frazor
Directions: NARS is two express subway stops from Manhattan. Take the "N" or "D" to 36 St. Transfer to the "R" one stop to 45 St. Walk to 46th Street then make a right and walk down 46th street to the building on the corner of 46th street and 2nd Ave on the right.