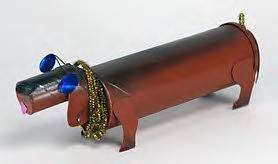 MOCACREATE: DIY Toys
Saturday, June 20, 2015
1 – 4PM
Explore the whimsical world of Tyrus Wong's toys and create your own toy using recycled materials, paint, and clay, design toys as gifts or toys for play.
Enjoy MOCACREATE drop-in art workshops every 1st and 3rd Saturday of the month, 1-4pm! Click here to find out more about upcoming MOCACREATE workshops.
Photo Credit: Tyrus Wong (China, b. 1910) Mae West daschund, c.2004. Holiday toy for daughters. Recycled material, paint, opaque watercolor, cardboard, metal, tinsel, peanut shell nose. Courtesy of Tai-­‐Ling Wong.
Organized by
a4 - Network Admin