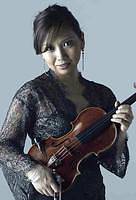 Meg Okura and the Pan Asian Chamber Jazz Ensemble
Wednesday, May 20, 2015
7 – 8PM
HAMILTON-MADISON HOUSE
presents
Meg Okura and the Pan Asian Chamber Jazz Ensemble
featuring Helen Sung and Sam Newsome
In Celebration of Asian Pacific American Heritage month
A Benefit for the Hamilton-Madison House Music School
Wednesday, May 20th, 7pm
What: Meg Okura and the Pan Asian Chamber Jazz Ensemble
When: Wednesday, May 20th, 7pm
Where: Mariners' Temple Baptist Church, 3 Henry Street, New York, NY, 10038
Cost: Tickets $55, $25, $15 (students/seniors)
New York, NY: Thursday, May 20th In Celebration of Asian Pacific American Heritage month, Hamilton Madison House will present Meg Okura and the Pan Asian Chamber Jazz Ensemble featuring Helen Sung and Sam Newsome, Thursday, May 20, 2015. Proceeds from the event will go to benefit the Hamilton Madison House Music School.
Ticket can be purchased at https://www.eventbrite.com/e/hamilton-madison-house-presents-meg-okura-and-the-pan-asian-chamber-jazz-ensemble-tickets-16403466209?aff=es2
The Grammy nominated violinist, founder and the leader of the Pan Asian Chamber Jazz Ensemble, Meg Okura is originally from Japan, and made a difficult switch to jazz after graduating from Juilliard as a classical violinist. Hailed by the New York Times as "vibrant" and "sophisticated," the Pan Asian Chamber Jazz Ensemble "successfully blends the musical cultures of East and West for a new and exciting direction in modern jazz expression." (Inside New York Magazine), featuring some of the best musicians in jazz today.
The evening will feature a premiere American jazz pianist Helen Sung, a native of Austin, Texas who is an American-born Chinese, Sam Newsome, one of the top soprano saxophonists in the world.
About Meg Okura & The Pan Asian Chamber Jazz Ensemble
Founded by a Grammy nominated violinist Meg Okura, the Pan Asian Chamber Jazz Ensemble "elegantly intertwine(s) elements of classical, jazz and world folk into a new sound," - Elliot Simon, All About Jazz (2006). Born in Tokyo, Okura toured all of Asia as a solo violinist, making her U.S. debut at Kennedy Center as a teen. Graduate of the Juilliard School, she has appeared on over 50 albums and film scores as a composer, violinist and an erhu player, and has performed with artists from Lee Konitz, Steve Swallow, Michael Brecker, Dianne Reeves, to Cirque du Soleil and David Bowie, to actor Terrence Howard. The P.A.C.J.E. has appeared in a range of venues from Knitting Factory to Lincoln Center, the NYC Winter JazzFest, to KL International Jazz Festival, sold-out concerts tours in the Midwest, California and Japan. The ensemble's self-titled debut album was the finalist in the Best Album of 2006 Independent Musicians Awards. Okura was named "the queen of chamber jazz" in 2010 by the All About Jazz after the release of their second album "Naima". In 2013, the ensemble released "Music of Ryuichi Sakamoto", featuring pianist Helen Sung. The ensemble will be recording its first Jewish/Asian themed album "L'dor Vador" (from generation to generation) this year.
Tags
Organized by
a4 - Network Admin