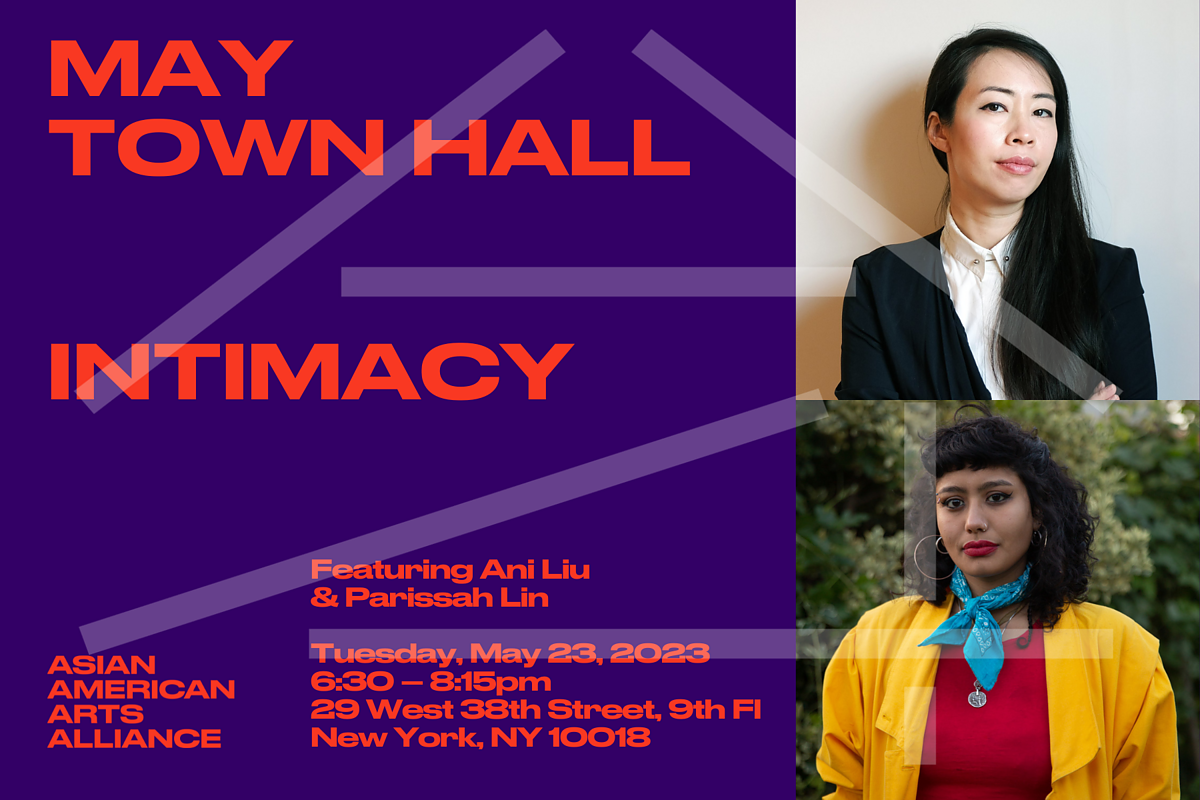 Town Hall
May Town Hall: Intimacy
Tuesday, May 23, 2023
6:30 – 8:15PM
This Town Hall examines how the AAPI community has looked at and fostered connection to the self, and to each other, whether it be through friendship, family, community, parenthood, sex, or romance.
Learn about the diverse and exciting creative arts projects and opportunities coming out of the Asian American community during Town Hall's rapid-fire line-up of pitches, and meet our featured presenters artists Ani Liu and Parissah Lin!
After the presentations, we'll host a potluck, so please bring something to share; homemade or store bought goods are welcome. Tell us what you're bringing on our signup form. A4 will provide drinks.
Interested in pitching? Please carefully read about the pitch process below.
This event is FREE and open to the public. RSVP is required to pitch and/or attend, but please note you do not have to pitch to attend.
Accessibility: The building is completely ADA accessible. If you need ASL interpretation, large print, or any other accommodations for this event, please email jlee@aaartsalliance.org at least one week before this event.
To keep everyone safe and healthy, if you are not feeling well or have been exposed to COVID-19, please stay home. We will provide masks to anyone who wants them.
About the Pitch Process
A4 Town Halls are a forum to share an upcoming project or exhibition, promote an event or opportunity, find collaborators and venues, or simply introduce yourself to the community.
There are two ways to pitch at an A4 Town Hall: a two-minute pitch which requires pre-registering, and a 30-second pitch which you can sign up for at the event.
2-min pitch
Sign up ahead of time for a 2-minute pitch by completing the following steps:
Registering for a "RSVP + Pitch" ticket via Eventbrite, and

Completing this pitch form with details about your pitch at least 3 days before the event.
If you do not complete the form by the deadline, you risk not being included in the line-up.
In your pitch form, please include any images, video, or slides you would like presented during your pitch. We encourage you to share your website and social handles so that we can promote on the event page and in the slides (which we share with all attendees after the event). Slides/images will be presented in the order in which they are uploaded. If you would like to ensure your slides/images appear in the correct order, please number them.
A4 Staff will be compiling and driving the master slideshow. Presenters will not be able to use their devices to present.
IMPORTANT NOTE: In the past, each presenter was allotted 1 minute to give a pitch. We have increased the allotted time to 2 minutes in response to audience feedback. To stay on time, we plan to cap 2-minute pitches to 14 total presenters on a 'first come, first serve' basis which we will manage through Eventbrite. If we reach capacity, and you would like to be put on the waitlist, please email jlee@aaartsalliance.org.
30-sec pitch
After the featured presentations and 2-minute pitches, we invite anyone from the audience to provide a 30-sec pitch. This requires signing up at the event via an online form we provide.
Community Safety Statement
We aim to create environments in person and online that are welcoming, inclusive, and safe – physically and emotionally – for our community members. If we observe actions or behaviors that can be interpreted as harmful or threatening, A4 retains the right to use our discretion and remove the offending party. For our community's safety, we further reserve the right to suspend an offending party's attendance at A4 events both in-person and virtual in perpetuity and removal from our online offerings (e.g. newsletter).
When you register for an A4 event, you will be asked to agree to this community statement. If you have any questions about this, please email a4@aaartsalliance.org.
About A4's Town Hall
Town Hall is A4's bi-monthly community gathering event that features presentations, pitches, and power networking! We welcome artists of all disciplines, as well as arts organizations, to pitch upcoming projects, find collaborators, or discover new opportunities in a lively space.
About Ani Liu
Ani Liu is an internationally exhibiting research-based artist working at the intersection of art & science. Ani's work examines gender politics, labor, reproduction, simulation and sexuality. Integrating emerging technologies with cultural reflection and social change, Ani's most recent work examines the biopolitics of care work and motherhood. Ani's work has been exhibited internationally, at the Venice Biennale, Ars Electronica, Kunstmuseum, the Queens Museum, MIT Museum. Ani's work has been featured in The New York Times, Art in America, National Geographic, VICE, Mashable, Gizmodo, TED, PBS, the Brooklyn Rail, Hyperallergic and WIRED. She is currently an Associate Professor of Practice at the University of Pennsylvania. Learn more: https://ani-liu.com/
About Parissah Lin
Parissah Lin is an educator, researcher, and media maker. Their focus interrogates visual and performance arts as a site through which diasporic, indigenous, and post-colonial identities can resist, refuse, or subvert the violence produced by colonialism and imperialism. Using the language of critical race and performance theory, post/anti-colonial and indigenous studies, and social and cultural analysis, they attempt to disrupt the frame by which power and identity are produced through narrative practice. Their artistic praxis uses video art, archival and collected footage, public mourning, and performance. They are a founding member of the Yellow Jackets Collective a queer intersectional and interdisciplinary collective of East Asians collaborating towards radical futures that centralize marginalized bodies. The collective's work has been activated at the New Museum, the Metropolitan Museum of art, the Museum of the City of New York, The Brooklyn Museum and MOCADA. Their speaking engagements include NYU, RISD, The New School, Columbia, Barnard, and Oberlin.
Featured Presenters:
Ani Liu
Website: https://ani-liu.com/
Instagram: @ani.liu.studio
Parissah Lin
IG: @Yellowjacketscollective, @wonton.titties
Venmo: @yellowjacketscollective
Two-minute pitches:
Kyle Lui
Website: www.kyle-lui.com
IG: @bykylelui
Paul Jochico
Website: www.kapwa.yoga
IG: @pjinmotion and @kapwa.yoga
Sita Chay
Website: www.sitachay.com
IG: @sitachay
FB: @sita.chay
Charlene Kaye
Website: www.kayeofficial.com
IG: @charlenekaye
Kyoung eun Kang
Website: www.kyoungeunkang.com
IG: @kyoungeunkang_studio
Zoe Kim
Seoulful Productions
Website: www.seoulfulproductions.org
FB/IG: @seoulfulproductions
TW: @SeoulfulProd
Huey-Min Chuang
Website: www.HMC88.com, www.taac-us.org/
IG: @ hueyminchuang
Jieun Ko
Website: www.jieunandgreg.com
FB/IG: @jieunandgreg
Siyi Chen
IG: @siyichenlalala
Mia Rubin
Website: www.fortgreenepark.org/
IG: @fortgreenepark
Sophia Park
Website: www.myungrangpark.com
IG: @sophia_sofaar
Priya Mishra
Website: www.priyamishra.co
IG: @priyamishra.mkv
Melani DeGuzman
Website: www.melanideguzman.com
IG: @breathemelani
Marie Lloyd Paspe
Website: www.marielloydpaspe.com/
IG: @mmmlloyd
Hailey Savage
Website: www.keepsakehouse.com
FB/IG: @keepsakehouse
30-sec pitches:
Neil Yamamoto, Worthless Studios, @bigappleboy @worthlessstudios
Rikin Shah, @empathymanthefilm
Kimberly Young Sun, koreanamericanstory.org, @kimberlyyoungsun + @koreanamericanstory
fran yu, @caocollective
###