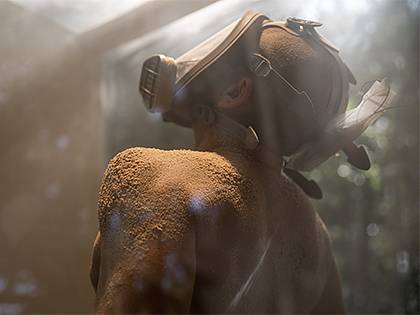 Performance
LEIMAY Residency
August 4 – August 14, 2021
12AM
Hurleyville Performing Arts Centre is delighted to host multidisciplinary Colombian and Japanese born artists Ximena Garnica and Shige Moriya with their New York City-based LEIMAY Ensemble for a performing and teaching residency during the month of August 2021. LEIMAY will present an outdoor public art work, lead workshops and discussions that offer multiple opportunities to engage through embodied dialogue with the artists while they are in residency.
Wednesday, August 4th 6-7:30pm | Workshop LEIMAY LUDUS: Dancing with the Environment For Teens & Adults (15 & Over)
What happens to our bodies when we encounter the unknown? In this class, we will experience an interplay between materials and bodies and how each is affected by the other through interdependence. (Under age 18 free)
Friday, August 13, 2021 | Correspondences Activation Performance, Discussion and Dinner.
Special Opening Performance, Night Time Viewing with dinner pre-fixe, Cash Bar & priority seating for the Q&A following the free performance.
The Tango Cafe @ HPAC: Dinner starts at 6:30. Activation and discussion 8:00 – 10:00 pm
$40.00. $30 for members | BUY TICKETS HERE
• Appetizer
• Entree / Food restrictions considered with advance requests
• Dessert
Pre Fixe reservation available until August 6th. Cancellation refund with 48 hours notice.
35 minute activation/performance followed by a discussion with a focus on…
– How are we reshaping environmental ethics?
– What does it mean to center and then de-center human life in our understanding of the
world?
– How do embodied practices like dance/performance/movement help us answer these
Questions?
Saturday, August 14th 2021 | Correspondences
- Activations/Performances and Family Mini-Workshops
All Workshops are (Bilingual English/Spanish) and outdoors if weather permits. Refreshments and facilities are available.
Schedule:
1pm-1:35pm | Activation 1
1:50-2:05 | Mini-workshop 1
3:00-3:35 | Activation 2
3:50pm-4:05pm | Mini-workshop 2
5:00-5:35 | Activation 3
5:50-6:05 | Mini-workshop 3
8pm-8:35 | Activation 4
Aug 11-Sep 13 | Correspondences - The Audience Files

A growing oral and written interactive archive for audiences to engage with over conversation by sharing their responses to questions of being, interdependence, connectivity, and environmental ethics. QR codes located at Fireman's Park and various tables at Tango Cafe guide audiences to engage online with the work. Correspondences Audience Files will be open to the public to engage for 30 days starting a week prior to the installation launch. (August 5th, 2021) www.correspondencesfiles.leimay.org