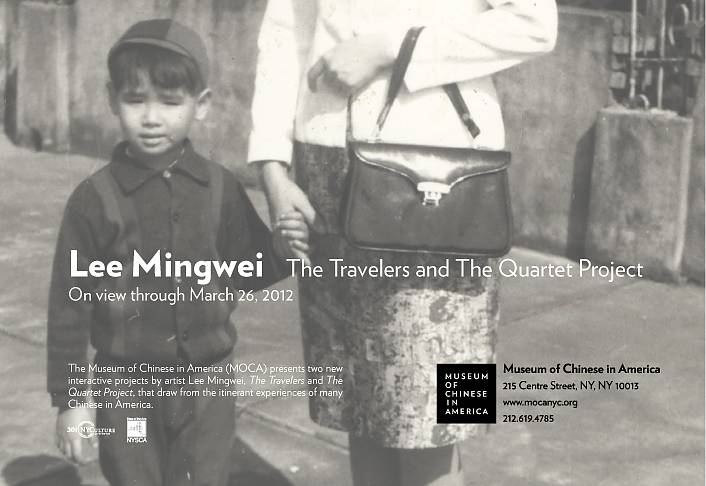 Lee Mingwei's The Travelers and The Quartet Project
December 7, 2011 – March 26, 2012
All Day
The Museum of Chinese in America (MOCA) is pleased to present a solo exhibition of two ground-breaking new works by Taiwan-born American conceptual artist Lee Mingwei: The Travelers and The Quartet Project, which will be shown from October 20, 2011 through March 26, 2012. This show coincides with Lee's solo exhibition, The Moving Garden, opening at the Brooklyn Museum on October 5, 2011.
The Travelers (旅人計畫) is a participatory work commissioned by MOCA that began in September 2010 when Lee and MOCA released 100 journals designed by the artist to friends, family, acquaintances, and the general public. Having departed from their "home village" at the Museum, the books have been travelling around the world for the last year, passed from person to person like a chain letter with each participant adding a personal story about "leaving home" at some point in his or her life. The journals eventually made their way back to MOCA, where they are exhibited as part of Lee's show. The installation features a reading room with furniture designed by the artist, offering visitors the chance to peruse the books in solitude. The Travelers was inspired by Lee's itinerant childhood as well as the stories of Chinese immigrants that are depicted as part of MOCA's permanent exhibition.
The Quartet Project (四重奏計畫) is an interactive video installation conceived in 2005 which also invites viewer participation and explores the notion of leaving home. Each of four monitors facing its own wall in a darkened gallery depicts a violinist performing an excerpt from Antonín Dvořák's American String Quartet. Viewers dictate in real time how the piece is orchestrated by activating or amputating parts of the music as they approach or walk away from the monitors. The piece is a personal response to the experience of a displaced Dvořák in America and suggests a central paradox of perception: sometimes the closer we get to a subject, the harder it is to understand. The Quartet Project was inspired by the classical music that Lee's parents frequently played at home in Taiwan, and Dvořák's composition is what ironically reminded him of his homeland when he moved to America.
Tags
Organized by
Museum of Chinese in America