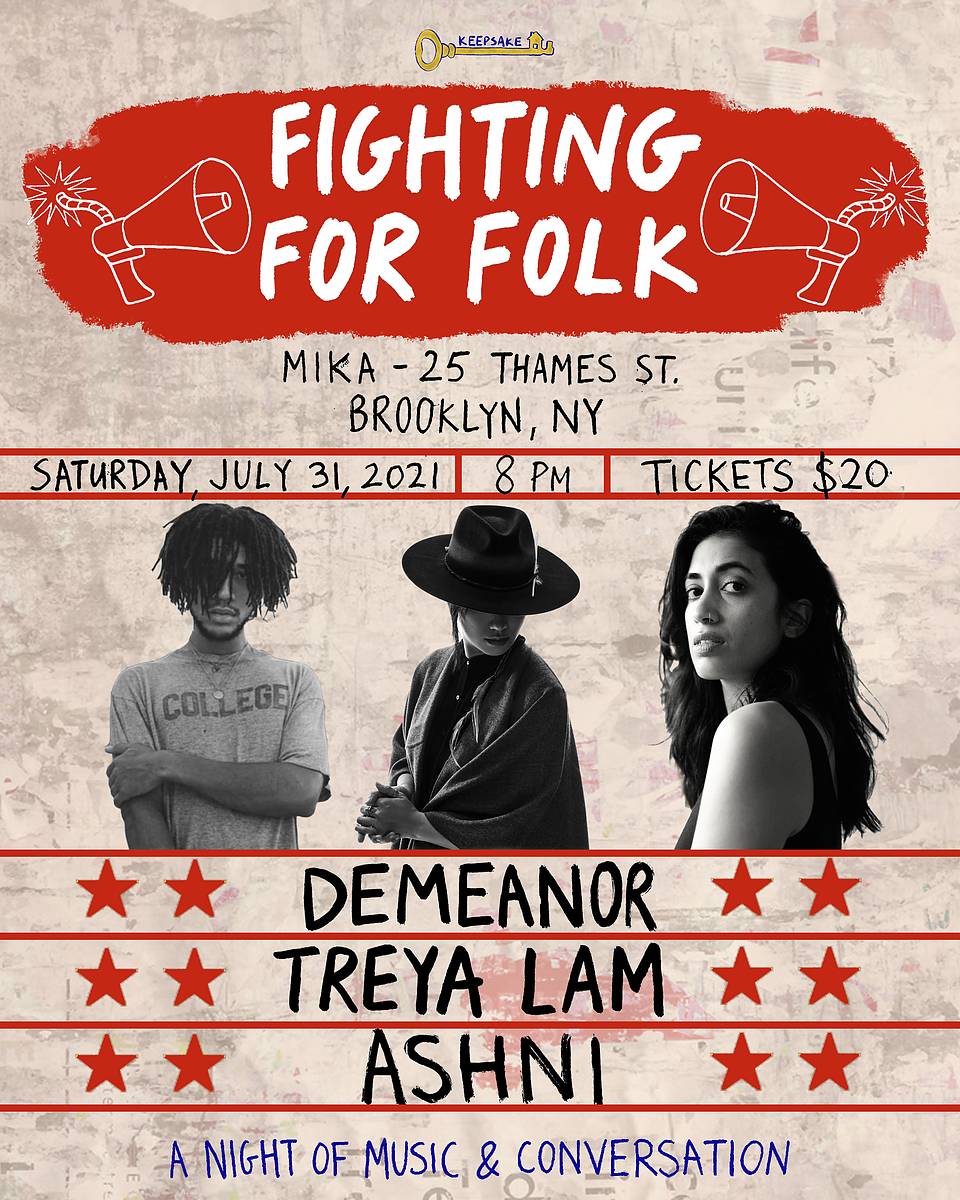 Concert
Keepsake House presents: Fighting for Folk
Saturday, July 31, 2021
8 – 10PM
Making folk music is a call to action and an invitation to share perspectives. This July, grab a drink and head to the Keepsake House town hall to join together for a night of music and conversation with Ashni, Demeanor, and Treya Lam. Artists will sing, speak to the role of social activism in their songwriting, and dive into the meanings of historical and contemporary folk music from blues to jazz, Appalachian folk, hip hop, Hindustani classical, Taiwanese folk, and more.
Ashni is a Brooklyn-based singer, songwriter, and pianist. Her relationship with the stage began with classical North Indian dance, Kathak, and western classical piano. A first-generation Indian American, she grew up absorbing the voices of both Hindustani classical and jazz music that were often floating around her childhood home. From these roots, she incorporates her love for pop, folk, and R&B, and envelops listeners in a reflective, cathartic dimension. Her work meditates on the relationships we build with the self, others, and community.
Justin "Demeanor" Harrington is an artist born in Greensboro, North Carolina. Merging hip hop and unorthodox folk elements, Harrington bridges the gap between contemporary and traditional cultural music. Professionally trained as an actor, he weaves storytelling and character to engage and inspire all around him.
Treya Lam is an American multi-instrumentalist and songwriter whose joyously complex identity informs but does not define their work, whether solo or when collaborating with a variety of multidisciplinary ensembles. Their strident voice, politically charged songwriting and fluent instrumental prowess on guitar, piano and strings recalls Nina Simone and Andrew Bird. Their debut album "Good News" was released via Kaki King's label, Short Stuff Records. Lam is currently developing "otherland" - an audiovisual chamber-folk album on radical self acceptance, intersecting identities and healing in the wake of grief and loss.
Note: This show will be located in Mika's outdoor patio. All artists, hosts, and staff are fully vaccinated and guests are encouraged to wear masks when moving around the bar if they are not yet fully vaccinated.