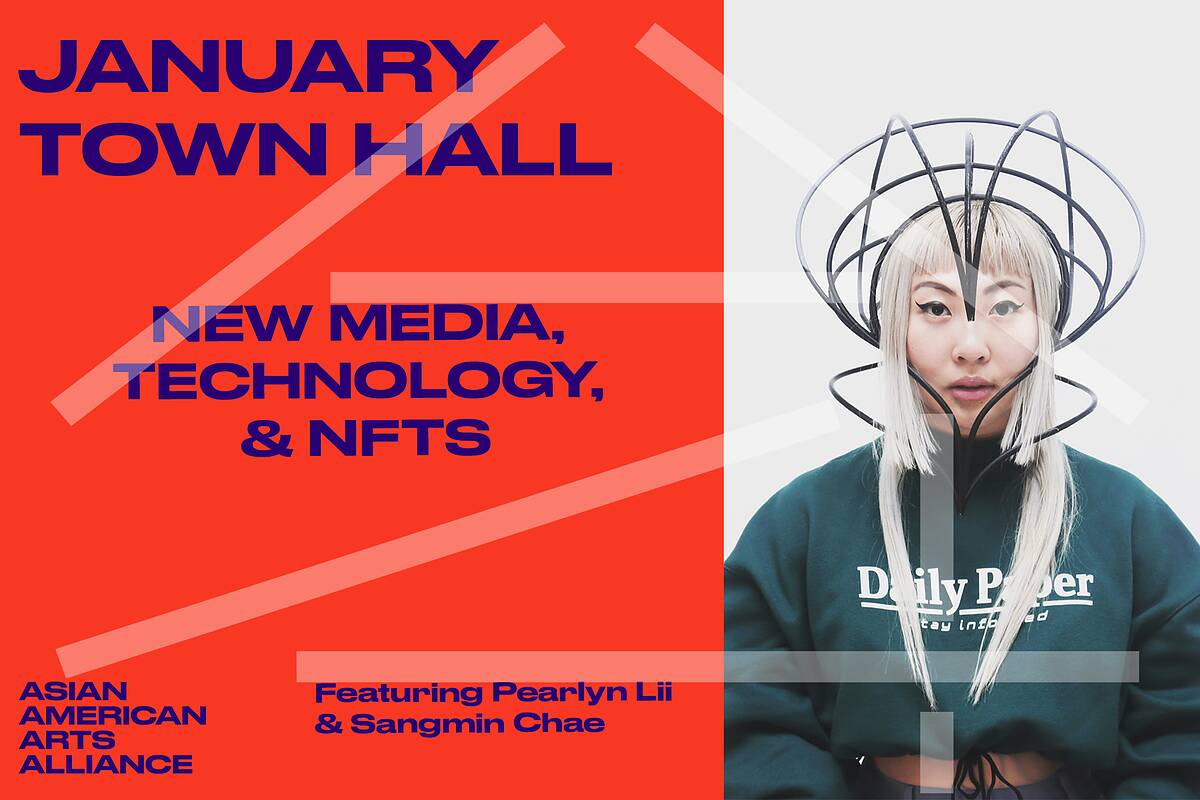 Town Hall
January Town Hall: New Media, Technology, & NFTs
Wednesday, January 19, 2022
6:30 – 8:15PM
Join the Asian American Arts Alliance (A4) and ring in the new year on the right foot with new connections at our virtual January Town Hall, highlighting emerging projects in new media, technology, and NFTs!
Featured Presenters:
Sangmin Chae, media artist & creative technologist at CultureHub
Pearlyn Lii, founder of nonstudio and artist/designer practicing in installation, performance, code-based media, and NFTs
Whether you're creating work in new media art forms, experimenting in converting your work into NFTs (non-fungible tokens) or cryptoart, curating new virtual reality experiences, or adapting your work for the new digital age, we welcome you to join us and share works-in-progress, announcements on upcoming shows, calls for collaborations, and opportunities to uplift and build up our vibrant Asian American community during Town Hall's signature rapid-fire line-up of 60-second pitches.
Sign up to pitch and share an upcoming project or exhibition, promote an event, ask for help, find venues for your work, or simply introduce yourselves and your work to the community. Bring something to share for our post-pitch potluck!
You don't have to pitch to attend—RSVP to enjoy the potluck, presentations, and company of fellow artists and organizers!
RSVP is required. This event is free and open to the public.
If you need any accommodations, please email pson@aaartsalliance.org at least 1 week prior to the event.
ABOUT SANGMIN CHAE
Sangmin Chae is a creative technologist at CultureHub and media artist with extensive knowledge designing and building video systems for media and performance. In collaboration with the CultureHub team, Sangmin has created telepresence systems for multi-location productions including Vital Signs, Changing Tides, and Weather, and has developed video design and video systems for productions such as Hi-Fi | Wi-Fi | Sci-Fi and Panorama, which was part of the Public's Under The Radar Festival at La MaMa where it received The New York Times' Critic's Pick. Sangmin is a graduate of Seoul Institute of the Arts where he studied broadcasting. He earned his MFA at the Performance and Interactive Media Arts program at CUNY Brooklyn College.
ABOUT PEARLYN LII
Pearlyn Lii is an artist and designer from Hong Kong whose work examines identity narratives and archetypes. Her work weaves lived experience with the surreal, capturing the transient nature of the self through avatar, persona, mythology, and magical realism, confronting female archetypes through physical and sensory experiences. Lii's cross-disciplinary practice exists across installation, performance, and code-based media.
Lii is the founder of nonstudio, an art and design practice that investigates mythologies through transmedia, and her work has been recognized by Dezeen, Vogue Italia, Foundation.app, Wallpaper, Forbes, and the Society for Experiential Graphic Design (SEGD). She is an alumna of NEW INC's Art+Code track in partnership with Rhizome.
ABOUT TOWN HALL
Town Hall is A4's bi-monthly community gathering event that features performances, pitches, and a virtual networking space! We welcome artists of all disciplines (musicians, actors, filmmakers, poets, visual artists—anyone with a creative fire and joy for the arts), as well as arts organizations, to pitch upcoming projects, find collaborators, or discover new opportunities in a lively space. The catch? You have 60 seconds to deliver your pitch!
Pitches:
Poyen Wang
The Black Sun
Website: www.poyenwang.com
Jeffrey Luong
Music Producer/Songwriter
Website: www.griffter.com
FB/TW/IG: @iamgriffter
Angelique de Castro
In the Dream Cafe
Website: www.angeliquedecastro.com
IG: @neuegratis
Lucy Yao
Musician
Website: www.lucy-yao.com
IG: @whylucywhy
Lily Huang
Filmmaker
Website: www.lilywhenyihuang.com
IG: @lilyhuangisverycool
Georges Bridges
Asian American Film Lab
Website: www.asianamericanfilmlab.com/film-tv/
FB/TW/IG: @AsAmFilmLab
ZZYW
ThingThingThing
Website: www.zzyw.org
TW: @compute_obj
Pearlyn Lii
Founder of nonstudio and artist/designer
Website: http://nonstud.io
IG: @pearlyn.pl
Vikesh Kapoor
Modern Country Doctor
Website: www.vikeshkapoor.com
IG: @vikeshkapoor
Rosalie Yu
Meditations on Kiddie Rides
Website: www.rosalieyu.com
IG: @rosalieyu
Xianglong Li
The Migration Project
Website: www.xianglongli.com
IG: @wakeupdragon
Chika
Website: www.imagima.com
IG: @_imagima
Qinqin Liu, PhD
Seeds Crossing the Ocean
Website: www.drqliu-artscience.com
Roopa Vasudevan
Big Tech Says Sorry
Website: www.roopavasudevan.com
TW/IG: @rouxpz
Carrie Wang
Lost & Found
Website: www.carriesijiawang.com
IG: @carrie_re71