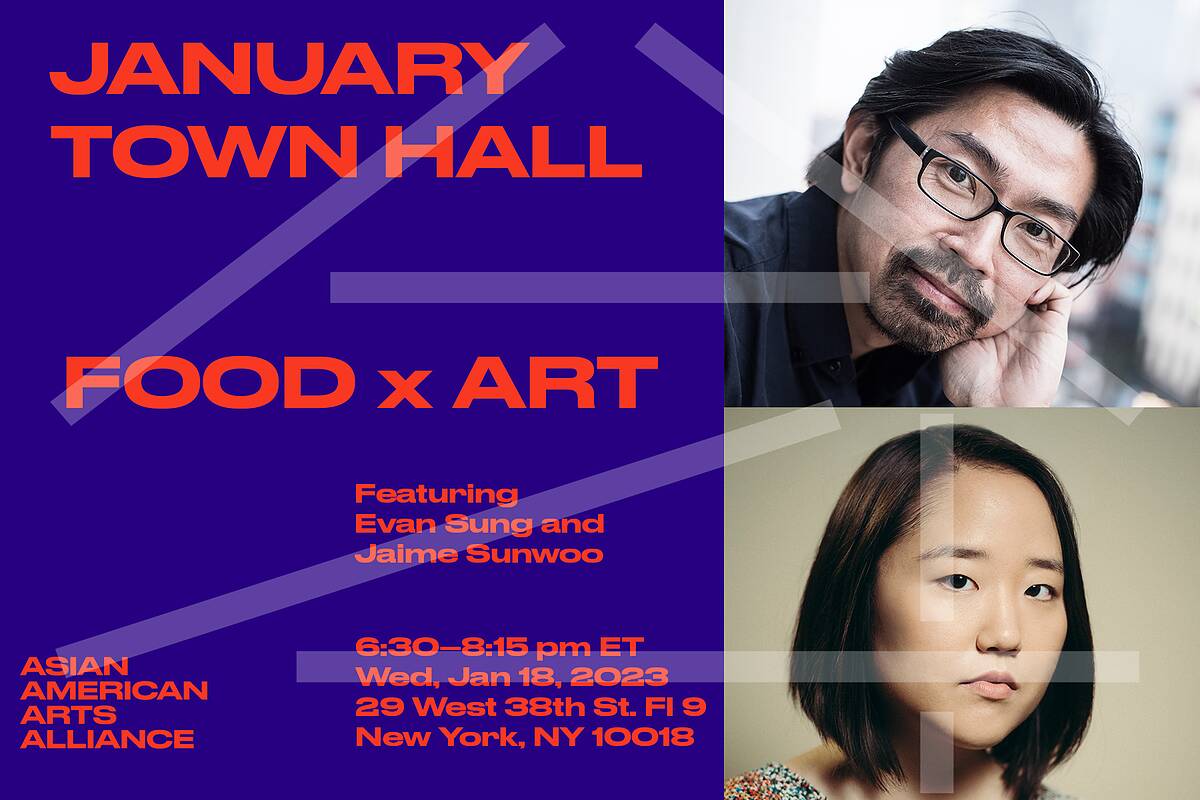 Town Hall
January Town Hall: Food x Art
Wednesday, January 18, 2023
6:30 – 8:15PM
Join the Asian American Arts Alliance (A4) to help warm our new space at our January Town Hall, focused on the intersection of food and art!
We could not think of a better topic to ring in the new year and warm our new office (and bellies!) than food. AAPI artists have been busy using food to explore culture and diaspora, depicting and capturing food in inventive ways, and telling the important stories of how food nourishes us.
Learn about these diverse and exciting creative projects and opportunities during Town Hall's rapid-fire line-up of 60-second pitches, and meet our featured presenters: food photographer Evan Sung, and theater artist Jaime Sunwoo, creator of Specially Processed American Me (full bios below).
Sign up to pitch and share an upcoming project or exhibition, promote an event or opportunity, find collaborators and venues for your work, or simply introduce yourselves to the community. We're bringing our potluck tradition back, so please bring something to share with other attendees. Both home-cooked and store-bought treats welcome! A4 will provide snacks and wine.
This event is FREE and open to the public. RSVP is required to pitch and/or attend, but please note you do not have to pitch to attend.
Schedule
6:30 PM: Event begins
6:45 PM: Pitches & Presentations
7:30 PM: Potluck
We're excited to see you in-person and welcome you to our new space in Midtown! To keep everyone safe and healthy, we ask that you respect the following COVID-19 Guidelines in our space:
RSVPs are required to help us prepare and ensure spaciousness and safety;
We request that attendees are fully vaccinated, and remain masked indoors at all times. If you are presenting or pitching work, you may remove your mask for the duration of your presentation. You may also remove your mask while eating/drinking;
We encourage attendees to take a rapid test before attending our Town Hall, and to stay home if you are feeling unwell, experiencing symptoms of COVID-19, or have been exposed to anyone who has tested positive within 7 days of the event.
A4 Staff will be monitoring COVID rates in New York City leading up to the event and will confirm and communicate to all registrants whether or not the event will take place in-person at least three days before the event. If COVID rates are high, we will shift our program online to Zoom.
Note: The building is completely ADA accessible. If you need ASL interpretation, large print, or any other accommodations for this event, please email jlee@aaartsalliance.org at least one week before this event.
Community Safety Statement
We aim to create environments in person and online that are welcoming, inclusive, and safe – physically and emotionally – for our community members. If we observe actions or behaviors that can be interpreted as harmful or threatening, A4 retains the right to use our discretion and remove the offending party. For our community's safety, we further reserve the right to suspend an offending party's attendance at A4 events both in-person and virtual in perpetuity and removal from our online offerings (e.g. newsletter).
When you register for an A4 event, you will be asked to agree to this community statement. If you have any questions about this, please email a4@aaartsalliance.org.
About A4's Town Hall
Town Hall is A4's bi-monthly community gathering event that features presentations, pitches, and power networking! We welcome artists of all disciplines, as well as arts organizations, to pitch upcoming projects, find collaborators, or discover new opportunities in a lively space.
About Evan Sung
Evan Sung is a prominent food, lifestyle and travel photographer based in Brooklyn, NY.
A native Manhattanite, he is equally at home in the world at large, as illustrated by his work which in the past year alone has taken him from Iceland to Emilia-Romagna, from Senegal to Seventh Avenue.
In addition to his long freelance tenure with The New York Times, Evan has traveled and photographed for clients like Vogue, Wall Street Journal, GQ, Bon Appetit, Food & Wine, Gourmet, Art Culinaire, Delta SKY, and many others.
Evan has photographed over 40 cookbooks, often with Michelin-caliber chefs, including "To The Bone" (Clarkson Potter) with Chef Paul Liebrandt, "Classico E Moderno" (Random House) with Chef Michael White, "Marc Forgione" (Houghton Mifflin) with Chef Marc Forgione and "North" (Ten Speed Press) with Icelandic Chef Gunnar Gislason. Recent cookbooks include Chef Missy Robbins' "Breakfast, Lunch, Dinner…Life" (Rizzoli) and David Tanis' fourth cookbook "Market Cooking" (Artisan).
About Jaime Sunwoo
Jaime Sunwoo is a Korean American multidisciplinary artist from Brooklyn, New York working in visual art, theater, film, and public art. Her works connect personal narratives to global histories through surreal storytelling. She studied art at Yale University, and was a fellow for Ping Chong and Company and The Laundromat Project. Her work has been presented at Park Avenue Armory, Abrons Art Center, BAX, JACK, The Tank, Flux Factory, Art in Odd Places, Gallery Korea at KCCNY, Open Source Gallery, and Westbeth Gallery.
She has led workshops, given lectures, and joined panel discussions at The Metropolitan Museum of Art, Museum of Food and Drink, Yale University, New York University, The Wang Center at Stony Brook University, and Mills College. She was a resident artist for HB Studio Rehearsal Space Residency and through her production company Free Rein Projects, she has received awards from the Queens Council on the Arts' Artist Commissioning Program, Ms. Foundation for Women in association with Asian Women Giving Circle, the NYC Women's Fund, MVRP Foundation, Brooklyn Arts Fund, The Laundromat Project, and The Jim Henson Foundation for Specially Processed American Me, a performance reflecting on the significance of SPAM in the Asian American community. Dixon Place, Ping Chong and Company, and Free Rein Projects presented the world premiere of Specially Processed American Me at Dixon Place in New York City in 2022, and the show is currently available for tour bookings.