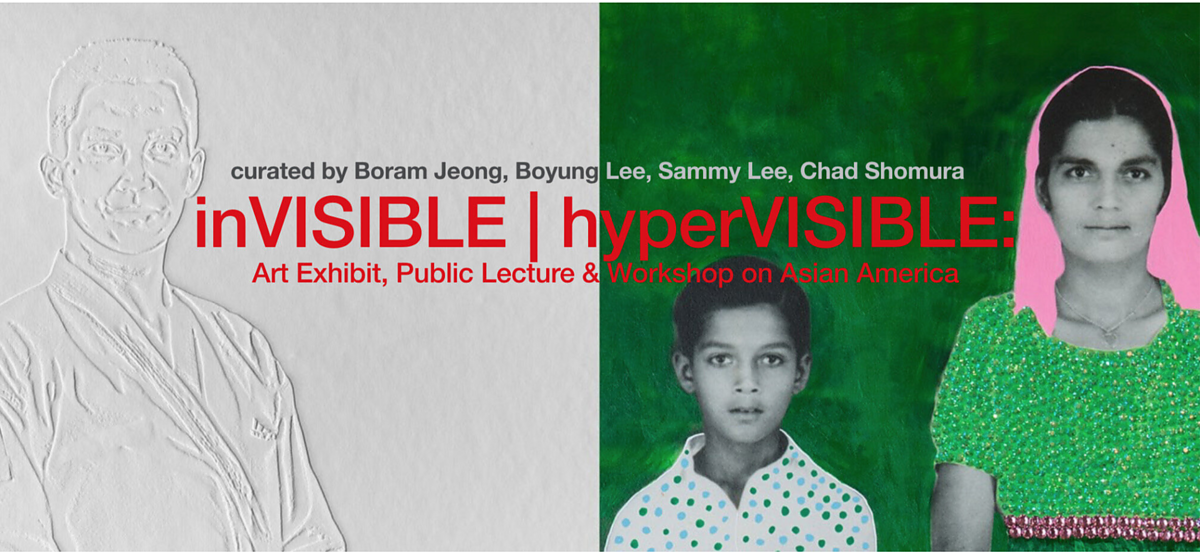 Exhibition
inVISIBLE | hyperVISIBLE
Friday, September 10, 2021
12AM
Art Exhibit, Public Lecture & Workshop on Asian America
9/10 - 10/10, 2021, opening 6-8 pm, Friday, 9/10
Curated by A4VR Alum Sammy Lee, Boram Jeong, Boyung Lee, and Chad Shomura
We are delighted to announce inVISIBLE | hyperVISIBLE, a public humanities project on Asian America. The project consists of an art exhibition, artist talks, public lectures, and community-building workshops. inVISIBLE | hyperVISIBLE will run from September 10 to October 10, 2021 at RedLine Contemporary Art Center.
The theme inVISIBLE | hyperVISIBLE captures the struggles of Asians and Asian Americans to survive and thrive in the face of strong anti-Asian sentiment. Asians and Asian Americans are alternately made invisible and hypervisible through stereotypes such as "model minorities," "honorary whites,""perpetual foreigners," and "enemy aliens." Yet, Asian America is remarkably complex due to cultural diversity, various migration routes, and different socioeconomic circumstances.
inVISIBLE | hyperVISIBLE will showcase Asian and Asian American artists, scholars, performers, and community organizers from different ethnic, gender, and geographic backgrounds.
inVISIBLE | hyperVISIBLE will feature works by:
Jennifer Ling Datchuk, Yikui (Coy) Gu (A4VR Alum), Sammy Seung-min Lee (A4VR Alum), Renluka Maharaj, Suchitra Mattai, Maryrose Cobarrubias Mendoza, Tsogo Mijid, Yong Soon Min, Tuan Andrew Nguyen, Scott Tsuchitani, Joo Yeon Woo
At the opening on September 10, Kshitija Saturdekar, MFA, and Vivian Kim, MFA, will be performing two dynamic solos exploring the spectrum of Asian/Asian-American empowerment within the nuances of visibility and invisibility.
Please contact the curatorial committee with any questions at invisible.hypervisible@gmail.com
hashtags:#invisible_hypervisible #asianamericanart #AAPI #AsianAmerican #stopaapihate #redlinedenver