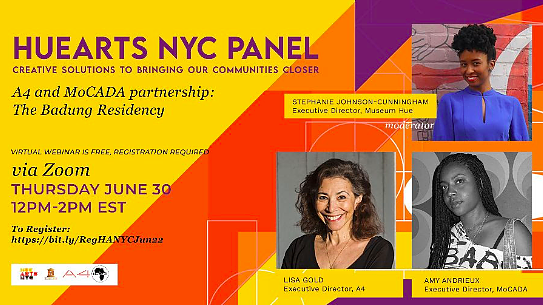 Panel Discussion/Talk
HueArts NYC Panel
Thursday, June 30, 2022
12 – 2PM
Join us on Thursday, June 30th at 12PM EST for a conversation about HueArts NYC, a comprehensive map, directory, and report about arts entities founded and led by Black, Indigenous, and People of Color. Leaders from Museum Hue, Museum of Contemporary African Diasporan Art (MoCADA), and Asian American Arts Alliance (A4) will discuss the creation of HueArts NYC as well as MoCADA and A4's new partnership project, the Badung Residency, which is designed to uplift those whose practice is intended to foster solidarity between Asian American/Pacific Islander (AAPI) and Black communities.
Prompted by the 1955 Badung Conference [Bandung, West Java, Indonesia] which was the first large-scale Asian–African/Afro–Asian Conference, The Badung Residency aims to cultivate a dynamic safe space for a diverse cohort of changemakers interested in engaging in social justice discourse while expanding the narrative between communities. With recent impactful events such as the Stop Asian Hate and Black Lives Matter movements, this residency aims to connect with local leaders and community members to inspire unity through an artistic presentation, a shared exploratory experience, or special public program or project.
MoCADA and A4 leaders served as advisory committee members for HueArts NYC. They will share how this initiative speaks to each organization's core mission and overall goals.
---
FREE Registration | Thursday, June 30, 2022 | 12PM-2PM EST
HueArts NYC Virtual Panel discussion:
Creative solutions to bringing our communities closer
A4 and MoCADA partnership,The Badung Residency
To register: https://bit.ly/RegHANYCJun22
Moderator:
Stephanie Johnson-Cunningham, Executive Director, Museum Hue
Panelists:
Amy Andrieux, Executive Director, MoCADA
Lisa Gold, Executive Director, A4
---
Stephanie Johnson-Cunningham
Stephanie is a museum professional with over 15 years experience in the field. She has worked at the New-York Historical Society, Brooklyn Museum, 9/11 Museum and Memorial, and African American Museum in Philadelphia. Stephanie's advocacy aligns with Museum Hue, an organization she co-founded and serves as Director. She built the first online directory and mapping of museums centering Black, Indigenous, and other People of Color across the US. It is an invaluable resource that deepens public knowledge and understanding of art, history, and culture. Stephanie is currently working on a larger Cultural Mapping project specific to New York City with support from NYC's Department of Cultural Affairs. As a 2018 United Nations Human Rights fellow, she applies the UN's ratification of cultural rights to her work to call for greater recognition and representation in the arts ecosystem. Stephanie received the Americans for the Arts 2019 American Express Emerging Leader Award for her work. She recently hosted and produced On Display, a show for WNET's ALL ARTS Network that focuses on ways museums are addressing societal issues that resulted from intersecting histories and connects to contemporary life. Each episode covers various topics from immigration to incarceration.
Lisa Gold
Lisa Gold is the Executive Director of the Asian American Arts Alliance (A4), a nonprofit organization dedicated to ensuring equitable representation of Asian Americans and Pacific Islanders in the arts. Lisa has over two decades of experience in arts management, development, programming, community outreach, and public relations. She has served as the director of public engagement at the Hirshhorn Museum and Sculpture Garden in Washington, DC; the executive director of Washington Project for the Arts, where she doubled the budget, rejuvenated programming, and secured a long- term lease for the organization. She also served as the public relations director at the Drawing Center in New York, organizing several events to coordinate participation among nonprofits in the community; and director of development and communications at Socrates Sculpture Park in Long Island City. She has served on the Board of Directors, the advisory committee for the Diversity Mentorship program, and as chair of the New Leadership Alliance of ArtTable, a national organization dedicated to advancing the leadership of women in the visual arts; the board of advisors for Wayfarers, an artist-run studio space in Brooklyn, NY; the advisory committee of HueArts NYC, an organization that showcases arts entities created by and grounded in the experience and aesthetics of all People of Color; among other roles. Lisa is recognized as a strong advocate for creative producers and has developed inclusive programming and outreach initiatives throughout her career.
Amy Andrieux
Amy Andrieux is an award-winning curator, writer, educator, and executive, with 25+ years of experience in global programming grounded in arts and culture. Over the years her creative talents have helped to shape magazines like TRACE, music, tv and culture companies like Redbull and MTV, where she became the first Black Editorial Director at Viacom in 2012.
Artist development and education are the center of Amy's artistic practice. She is former mentor at New Inc, an arts business incubator of NYC's New Museum, and is currently a Professor at New School University, Parsons School of Design, guiding undergrad students on building projects that meet at the intersection of art + design and social impact / social justice. As a journalist, she has interviewed an array of notables including Spike Lee, Pharrell Williams, Ben Okri, Wangechi Mutu, Edwidge Danticat, Rem Koolhaas, Os Gemeos, Queen Latifah, Shepard Fairey, Angelique Kidjo, Bethann Hardison, and countless others.
In 2020, Amy was honored with a Trailblazer Award from The 400 Years of African-American History Commission for her work as Executive Director and Chief Curator at The Museum of Contemporary African Diasporan Art (MoCADA), where her focus is rooted in connecting and celebrating the diverse cultures of Africa and the diaspora across four spaces. Dedicated to service, Amy donates time in support of the United Order of the Tents (the oldest Black fraternity in the United States), and sits on the board of New Yorkers for Culture & Arts (NY4CA) and the advisory committee of numerous organizations including the Harlem-based African Burial Ground. During her downtime, Amy is in the preproduction phase of a film loosely based on her family's journey from the Caribbean to America.