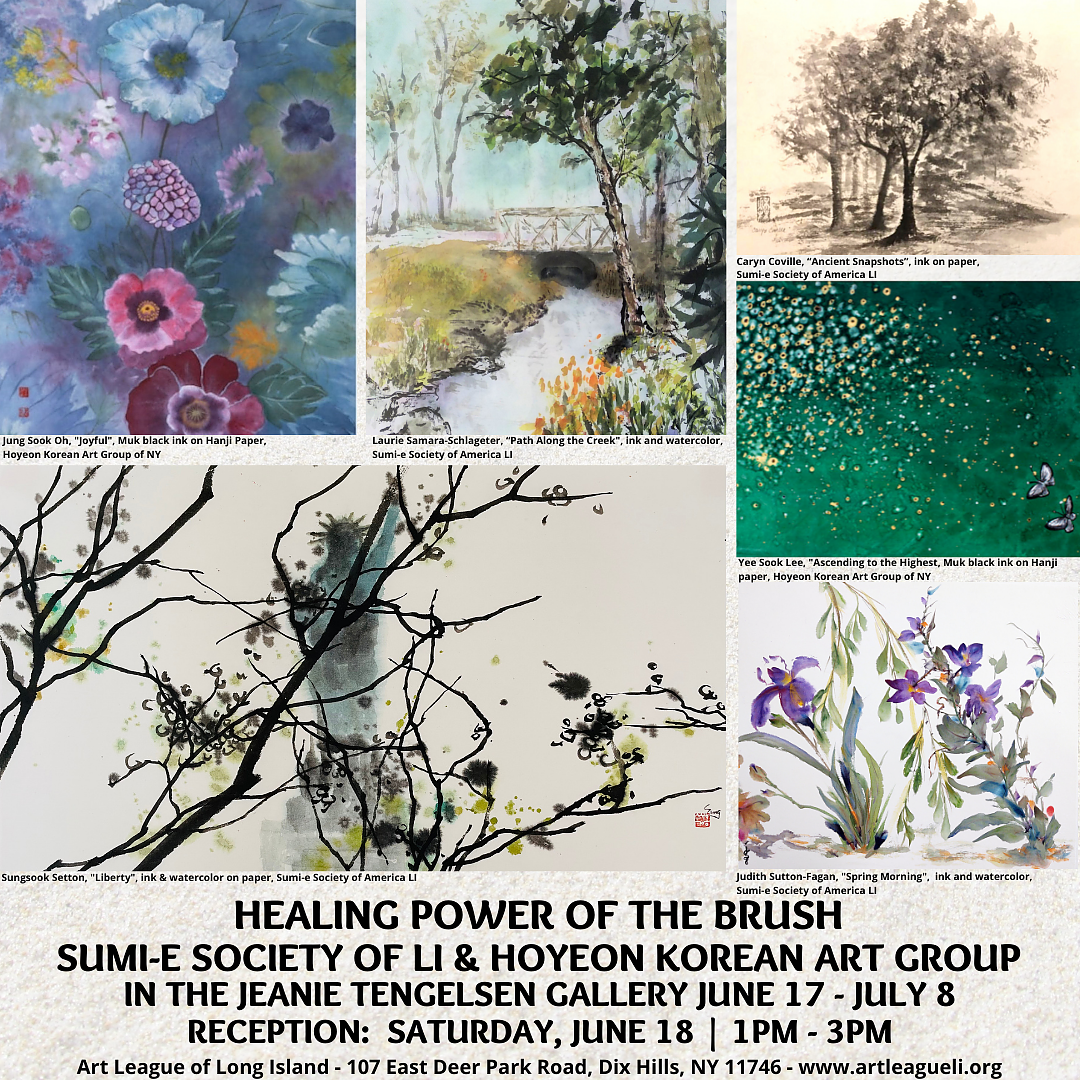 Exhibition
Healing Power of the Brush: A Group Exhibition by the Sumi-E Society of Long Island and Hoyeon Korean Art Group of NY
June 17 – July 8, 2022
12AM
The Long Island Chapter of the Sumi-e Society of Long Island presents their group exhibit "The Healing Power of the Brush" in the Art League of Long Island's Jeanie Tengelsen Gallery June 17 through July 8. The opening reception takes place Saturday, June 18 from 1pm to 3pm. More than 65 works of art will be on display by members of the LI Sumi-e Society members and their guests, the Hoyeon Korean Art Group of NY.
LI Chapter president Sungsook Setton notes: "East Asian water-ink painting is not merely a visual art; it is also a literary and philosophical one. The regular practice of water-ink painting promotes a better understanding of the beauty within nature and the cultivation of an inner sense of harmony."
The ten exhibiting members of the Sumi-e Society's Long Island Chapter are: Laurie Samara-Schlageter, Joann Trimarco Ursula Thomas, Caryn Coville, Talat Jaleel, Judith Sutton-Fagan, Joyce Thompson, Blanche Glyberg, Sungsook Setton, and Phyllis Bocchicchio.
The thirteen exhibiting members of the Hoyeon Korean Art Group are: Tae In Kim, Jung Ja Cha, Jennifer Park, Yu sun Kim, Shin Ja Chun, Ok Hee Kim, Joung Ja Choe, Jung Sook Oh, Hee Sook Moon, Ree Me Park, Mi Yang Yun, Ye Sook Lee, and Hyunsook Bhak.
About the organizations:
The Long Island Chapter of the Sumi-e Society, founded by Sung Sook Setton in 1998, is the New York local affiliate of the National Organization, The Sumi-e Society of America. Learn more about the Long Island Chapter at http://sumieli.org/ . The national organization founded in New York City in1963 by Professor Motoi Oi, grew to include chapters across the United States and Canada. Professor Oi's commentary on one of the reasons for founding his organization is noted on the organization's website: "In the East, paintings reflect the great joy of culture. They are a reflection of an intense personal idiom. My idea was to provide a means through which the fresh, new spirit of American culture could be viewed in Sumi-e."
The Hoyeon Korean Art Group, founded in 1994 by the late Joo Sang Kim Lee, was formed to introduce Korean art to their adopted homeland through classes, exhibitions, and events. The group based in College Point, Queens has exhibited at various venues in the metro NY area.
The Art League of Long Island is located at 107 East Deer Park Road in Dix Hills. The gallery is open to the public, free of charge. Artwork on display may also be available for purchase! The gallery is open Tuesdays & Thursdays 10am to 8pm, and Fridays & Saturdays 10am to 3pm. For more information about the Art League visit www.artleagueli.org