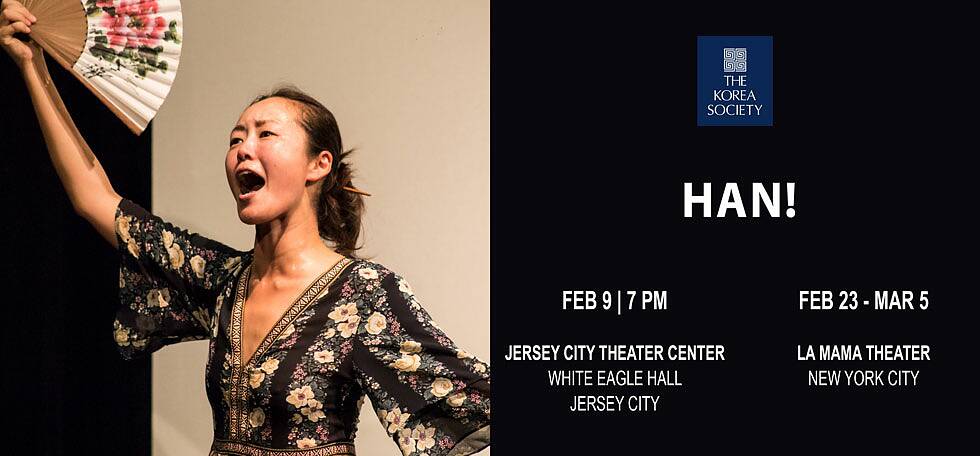 Performance
Han!
Thursday, February 9, 2023
7PM
"[Han] is not an easy word to understand. It has generally been understood as a sort of resentment. But I think it means both sadness and hope at the same time. You can think of Han as the core of life, the pathway leading from birth to death…" Park Kyongni (1994)
An ancient dance is performed under a neon light. A virgin ghost stares out of the TV. A baby left alone in an apartment meditates on the nature of solitude. A woman explores memories of her life in relation to the Korean concept of Han.
Our heroine moves back and forth between the ancient myths of "Gojoseon," the era of her dead grandmother, her mother's past and her own life. Three generations of Korean women bound together in the "resilient silence" of Han. How will she navigate the sea of expectations that life, family, and nation have thrown her way? Through her struggle to understand the complexity of her own Han, which ignites a fire in her mind, we are carried into a dynamic meditation that explores the no man's land that exists between myth and modernity, as we weigh the relation between suffering, sacrifice, and destiny.
HAN! is directed by Thomas Richards, theater director and former Artistic Director of the Workcenter of Jerzy Grotowski and Thomas Richards in Pontedera, Italy. There, he began as the protégé and then essential collaborator of famed Polish director and performing arts theorist Jerzy Grotowski, considered to have been one of the greatest reformers of 20th century theater and one of the founders of experimental theater.
Directed by Thomas Richards; Assistant Directors: Cécile Richards & Jessica Losilla-Hébrail.
The show is in Korean with English subtitles performed by Hyun Ju Baek.