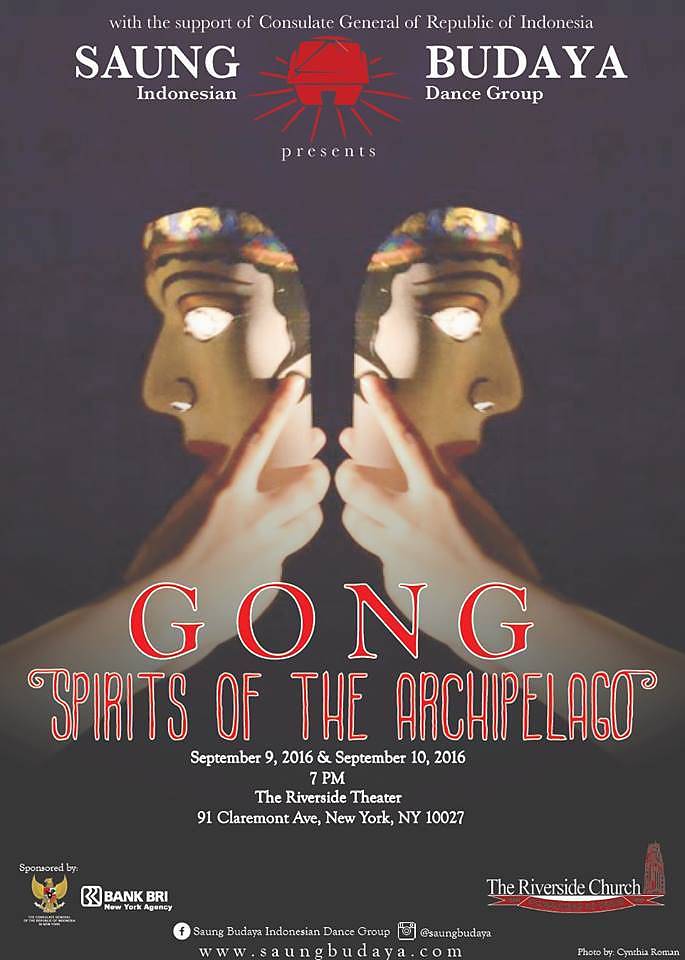 Gong: Spirits of the Archipelago - Saung Budaya
September 9 – September 10, 2016
7 – 10PM
New York, NY- Saung Budaya is an Indonesian Dance Group based in New York City. It was founded by Amalia Suryani in 2006 with intentions to introduce Indonesian culture through music and dances. The group has presented an array of traditional and contemporary art and culture from Indonesia. For a decade now, Saung Budaya has performed in many dance festivals and events such as the opening of New York Marathon, the American Museum of Natural History's "Celebrate Culture!", Asia Society, Meet the Artist in Lincoln Center, and many more. As a celebration of dance, Saung Budaya has an annual show with a different theme each year.
In this tenth year, through a show titled "GONG: Spirits of the Archipelago", Saung Budaya is proud to present eight newly choreographed traditional dances from Papua, Borneo, Sumatra, and Java, in addition to contemporary dances accompanied by a live music ensemble from Indonesia. The title GONG, is based on the South East Asian metal percussion instrument that is hit with a mallet. Though Indonesia's various islands have different cultures, stories, and souls, the one constant in all things music is the sound of the gong. Its distinct sound is quite deep and subtle however, it is a sound that is familiar to the people of Indonesia. Its significance in daily life is to bring communities together for a start of a celebration; in music and dance, it is the constant sound for tempo and movement. Like the gong, Saung Budaya has a similar role within the Indonesian American community. This production will showcase the different stories of these islands through the subtle yet important sounds of the gong and how it unifies Indonesian people and its various cultures.
Watching the richness of Indonesian culture is a rarity even for Indonesians themselves. We bring this now into one event as a chance for as many people as possible to see an amalgamation of wonder and beauty of Indonesia without having to buy a ticket to Indonesia. With choreography from Supriadi Arsyad (Guest Choreographer from Indonesia), music from Victor Zabua (Music Director from Indonesian part of Altajaru), and guest dancers Herman Sitepu and Aisha Munaf (from Krida Budaya Dance League), these two-day events will guarantee you an unforgettable experience.
"GONG: Spirits of the Archipelago" will be held on September 9th and 10th, at The Riverside Theater, 91 Claremont Ave, NY, NY 10027, and starts at 7 pm. Tickets will be $25 each.
Tags
Organized by
a4 - Network Admin