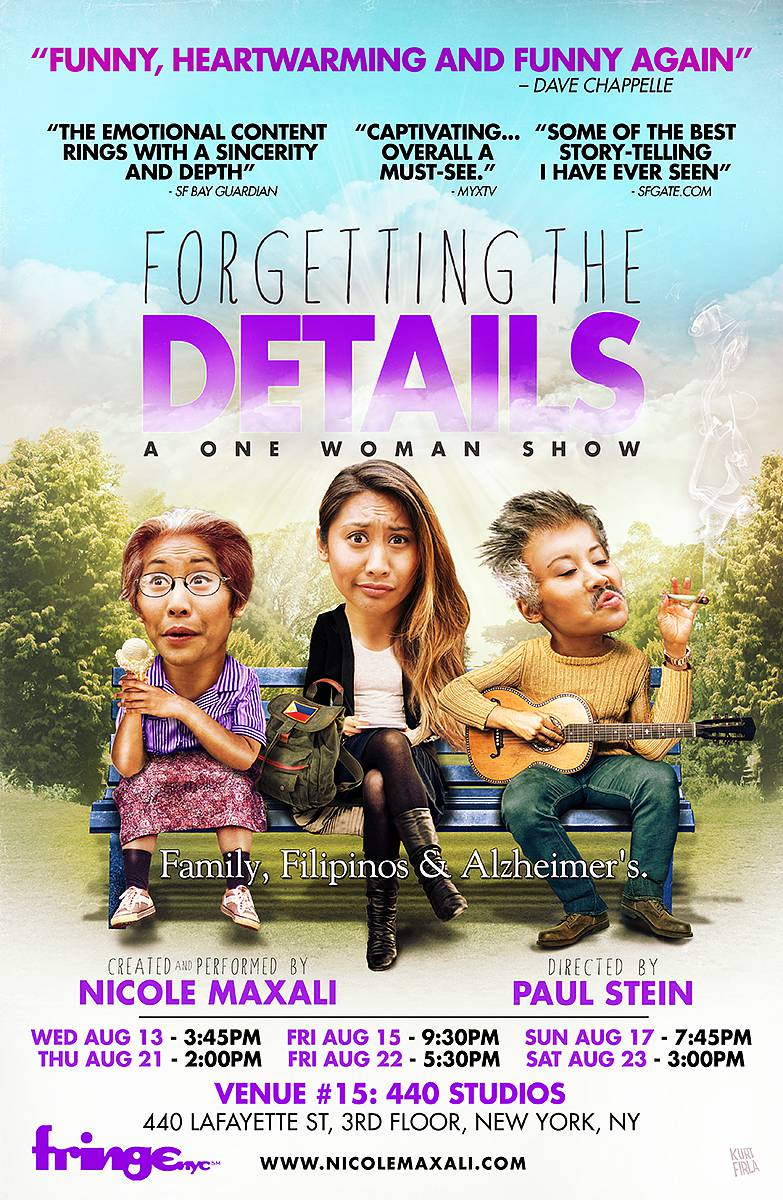 Forgetting The Details
August 13 – August 23, 2014
3:45 – 3PM
FRINGE NYC 2014
FORGETTING THE DETAILS
Things aren't right at home. Nicole's lola (Tagalog for grandmother) is starting to forget more and more details. But now it's more than misplaced keys. In a span of three months she changes the locks on all the doors, starts driving on the wrong side of the street and shoplifts Rocawear and Sean John outfits from Serramonte Mall. As the family struggles through her grandmother's descent into dementia, Nicole faces the conflict between being a respectful Filipina apo (Tagalog for granddaughter) or pursuing her American dream of being the first Filipina-American actress to win an Oscar. What's a Fil-Am girl to do?
Described by Comedian Dave Chappelle as "funny, heartwarming and funny again," Forgetting the Details is an endearing performance piece that captures the unwavering love between a lola and apo. Nicole Maxali's one-woman show will make you laugh, cry and remind you that in the end, it's not the details that matter.
Named as one of the Villager's "Top Picks of the 2014 Fringe Festival" don't miss out on the chance to see this wonderful show!
Times
Wed Aug 13 - 3:45PM
Fri Aug 15 - 9:30PM
Sun Aug 17 - 7:45PM
Thu Aug 21 - 2:00PM
Fri Aug 22 - 5:30PM
Sat Aug 23 - 3:00PM
Location
Venue #15: 440 Studios
440 Lafayette St, 3rd Floor
Tags
Organized by
a4 - Network Admin