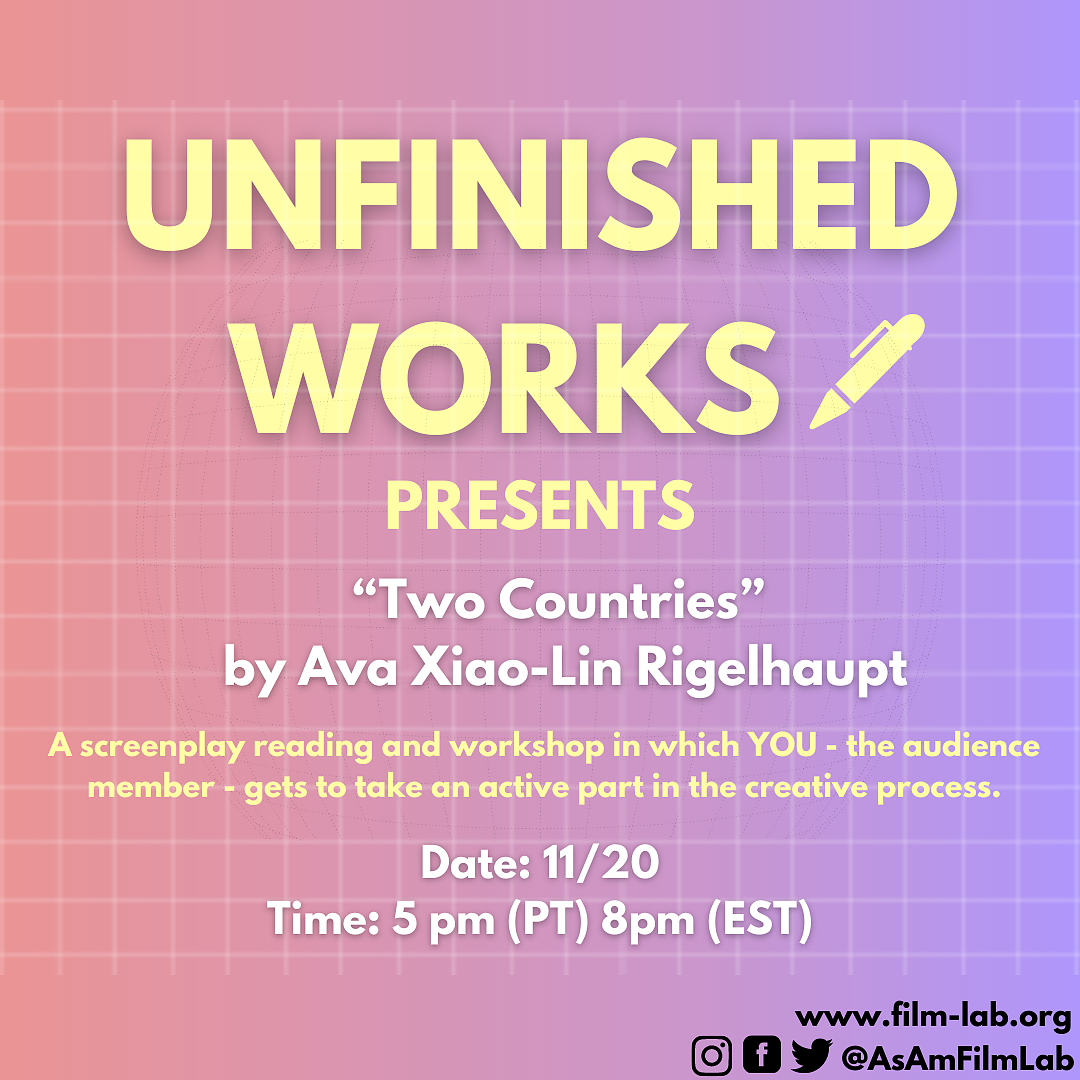 Workshop
Film Lab's Unfinished Works presents: "Two Countries" by Ava Xiao-Lin Rigelhaupt
Friday, November 20, 2020

Unfinished Works presents: "Two Countries" by Ava Xiao-Lin Rigelhaupt.
A screenplay reading and workshop in which YOU - the audience member - gets to take an active part in the creative process! Learn more at: https://youtu.be/DN1isMUrA4o
Date: 11/20
Time: 5 pm (PT) 8pm (EST)
The November script:
Four middle-school girls meet at a summer camp for Chinese-American adoptees. Together, they navigate their complex identities and form long-lasting friendships.
---
"Unfinished Works" is Film Lab's program for writers, directors, actors, and the general public! We connect artists with non-artists and allow you - the audience member - to be an actual part of the creative process of script development. The event is divided into two segments: first, you get to watch as professional actors from the Film Lab's Actor Directory (https://www.asianamericanfilmlab.com/programs/actor-directory/) read aloud a brand screenplay in progress. In the second segment, you get to provide your insights and feedback to the writer to assist in the development of the script. No writing experience is needed! If you enjoy watching tv or movies or plays, that's all that's needed!
More: The Film Lab's longest running program, Unfinished Works has assisted screenwriters for nearly 20 years. Unfinished Works constitutes an avenue for filmmakers, screenwriters, and actors to share and workshop their work at any stage of development for honest feedback. The feedback process includes a reading of the piece by professional Film Lab actors and is carefully structured to provide assistance with drafting, editing, outlining, and more. For program guidelines and requirements, please visit www.film-lab.org.
Film Lab will be hosting a series fo fall Unfinished Works workshops November through February. Join us for all of them!
The November program:
Four middle-school girls meet at a summer camp for Chinese-American adoptees. Together, they navigate their complex identities and form long-lasting friendships.
"This is the kind of story a young Asian-American girl needs to see."
– Ginger Yifan Chen, Co-Coordinator