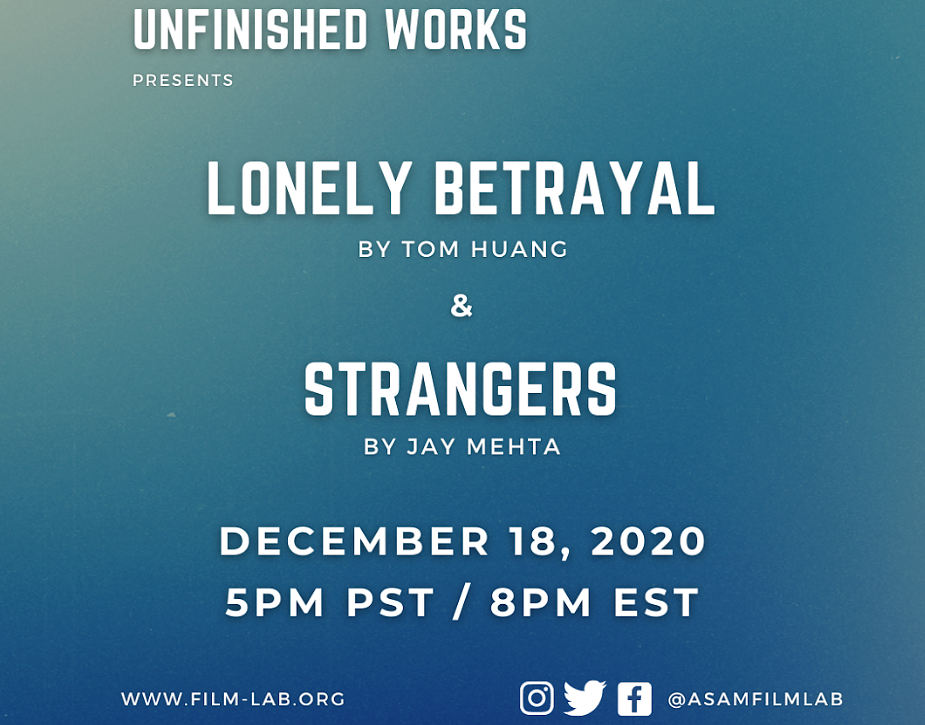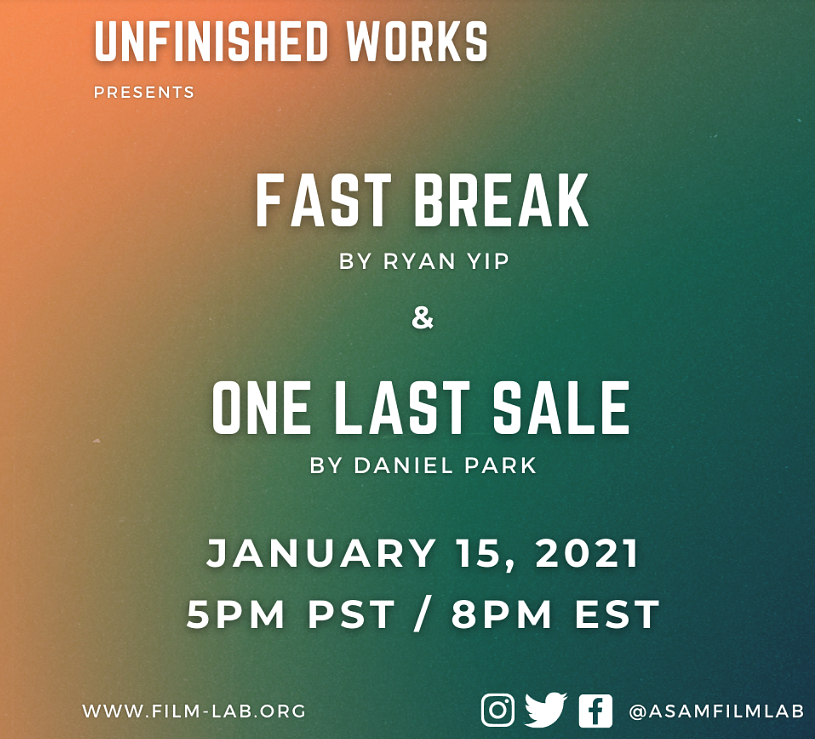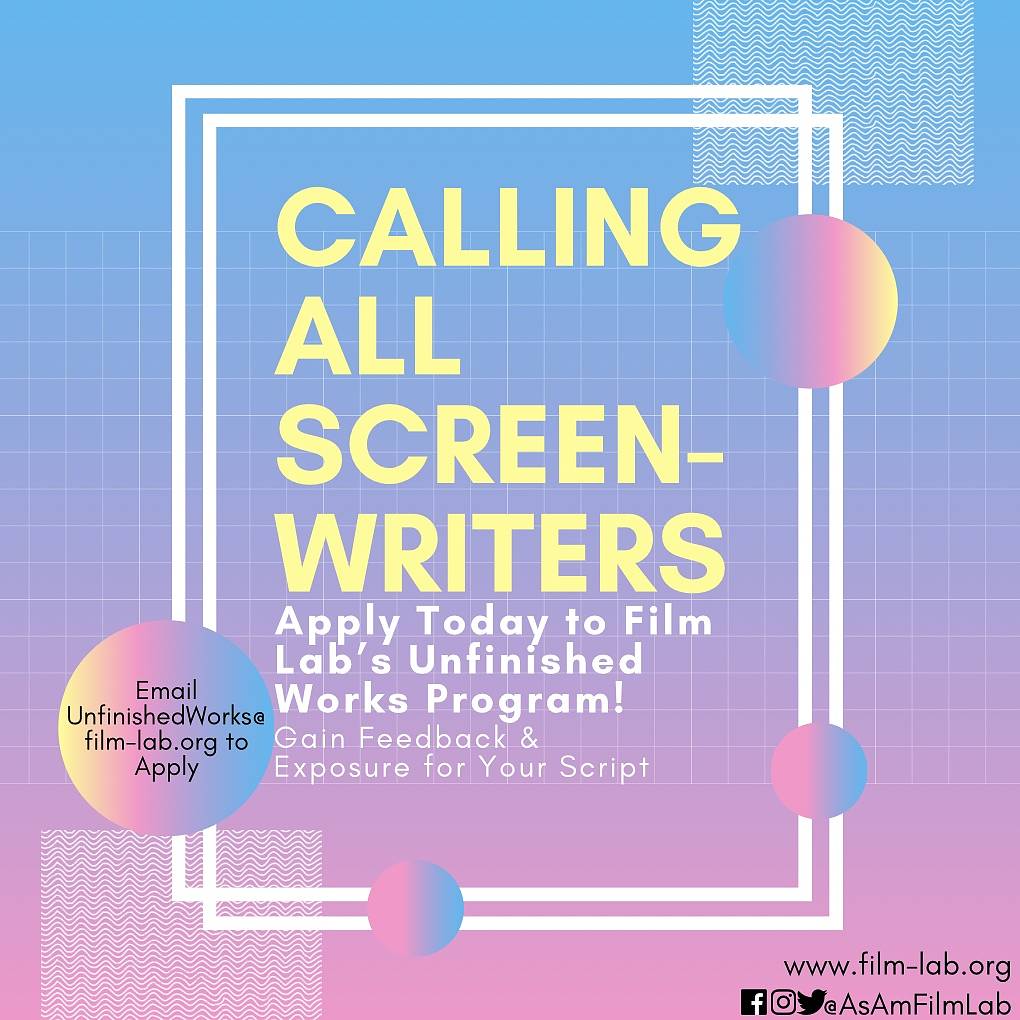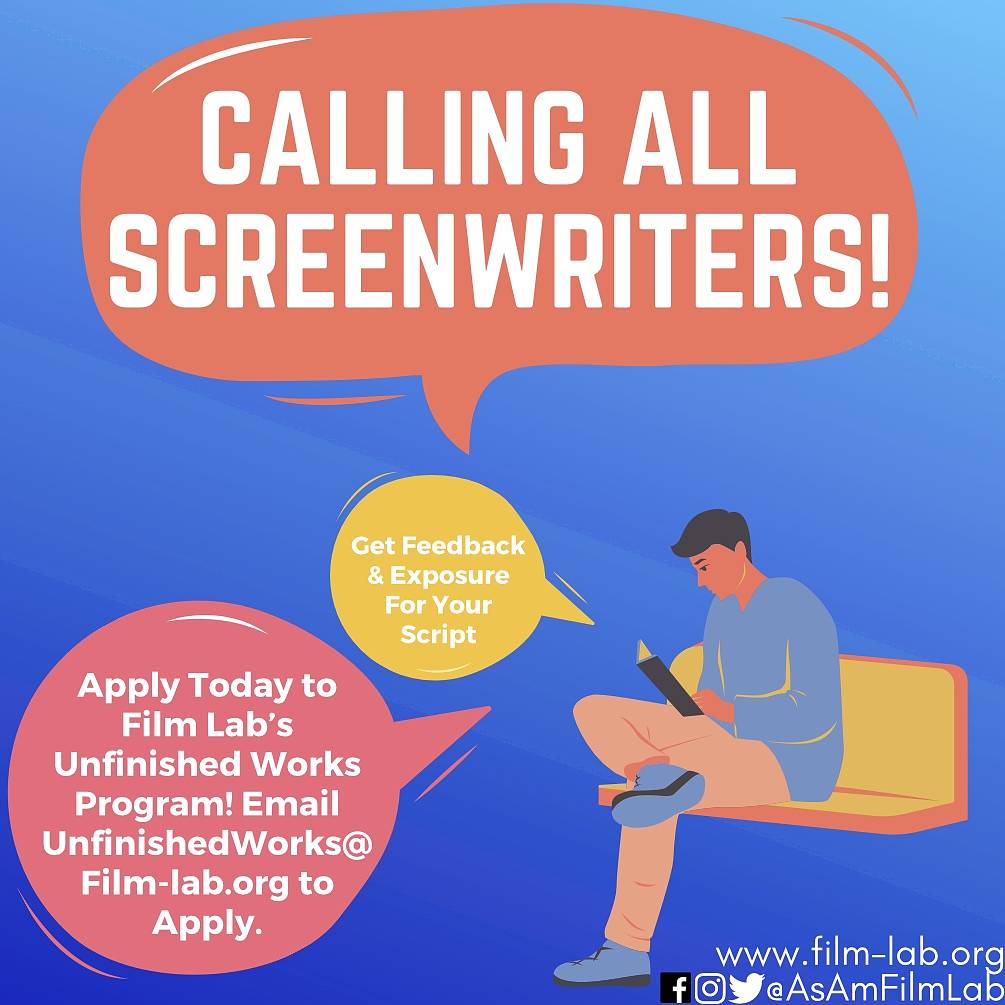 Reading
Film Lab's Fall Screenplay Reading and Workshop Series
November 20, 2020 – February 19, 2021
8 – 10PM
Unfinished Works ("UW") presents all kinds of amazing screenplays featuring Asian and Asian American stories, voices and faces - along with many other BIPOC stories, faces and stories!
Film Lab's UW program is a screenplay reading and workshop in which YOU - the audience member - get to take an active part in the creative process!
We'll be rolling out a reading and workshop the 3rd Friday of every month between November 2020 and February 2021! Join us!
The December script:
In the era of COVID, two lonely millennials cross each other's paths on a Friday night. A Jaded newspaper reporter discovers a web of love, betrayal, and murder at the Manzanar Japanese Internment Camp during World War II.
Check out these two period pieces that explore the value of human connection and what life is like in unprecedented times.
The January scripts:
Six Chinese American basketball players escape San Francisco's Chinatown and barnstorm the Midwest in a quest for respect in a tall man's game. A warehouse employee tries to save his house from foreclosure in order to ensure a better life for his family.
Check out these two stories exploring race, class, and the "American Dream"
The February script:
After the death of her father, a young woman's obsessive-compulsive disorder spirals out of control. A stand-up comedian becomes trapped in a false identity while trying to become a viral YouTube sensation.
Juxtaposed against cultural beliefs and expectations, check out these unique yet familiar stories about love, family, and changing stereotypes.
---
"Unfinished Works" is Film Lab's program for writers, directors, actors, and the general public! We connect artists with non-artists and allow you - the audience member - to be an actual part of the creative process of script development. The event is divided into two segments: first, you get to watch as professional actors from the Film Lab's Actor Directory (https://www.asianamericanfilmlab.com/programs/actor-directory/) read aloud a brand screenplay in progress. In the second segment, you get to provide your insights and feedback to the writer to assist in the development of the script. No writing experience is needed! If you enjoy watching tv or movies or plays, that's all that's needed!
More: The Film Lab's longest running program, Unfinished Works has assisted screenwriters for nearly 20 years. Unfinished Works constitutes an avenue for filmmakers, screenwriters, and actors to share and workshop their work at any stage of development for honest feedback. The feedback process includes a reading of the piece by professional Film Lab actors and is carefully structured to provide assistance with drafting, editing, outlining, and more. For program guidelines and requirements, please visit www.film-lab.org.
Film Lab will be hosting a series of fall Unfinished Works workshops November through February. Join us for all of them!
www.film-lab.org
Email: UnfinishedWorks@film-lab.org
Facebook.com/AsAmFilmLab
Twitter @AsAmFilmLab #UnfinishedWorks