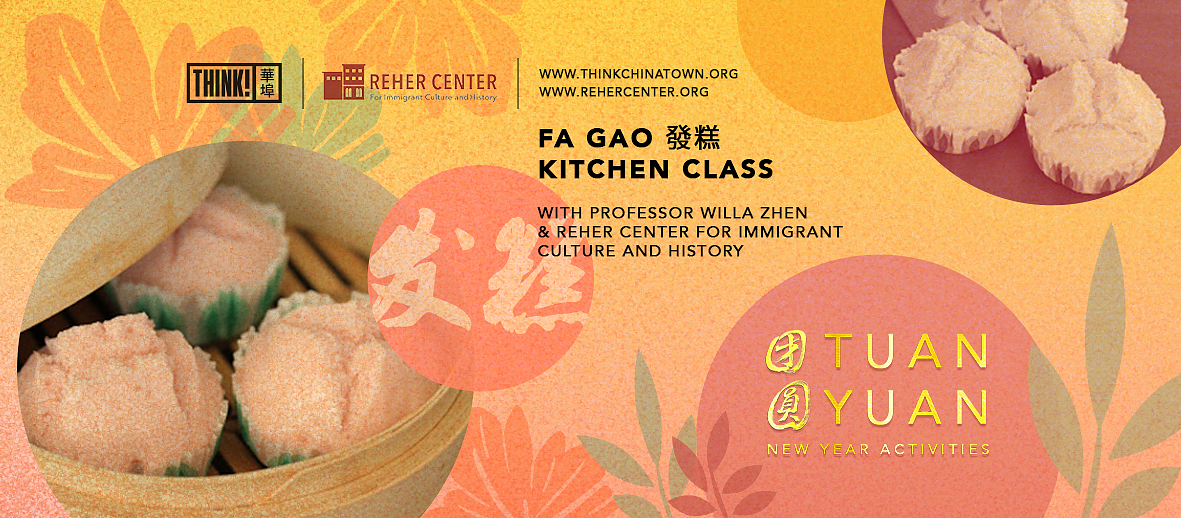 Workshop
Fa Gao 發糕 Kitchen Class
Sunday, February 14, 2021
3 – 4PM
With a name that literally means "prosperity cake," it's no surprise that fa gao is one of the most popular desserts for Lunar New Year. The split top of the cake is often referred to as a blossom, resembling a smile that brings good fortune and happiness – so the more "petals" your cake has, the more fa you'll have! Traditionally offered to the gods to ensure a "sweet" new year, families eat these cakes with the hopes that the coming year will be better than the last. Join our guest instructor Professor Willa Zhen and our host, the Reher Center for Immigrant Culture and History for an instructional workshop on how to get your fa gao to fa!
This workshop is free/pay-as-you-wish and the materials you'll need to participate are all-purpose or cake flour, rice flour, light brown sugar, and baking powder. The recipe uses a mix of wheat and rice flour to create fa gao's distinctive sticky-fluffy texture.
Please consider purchasing our Tuan Yuan 團圓 Homecoming Box, which includes the rice flour paper for this class, materials and ingredients for our other virtual T!C Lunar New Year events, and additional goodies from our partners. Available through Pearl River Mart for a limited time. www.thinkchinatown.org/tuanyuan-box
---
Willa Zhen, Ph.D. is Professor of Liberal Arts and Food Studies at The Culinary Institute of America in Hyde Park, New York. Trained as an anthropologist, she teaches courses on food and culture, including the food and culture of China. She is the author of Food Studies: A Hands-on Guide (Bloomsbury, 2019).
Reher Center for Immigrant Culture and History seeks to preserve and present stories with universal appeal about immigration, community, work and bread. Based in the historic bakery building in Kingston's Rondout neighborhood, the Reher Center's work centers around forging emotional connections with people from all walks of life through their tours and programming.
Think!Chinatown, a 501©(3) non-profit based in Manhattan's Chinatown, is here to listen, to respond, and to build Chinatown's capacities as a strong & vibrant immigrant neighborhood of NYC. Our mission is to foster inter-generational community through neighborhood engagement, storytelling & the arts. We believe the process of listening, reflecting & celebrating develops the community cohesion and trust necessary to take on larger neighborhood issues. Our aim is to overcome barriers of community organizing where socio-economic factors, language, and cultural barriers create challenges for immigrant communities' autonomy to make decisions in their own neighborhood. We've built Think!Chinatown to push from within our neighborhood to shape better policies and programs that define our public spaces, to celebrate our cultural heritage, and to innovate how our collective memories are represented.