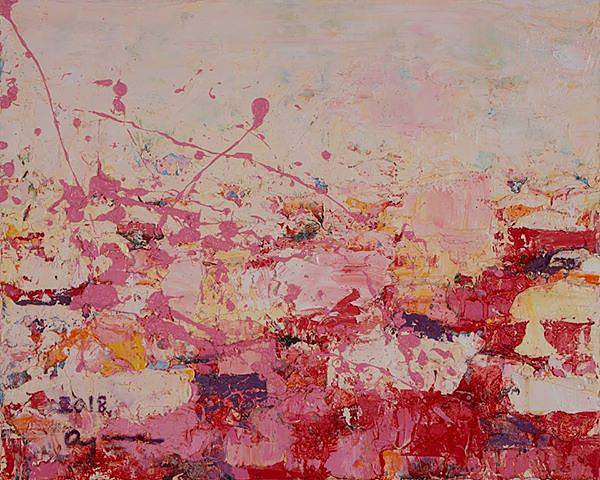 Exhibition: Small Voyage — Paintings by Ayane Kurai
September 6 – October 20, 2018
All Day
CRS presents Small Voyage, an exhibition of oil paintings by Ayane Kurai. The exhibition will open Thursday, September 6, 2018 and will remain on view through October 20, 2018. An Opening Reception with the artist will be held on Thursday, September 13, 2018 from 6:30 – 8:30 pm. Pictured above: Women March 2018 copyright © 2018 by Ayane Kurai.
Though the works in this exhibition are large for CRS, they are nevertheless among the smallest works created by Kurai. Thickly layered and heavily textured, these expressionistic oil paintings vary in subject matter and degree of abstraction. What holds constant and what distinguishes Kurai's works is their intensity of color and texture and the immediacy of their evocation of the colors and textures of a life fully experienced.
This is the second solo show by Kurai at CRS. The first, "Yuko's Spring Has Come" in 2010, mostly featured works created around the time of the birth and early childhood of her two children, a time during which she was also caring for her sick friend, artist Yuko Sueta, and was not able to exhibit for several years. Since then she has become increasingly active again and has been steadily exhibiting new works in many shows.
ABOUT THE ARTIST
Ayane Kurai was born in 1969 in Hyogo, Japan. In 1988 she entered the department of paintings, College of Art and Design, Musashino Art University in Tokyo. She has been living and working in New York City since 1990. She received The Joan MItchel Foundation Grand Award in 1999 and had many solo and group shows in Japan, the U.S.A. and Brazil.http://ayanekurai.com/
ARTIST STATEMENT
I am a human firstI happen to be a painter and japanese bornTo display life,and to develop a Big heartare the most important techniques and goals for me.I believethat my paintings follow me and growwith me…just becausepainting is the voice of my soul.
Organized by
Center for Remembering & Sharing
Contact
Info@crsny.org