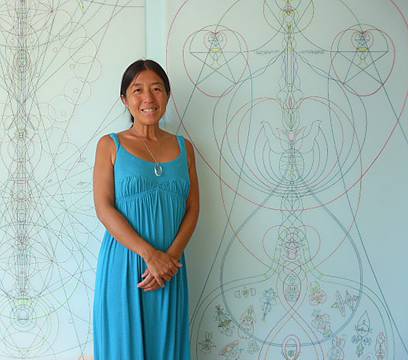 Exhibition: Haruko BlueStarChild
August 22 – August 24, 2014
10 – 6PM
CRS welcomes Sedona-based Japanese artist HA-RU-KO BlueStarChild for a three-day exhibition August 15 – 17, 2014 with daily slide show presentation and talk by the artist from 2 – 3 pm.
Exhibition hours are Friday & Saturday 10 am – 6 pm and Sunday 1 – pm.
HA-RU-KO is a multi dimensional artist, designer, performer, and author. In 1999 she started to receive inspirations from the Light Realm. She consciously merges with the Source (Creator) and Mother Earth and co-creates our ultimate dream to bring joy, peace, and harmony on the Earth through her artistic creations.
During the daily talks, she will describe how she started to receive inspiration from the Light Realm and show slides of many of her older artworks to show how her process and artwork evolved and also what she has been learning from them. So many messages come through from the drawings.
ABOUT HA-RU-KO BLUESTARCHILD
Her art introduces many other realms such as Ascended Masters, ArchAngels & Angels, Fairies, Nature Elementals, ETs, and other Universes. Also her art depicts the future and possibility of the world we are to create. Her artwork seems to awaken deep soul memories in each individual. They remind us of the true essence of our beauty, purity, innocence and magnificence of who we truly are. She works closely with ArchAngels and Angels, so her drawings bring healing into the hearts and souls of many people.
Her drawings are done all by free-hand and her creations range from Free-Flow Sacred Geometry, Ancient Divine codes, Original Essence Portraits, Angelic Healing Art, Cosmic Maps and Scenery, and Beings in other dimensions.
www.BlueStarChild.com
- See more at:
http://www.crsny.org/blog/3050
Organized by
Center for Remembering & Sharing
Contact
info@crsny.org