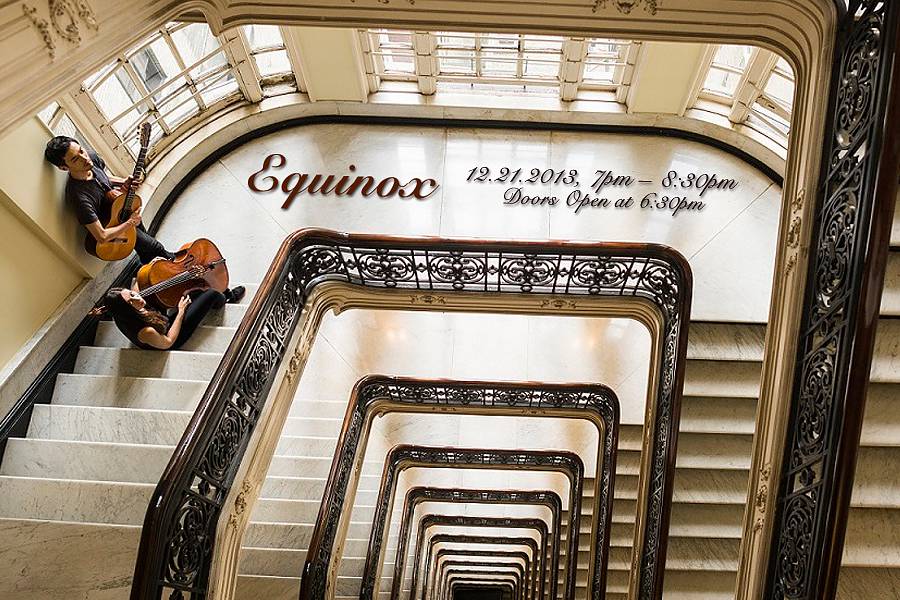 "Equinox" Duo Anova at Resobox
Saturday, December 21, 2013
7 – 8:30PM
Program Equinox (guitar solo) by Toru Takemitsu Tanzologia by Atanas Ourkouzounov Selection from Suite No. 1 by Raffaele Bellafronte Quatre pieces intimes by Dusan Bogdanovic Bird song by Josh Night Waltz by Michael Kropf
Equinox - it is the end of summer and the beginning of fall. It is the end of winter and beginning of spring. It represents the transition between seasons.
With inspiration from the art of Taniguchi Hisami and the concept of the equinox, Duo Anova presents an innovative program of new works for cello and guitar. We hope to explore the transition between classical repertoire and contemporary music. Our unusual instrumentation offers an exceptional experience; it opens up a listener's mind to a new dimension of textures and sounds unique to cello and guitar.
Duo Anova has recently performed at the Composer's Voice 100th Gala Concert, Saint Peter's Church, 662 Center Sounds Concert Series, and Culturefix. In addition, Duo Anova has recently accepted positions as Visiting Artists through the Louis Armstrong Department of Music Therapy Program. They have a weekly residency every Tuesday at Roosevelt Hospital on 59th and 10th Avenue.
Tags
Organized by
Resobox
Contact
info@resobox.com