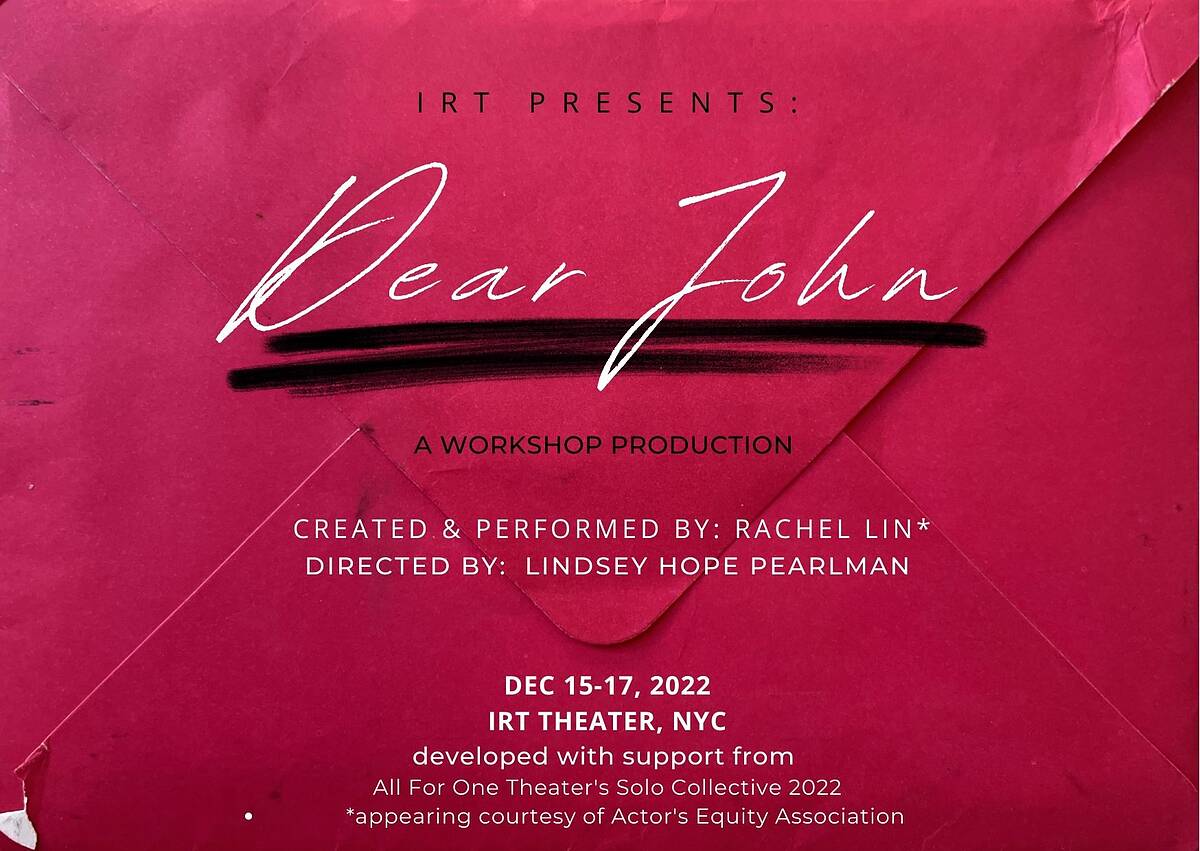 Performance
DEAR JOHN
December 15 – December 17, 2022

DEAR JOHN is a solo show inspired by real life events.
In 2011, an estranged father, "John," reaches out to a long lost daughter for the first time… on Facebook. When he begins writing her letters, she begins a journey of reckoning with a previously unknown past.
DEAR JOHN is the story of what happens when a man shows up to parent a child who hadn't been looking for a father. Spanning three continents and four decades, the piece weaves together excerpts from the letters, a recorded interview with my single mother who left a changing China in the 80s, and stories from growing up as an immigrant kid in New York City.
Run time: 80 min, no intermission
Dates:
Thursday, Dec 15 @ 7PM
Friday, Dec 16 @ 7PM
Saturday, Dec 17 @ 2 & 7PM
Length: 80 Min
At IRT: 154 Christopher st. NYC #3B (third floor)
TEAM:
Creator & Performer: Rachel Lin*
Director: Lindsey Hope Pearlman
Producer: Kelly Letourneau
Projection Designer: Ingrid Larson
Lighting Designer: Jonathan Cottle
Stage Manager: Mariel Sanchez
*appearing courtesy of Actor's Equity Association
DEAR JOHN is made possible with the support of All For One Theater's Solo Collective 2022. It has been developed as part of Town Stages Sokoloff Arts Residency, Asian American Arts Alliance's 2021 Virtual Residency, and Poco A Poco.
If you cannot attend, but would like to support the show, a tax deductible donation can be made at: https://www.paypal.com/donate/?cmd=_s-xclick&hosted_button_id=MEXF9SAZN497C&source=qr