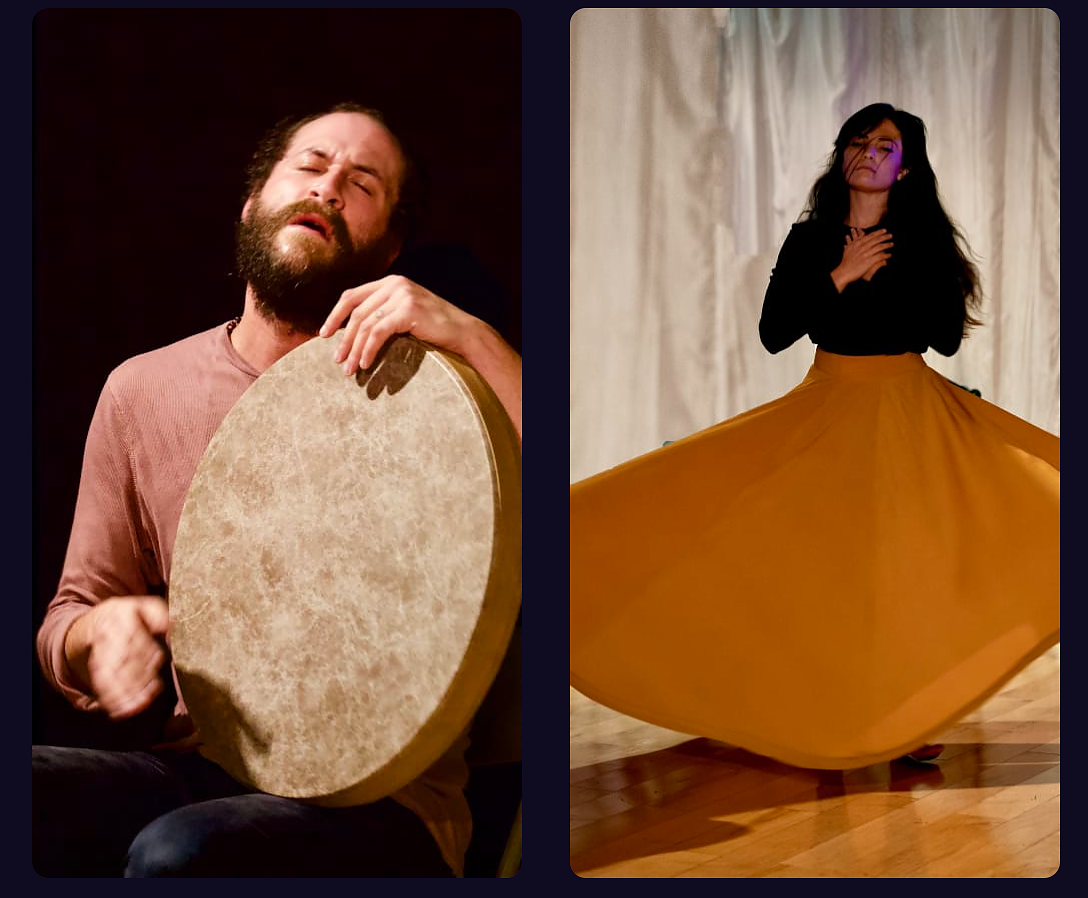 Concert
Crossing Boundaries Concert Series Vol. 12: Celebrating Ostad Shajarian
November 8 – November 16, 2020

CRS (Center for Remembering & Sharing) presents CROSSING BOUNDARIES Concert Series Vol. 12: CELEBRATING OSTAD SHAJARIAN, legendary master of Persian classical music who passed on Oct 8. Curated by LÄLE SAYOKO, the concert features Shajraian's musical adaptations of poems by both revered Sufi poets as well as beloved contemporary Iranian poets, performed by D.C. based KAMYAR ARSANI (vocals & percussion) with dance by LÄLE SAYOKO & members of the CRS SUFI DANCE COMMUNITY.
Ostad Mohammad-Reza Shajarian was called "Iran's greatest living maestro of Persian classical music." He toured all over the world, is a multi-Grammy award winner, and was honored with UNESCO's Golden Picasso Medal and Mozart Medal. While he mastered the styles of many older masters, he also developed his own beloved style and set many famous poems to music, which he sang and recorded. This concert features his musical adaptations of poems by Rumi (13th century), Baba Taher (11th century), Hooshang Ebtehaj (H.E.Sayeh) (20th century), and Ali Mo'allem (20th century).
Due to the ongoing pandemic, this concert will be filmed and streamed online, premiering on Sunday, November 8, 2020 at 1 pm with a live Q&A. The concert will be available to watch for seven days. Tickets are available free or by donation.
curator/director: LÄLE SAYOKO
musician: KAMYAR ARSANI (daf/vocals)
dancers: PACO/FRANCISCO ORDÓÑEZ, FANNY PÉREZ GUTIÉRREZ, CHRISTOPHER PELHAM, LÄLE SAYOKO
video/editing: CHRIS FIORE
ABOUT THE ARTISTS
Kamyar Arsani is a multi-instrumentalist, singer and songwriter born and raised in Tehran, Iran. At age 7, Arsani began studying the daf (Persian frame drum) with Master Bijan Kamkar. He also spent time playing meditative rhythms for hours at a time for Sufis. In 2009 the Green Revolution in Iran brought Kamyar and his family to Washington, D.C., where he has been based ever since. He travels up and won the east coast playing daf and other instruments and singing and performing Sufi and Persian folk songs as well as his own compositions and contemporary music of all kinds.
Kamyar Arsani regularly travels to NYC to offer Persian Daf lessons at CRS. The Daf is a frame drum with lots of rings inside that you can shake when you play for added effect. It is an integral part of Sufi and Persian music because of the variety of sounds it can produce and its ability to induce trance. Kamyar learned from masters in Iran and has been playing and singing for decades. https://kamyararsani.bandcamp.com
Läle Sayoko lives to embody and transmit the voice of spirit through music and dance. As CRS Resident Sufi Dance instructor, choreographer, performing artist, and musical curator, she loves to welcome people into this holy practice to explore and share their own divinity. She intermittently tours internationally with BELLA GAIA, a live concert blending music, dance, technology, and NASA satellite imagery inspired by the experience of astronauts viewing the earth from space. "Sublime" — Village Voice.
One of the founding members of Japan's famous SAMANYOLU professional belly dance group in Tokyo, Läle went on to a long solo career performing throughout the northeastern USA and touring with United Kingdom's Mugenkyo Taiko Drummers on over a 100 city tour encompassing the U.K., as well as Turkey's Baba Zula. About six years ago, she was forced to retire to support her young daughter through a life-threatening medical crisis. Several years later she discovered that she could whirl as a form of prayer to support her daughter and began studying Sufi Dance with Paris-based Sufi Artist Rana Gorgani. In April 2018 Gorgani awarded her the International Sufi Dance Certification Of Cid UNESCO, granting her authority to teach Gorgani's method of Sufi Dance training. https://crsny.org/index.php/sufi-dance-music-art-at-crs/