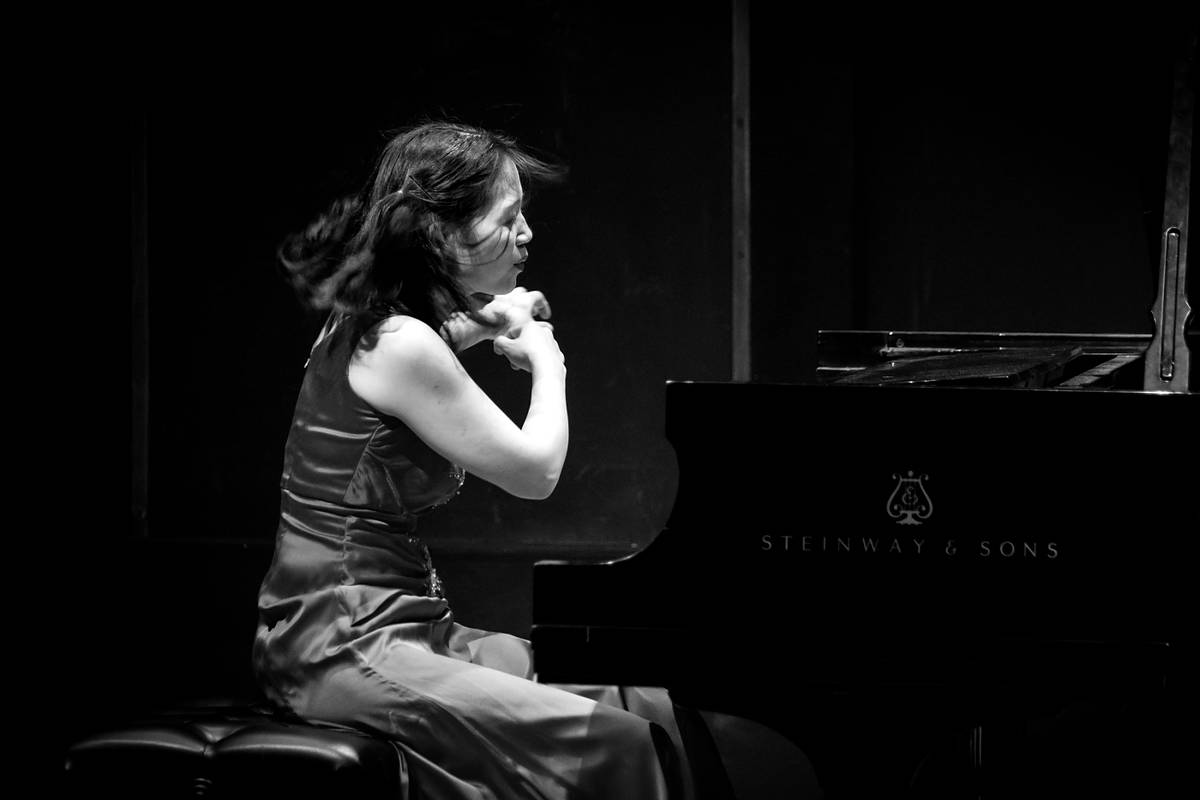 Crossing Boundaries Concert Series: Hyo Jee Kang and Friends
Friday, September 14, 2018
8 – 9:15PM
CRS presents Yut Nori / Mirror, an intimate evening of music intimately intertwined with conceptual visual art created by composer/pianist Hyo Jee Kang and dance artist Satoshi Haga. The performance will take place at CRS on Friday, September 14, 2018 at 8 pm. This program is Vol. 2 of the Crossing Boundaries — Echoes of Korea — Concert Series curated by Gamin.
Tickets are $20 in advance, $25 on the day of the performance, and $15 at the door for students and seniors with ID. Tickets are available online, by phone (212-677-8621) and at CRS.
The first work on the program, Yut Nori, is an experiment to create a music and dance performance by playing with the traditional Korean board game Yut Nori (윷놀이). The Yut game board depicts icons representing four gods, 36 constellations and five animals encircling a star that represents the eternal. Movement around the board brings us into contact with the choices, chance encounters, friendships and challenges we meet throughout life.
Composition by Hyo Jee KangCo-work and movement by Satoshi HagaOriginal composition by Hyo jee Kang and So-Ui LeeThe painting inspired by the Yut Nori game board, printed on canvas, is by Hyojee Kang and Wha Lee
The second work on the program, Conceptual Transformation II <Mirror>, transforms the poem "Mirror" by the avant-garde Korean poet Yi Sang (September 14, 1910 – April 17, 1937) into music. This is the fifth such transformation of this poem into music by Hyo Jee Kang and is part of her conceptual transformation series, in which she explores transformations from and to texts, notes, scores, images, paintings, feelings, stage arts, lights and voices.
CROSSING BOUNDARIES — ECHOES OF KOREA, curated by Gamin (piri, taepyeonso, saenghwang), provides musicians from Korea with space to experiment with the new, to collaborate across genres, cultures and disciplines, and to explore new ways of using creative communication to facilitate a shared practice of presence. The goal is to dissolve boundaries between performers and audiences, the traditional and contemporary, classical and experimental, Korea and the world.
Hyo Jee Kang has been focusing on transformation between media and objects to create a new art form. She works with media artists and live electronic performers presenting improvisation and recomposed composition as well as her originals. Her activity as a composer, performer, creator and improviser has been featured throughout the world in Germany, Spain, Italy, Korea, Japan, USA, Israel, and so on. Hyo Jee currently resides in New York City and serves as a faculty at Seoul National University. In May 2018, she gave her solo performance with great success at Lincoln Center, including the Conceptual Transformation Performance "Pyung Yang."
Hyo Jee's YouTube channel is youtube.com/hyojeekang.
Satoshi Haga grew up in rural Japan where he never thought he would ever become interested in dance. As a dancer, his works have been presented by venues including Aaron Davis Hall, Dia Art Foundation, The Madarts, Joyce SoHo, P.S. 122, Movement Research, 92nd street Y, Mulberry Street Theater, DanceNow [NYC], Brooklyn Arts Exchange, Japan Society in New York and Jacob's Pillow, The Yard in MA, and most recently at the Bargemon Festival in France. He has been collaborating with Jen Shyu (composer & Vocalist) and performing at Roulette, Jazz gallery and other music venues in New York, as well as choreographing and directing at the Tokyo Motor Show. binbinfactory.org
Organized by
Center for Remembering & Sharing
Contact
info@crsny.org