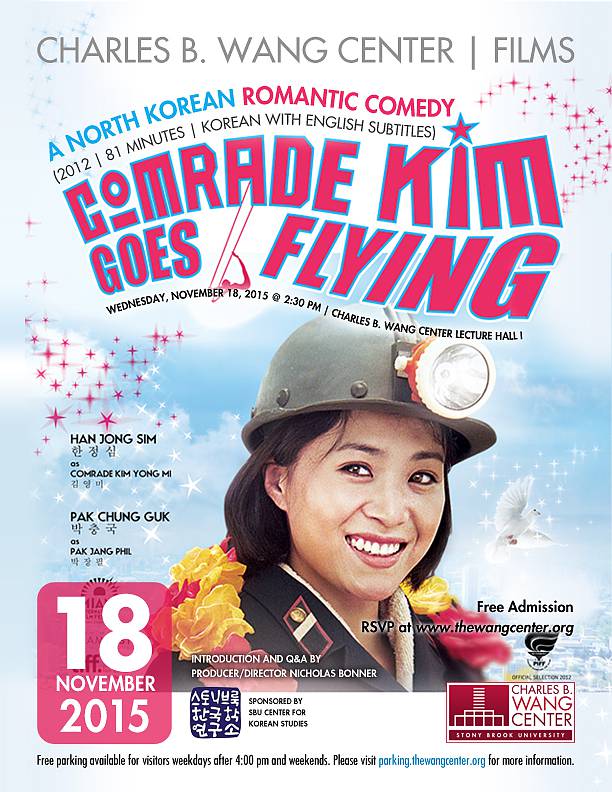 Comrade Kim Goes Flying
Wednesday, November 18, 2015
2:30 – 4:30PM
Comrade Kim Goes Flying is a 2012 joint British-Belgian-North Korean romantic comedy feature film, set and filmed in Pyongyang, North Korea. The film's star Han Jong-sim, a real life aerialist, took acting lessons especially for the film. She plays a young woman named Kim Yong Mi who is sent from her small mining town to Pyongyang to work at a construction site. She becomes a valued worker and pursues her dream of becoming a circus trapeze artists even as her family and community disapprove. This groundbreaking film tells a story not common in North Korea. It highlights feminist individualism and is void of propaganda. Unlike standard North Korean films, Comrade Kim Goes Flying avoids a leading man and a leading role for the state. Comrade Kim Yong Mi succeeds in winning over the circus bureaucracy and her nemesis, the circus strong man Pak Jang Phil (and his mother) by the strength of her talent, beauty, personality and cleverness.
(September 8th 2012 | 81 minutes | Korean (English subtitles) | Romantic Comedy | Directed by Nicholas Bonner Anita Daelemans, and Gwang Hun Kim)
Free Admission!
Introduction and Q&A by Producer/Director Nicholas Bonner
About Director-Producer Anja Daelemans
Anja Daelemans graduated from film school in Brussels as a radio and television director, but soon moved over to production. In 1996 she founded the production company Another Dimension of an Idea and began producing projects in 2001. To date her company has won 61 awards through the international film festival circuit. The highlights of her career are two Academy Award® nominations for the short films Fait d'Hiver and Tanghi Argentini. Comrade Kim Goes Flying is her feature directorial debut. Currently, she is working as a drama consultant on a number of television series.
About Director-Producer Nick Bonner
British filmmaker Nick Bonner had earned the trust of the North Korean government by producing the BBC documentary The Game of Their Lives, a largely positive depiction of North Korea's success in the 1966 World Cup. Bonner says Comrade Kim Goes Flyingwas largely inspired by the popularity of another girl-power film, Bend It Like Beckham. He and his colleagues struggled for six years to have the film approved and made for a North Korean audience. In order to remove state control he decided to take the footage out of the country to be edited.
About Director Kim Gwang Hun
Kim Gwang Hun graduated from the Pyongyang University of Drama and Cinema. He follows in the footsteps of his father who directed various films. Kim joined the Korea April 25th Film Studio in 1985 as an assistant director and in 2002, he directed his first feature Unforgettable Man. He remained making military-themed films until the opportunity arose to direct Comrade Kim Goes Flying, the making of which allowed him to take his first trip abroad, to Beijing, to edit the movie.
Organized by
Charles B. Wang Center
Contact
wangcenter@stonybrook.edu