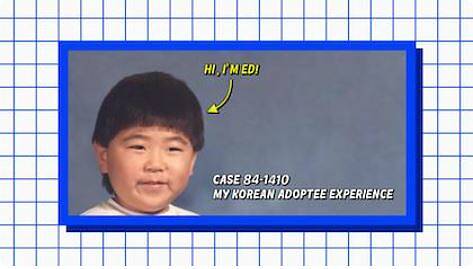 Performance
Case 84-1410: My Korean Adoptee Experience
Saturday, January 28, 2023
9:30 – 11PM
My name is Edward Yoo Pokropski and I am a Korean American Adoptee. I was abandoned at a young age and the circumstances around that event have largely been a mystery. In 2015, at the age of 32, I finally went back to Seoul, Korea to try and find some answers. It's taken me 7 years to fully express how I feel about the experience. Maybe I've been afraid, or lazy, or been trying to catch up on all the shows people tell me to watch. Case 84-1410 is a storytelling show that uses comedy to explore how media shapes our misconceptions about adoption. Compelling visuals from pop culture and personal pictures from my trip to Korea take the audience on a journey through my childhood, all the way up to the present day.
Edward is a Writer/Producer at NBCUniversal. He has been nominated for a daytime Emmy twice and won zero times. He is also an Executive Producer of the Asian Comedy Fest, the largest all-Asian comedy festival in the country.
**Content warning: Child abandonment
*Please note that this performance will be presented at the Tank's in-person performance space at 312 W 36th St. All attendees and artists will be required to display proof of full covid vaccination before being admitted to the space, either by showing a vaccination record (vaccination card) at least two weeks out from the final dose of an approved vaccine, or by using New York's free Excelsior Pass service, available here. Patrons will also be required to wear masks while indoors at all times and for the time being, no food or beverage will be permitted to be consumed at the theater.