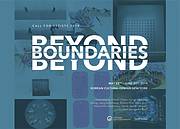 Call for Artists 2019 - Beyond Boundaries (Opening Reception)
Wednesday, May 22, 2019
6 – 8PM
Gallery Korea of the Korean Cultural Center New York is pleased to announce Beyond Boundaries - the first Call for Artists 2019 group exhibition of this year that showcases works by nine talented artists: Jihyun Hong, Nayoung Jeong, Jong Sook Kang, Bonam Kim, Gene Kim, Kieun Kim, Genevieve Quick, Jaime Sunwoo, and Jeongwon Yoon.
Call for Artists is a highly competitive program hosted by the Korean Cultural Center New York every year, and each artist is carefully selected by a group of internationally renowned curators and critics active in New York. For the 11th Call for Artists this year, Catherine J. Morris, Sackler Senior Curator for the Elizabeth A. Sackler Center for Feminist Art at the Brooklyn Museum, participated as a jury. For 12 years as an independent curator, Catherine J. Morris has organized several award-winning projects at major art museums and organizations on social and political issues, including exhibitions of feminist art. The panel also includes Hee Sung Cho, Curator at Korean Cultural Center New York, Kyunghee Pyun, Assistant Professor of Art History at Fashion Institute of Technology (SUNY), and Brooke Singer, Associate Professor of New Media at Purchase College (SUNY).
Beyond Boundaries presents works of the selected artists whose practices range across diverse mediums and go beyond traditional artistic boundaries. This group show of 9 artists introduces a large number of experimental works of different genres, including installation, painting, illustration, video, and sculpture. Curator Hee Sung Cho at the Korean Cultural Center New York remarked, "As artists who view the world through a delicate and sensitive perspective, and as individuals who are living in this complicated and fast-changing contemporary society, the artists show how they each experience today's dynamic world. This show hopes to allow the viewers to discover and identify with their new, exciting viewpoints."
New York-based artist Jihyun Hong's installation work explores how graphic images that are consumed through monitors have real-life effects. Nayoung Jeong introduces a performance video on the themes of identity and sense of belonging, and Jong Sook Kang an installation piece which shows a scenic view of Manhattan through abstract expression, using apples as the medium. Bonam Kim examines the relationship between place and identity through miniature figures, sculptures, and video works, while Gene Kim explores the theme of communication and the relationship between language, environment, image, and object through an animated piece.
An abstract form of a silkworm cocoon in Kieum Kim's installation work expresses a self that dreams of purification and a hope to move forward. Genevieve Quick and Jaime Sunwoo tell stories of Asian American identity through a performance video work based on the Korean moon jar and an installation that shares the memory of Spam, an American icon of canned cooked pork, respectively. Jeongwon Yoon resists today's institutionalized world and longs for freedom through her chandeliers and installation works.
The opening reception of <Beyond Boundaries> will be held on May 22nd from 6 pm to 8 pm at Gallery Korea of the Korean Cultural Center New York, joined by participating artists and prominent art professionals. Detailed information can be found on the Korean Cultural Center New York website (www.koreanculture.org).
Organized by
Gallery Korea
Contact
gallerykorea@gmail.com