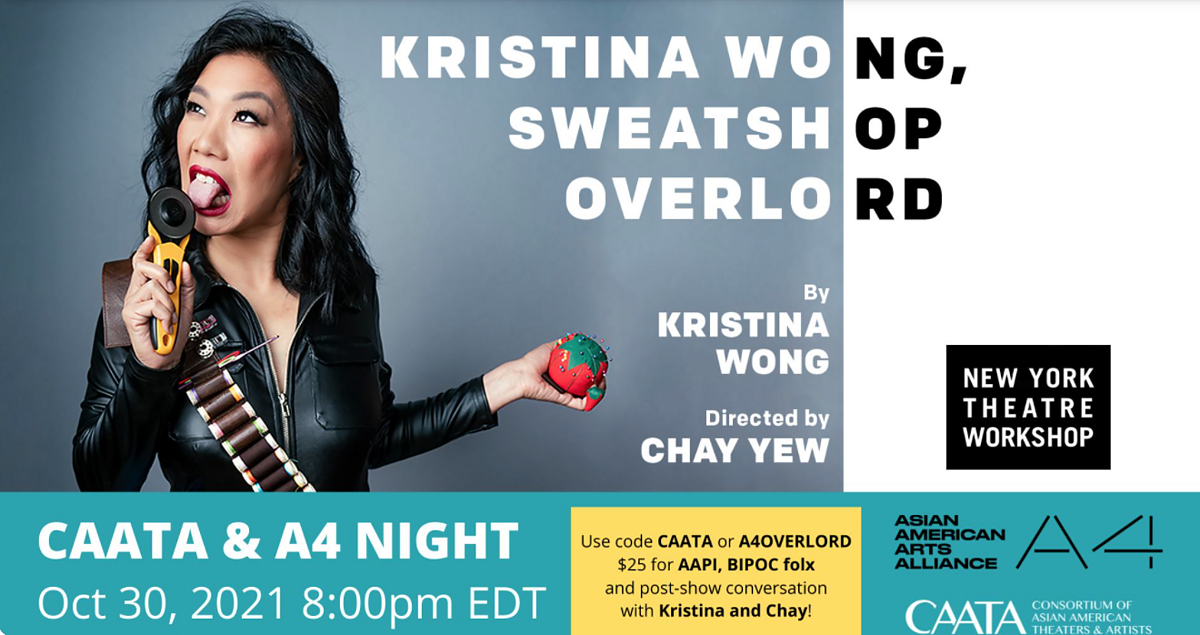 Performance
CAATA & A4 Night: Kristina Wong, Sweatshop Overlord
Saturday, October 30, 2021
8PM
Use code "A4OVERLORD" for $25 tickets for the Saturday, October 30th performance!
Consortium of Asian American Theaters and Artists (CAATA), Asian American Arts Alliance (A4), and New York Theatre Workshop are hosting a special performance for AAPI, BIPOC artists & activists and allies on Saturday, October 30th at 8pm EDT!
Spend a night of live theatre with community and conversation. Learn more about CAATA, A4, and mutual aid groups.
There will be a special post-show conversation with performer and writer Kristina Wong and director Chay Yew.
On Day 3 of the COVID-19 pandemic, Kristina Wong began sewing masks out of old bedsheets and bra straps on her Hello Kitty sewing machine. Before long, she was leading the Auntie Sewing Squad, a work-from-home sweatshop of hundreds of volunteers—including children and her own mother—to fix the U.S. public health care system while in quarantine. It was a feminist care utopia. Or was it a mutual aid doomsday cult?
For more information about the show, purchase tickets, and learn more about COVID-19 protocols visit nytw.org