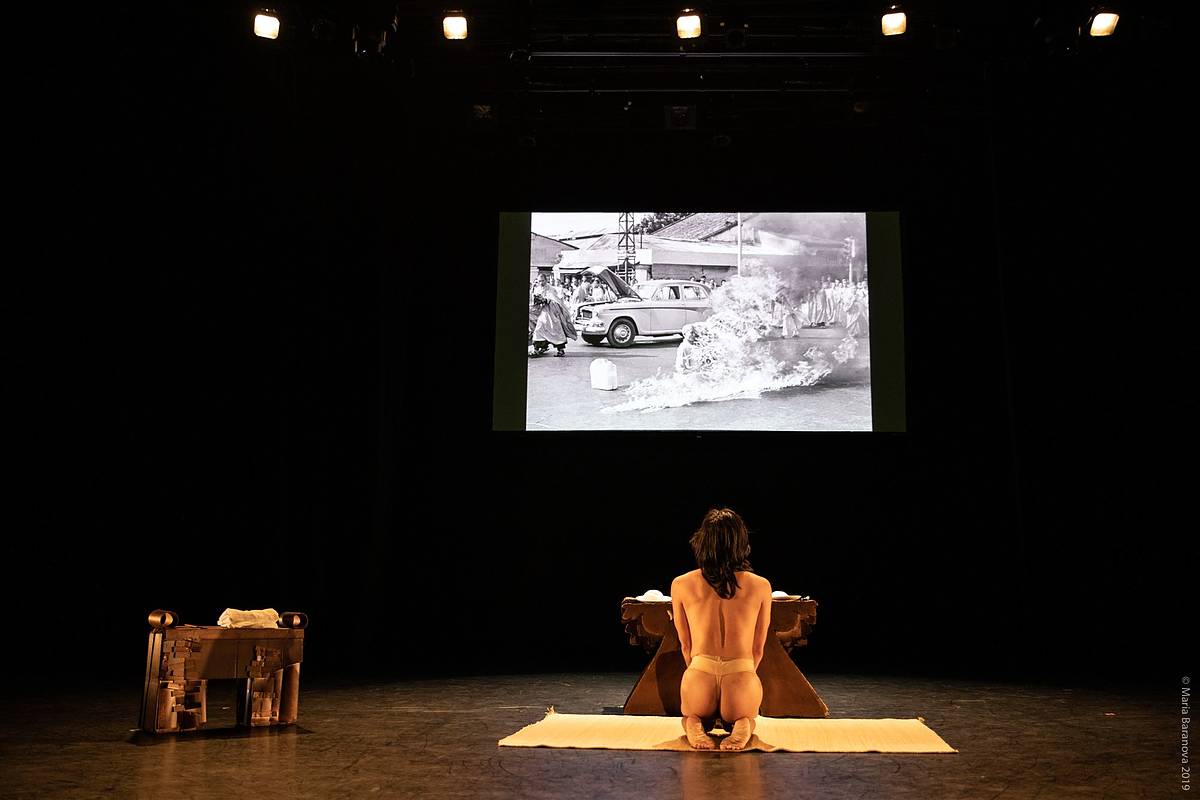 Performance
Bridge Street Theatre presents BABYLIFT by Anh Vo
Saturday, January 16, 2021
7 – 9PM
BABYLIFT by Anh Vo
January 4 - 17
Digital performance excerpt showing on January 16, 7pm
A fragmented and collaged multi-media solo work, Anh Vo's BABYLIFT combines the terror and pleasure of erotic hauntings. Named after a 1975 mass evacuation of children from South Vietnam to the U.S., resulting in a plane crash that killed 78 of those children, BABYLIFT attempts to conjure the ghosts of the Vietnam War and confronts the afterlives of the Vietnam War (a.k.a. the Resistance War Against Imperialist America). Striving to queer a linear masculinist history, Vo weaves materials from this historical archive together with cultural memories of the Civil Rights Movement, USAmerican freedom fantasies of the 1960s, contemporary pop culture, and current leftist activism. These layers of narrative create an uncanny, abstract, yet emotionally-charged space that serves as both a memorial for the unmourned, unremembered and a reckoning for the witnesses of this ghostly presence.
Immediately following the Bridge Street Theatre residency, BABYLIFT will premiere as part of Target Margin Theater's Spring 2021 season.
BABYLIFT was originally commissioned by the Fresh Tracks program at New York Live Arts, supported, in part, by the National Endowment for the Arts; is sponsored, in part, by the Greater New York Arts Development Fund of the New York City Department of Cultural Affairs, administered by Brooklyn Arts Council (BAC). The work is developed through residencies at Jonah Bokaer Arts Foundation, University Settlement (Performance Project Fellowship), Brooklyn Arts Exchange (Space Grants), New Dance Alliance (LiftOff), and Bridge Street Theatre. BABYLIFT has received additional funding from the Foundation of Contemporary Arts and Women and Performance: a journal of feminist theory.
Anh Vo is a Vietnamese choreographer, dancer, theorist, and activist. They create dances and produce texts about pornography and queer relations, about being and form, about identity and abstraction, about history and its colonial reality. Their choreographic works have been presented nationally and internationally by Target Margin Theater, Dixon Place, MR @ Judson, Brown University, Production Workshop, Centro de Arte Dos de Mayo (Madrid), greenroom (Seoul), Montréal arts interculturels (Montréal), among others. As a writer, they are the Co-Editor of Critical Correspondence, a frequent contributor to Anomaly, and a blogger at Cultplastic. Currently based in Brooklyn, they earned their degrees in Performance Studies from Brown University (BA) and New York University (MA). anhqvo.com
Related Events
Performance
02/19/21 – 02/21/21
BABYLIFT