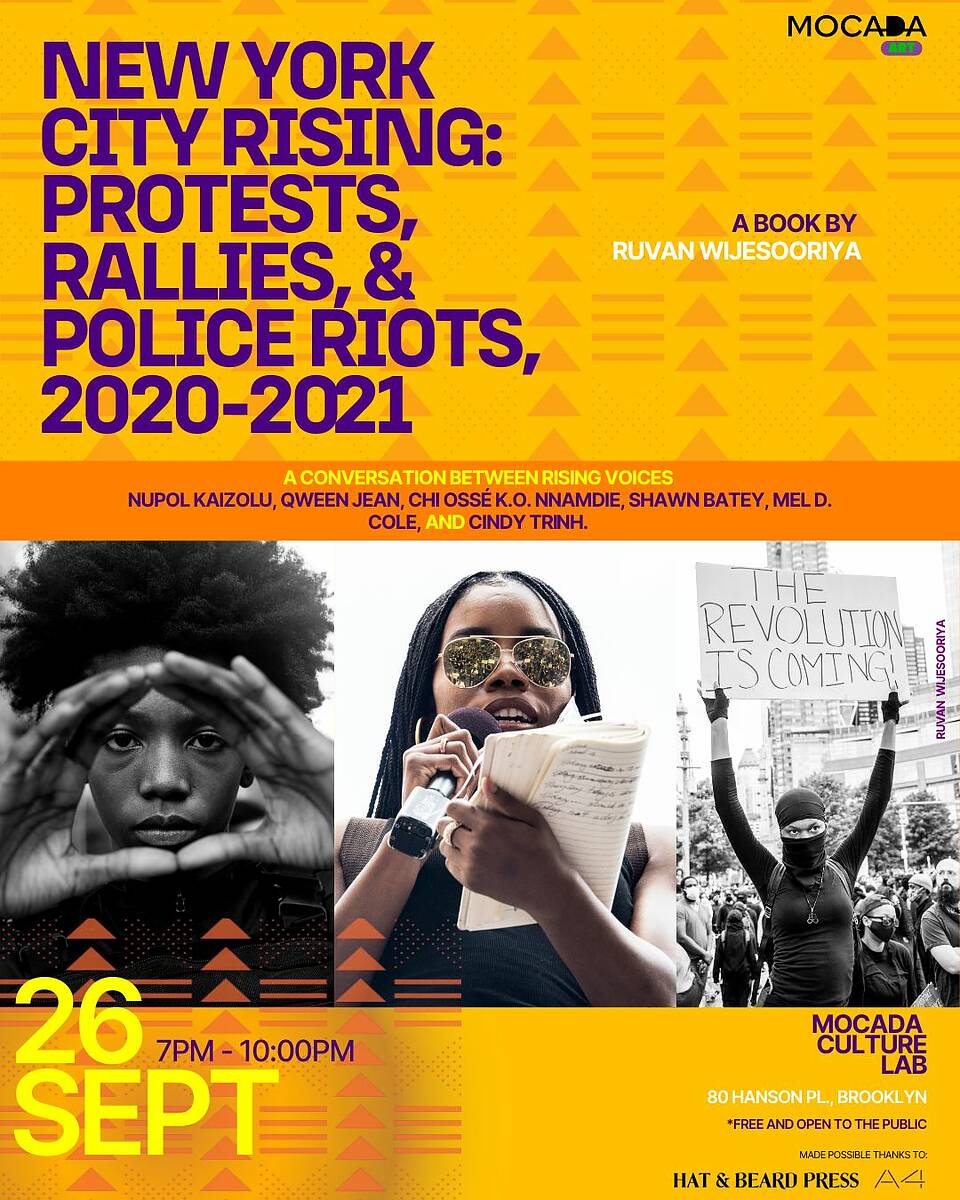 Book Signing
Book Launch for New York City Rising: Protests, Rallies and Police Riots
Tuesday, September 26, 2023
7 – 10PM
Join Asian American Arts Alliance and MoCADA for a special event celebrating the release of the long-anticipated book by photographer Ruvan Wijesooriya entitled, New York City Rising: Protests, Rallies, and Police Riots, 2020-2021, a collection of images that captures in vivid detail the spirit of recent social movements that took to the streets of New York City. Experience the power of civil unrest via the thought-provoking voices of artists/activists Nupol Kiazolu, Qween Jean, Councilmember Chi Ossé, Mel D. Cole, K.O. Nnamdie, Shawn Batey, and Cindy Trinh.
This in-person event offers a unique opportunity to witness the city's resilience and the organizers who continue to lead the charge of social justice. Get ready to be inspired, educated, and engaged as we explore the events that defined this generation. Presented by the Museum of Contemporary African Diasporan Art and Asian American Arts Alliance. See you there!
Doors open at 7:00 PM. Limited Seating. Refreshments will be served.
ABOUT THE BOOK
The chronological story begins with the police riots in Chinatown and Barclay's Center on May 29th and ends with the anniversary of George Floyd's murder. It offers a foreground, a middle, and a background for the breadth of the movement, and reveals a sincere fascination with and dedication to defining the city—his home for two decades—as he captures a transformation.
Ruvan Wijesooriya is known for his interactive exhibitions and his photography in music, fashion, and nightlife—much of it being captured in motion and relating to cultural evolution, youth rebellion, appropriation, and re-use of public space. After being paid a kill fee by a national magazine when he turned in his photos of the police riots, Ruvan knew the real story was not being told. He began shooting for a range of protest organizations. The result is this visual story about NYC during the biggest uprising in American history.
New York City Rising includes contributions from Qween Jean, K.O. Nnamdie, Shawn Batey, and Enos Nyamor.
The book is available for purchase.
ABOUT THE AUTHOR
Ruvan Wijesooriya is a photographer born in Duluth, Minnesota and based in New York City. His documentary approach to photography explores a universal and nostalgic visual language of the surrounding world. He helped manage and contributed to the upcoming Revolution is Love book by Aperture. His other books include Greetings from Sweden, Yearbook Afghanistan, LCD [Soundsystem], Yucatan, All Night New York, and Masculinism. He has been published in The New Yorker, the New York Times, New York Magazine, Vogue, Elle, Time, and others.
Made possible thanks to NYC Coalition for Theaters of Color, NYC Department of Cultural Affairs in collaboration with City Council, and Department of Youth and Community Development.