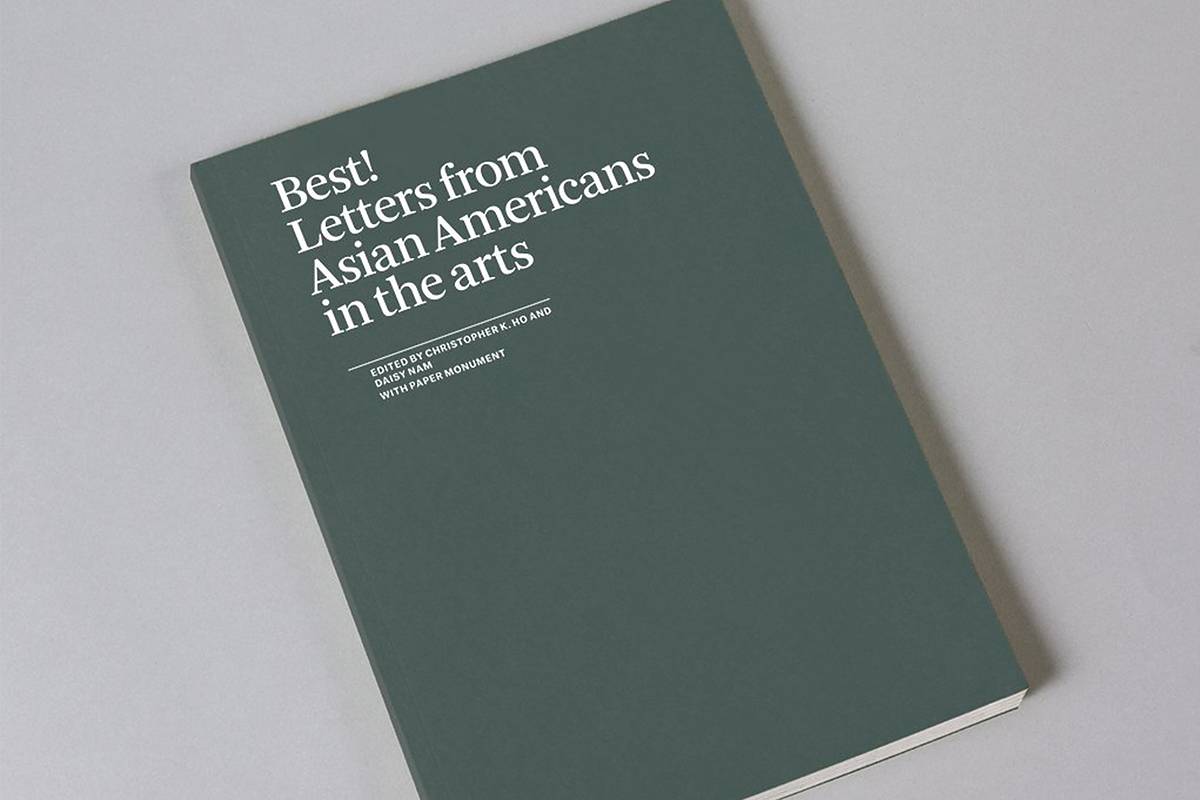 ConversAAtions
Best! Letters from Asian Americans in the Arts
Tuesday, April 13, 2021
6 – 7PM
Join Asian American Arts Alliance (A4) and Paper Monument as we celebrate the publication of Best! Letters from Asian Americans in the Arts, a collection of seventy-three letters by Asian American artists, curators, educators, art historians, editors, and designers. Co-editors Christopher K. Ho and Daisy Nam will speak about the genesis of this unique project and will be joined by artist and contributor Sung Hwan Kim who will discuss their decades-long friendship and correspondence with Chitra Ganesh*–writing, messages, phone calls, and drawings–probing the systemic erasures of Asian histories in America.
*Chitra Ganesh was originally scheduled to join the talk but is no longer able to attend.
RSVP is required. All registered attendees will receive a Zoom link to this online program.
Pre-order your copy of Best! Letters from Asian Americans in the Arts here.
Chitra Ganesh is a Brooklyn, NY–based artist whose practice brings to light narrative representations of femininity, sexuality, and power typically absent from canons of literature, history, and art. Her drawings, prints, comics, installations, and videos combine and subvert Hindu and Buddhist mythology, South Asian pictorial forms, 19th-century European portraiture, and fairytales, linking these to contemporary visual culture. Her work has been the subject of solo presentations at the Brooklyn Museum, New York, NY; the Andy Warhol Museum, Pittsburgh, PA; Göteborgs Konsthall, Gothenberg, Sweden; the Kitchen, New York, NY; the Rubin Museum of Art, New York, NY; and MoMA PS1, New York, NY, among others. Ganesh was awarded a Hodder Fellowship for the 2017 – 2018 academic year at Princeton University's Lewis Center for the Arts. She is the recipient of numerous other residencies and grants, including a Guggenheim Fellowship, a Pollock–Krasner Foundation grant, and an Anonymous Was A Woman award in 2020. Ganesh's works are held in the public collections of the Philadelphia Museum of Art, Philadelphia, PA; the San José Museum of Art, San José, CA; the Baltimore Museum, Baltimore, MD; the Museum of Modern Art, New York, NY; and the Whitney Museum of American Art, New York, NY. Her installation A city will share her secrets if you know how to ask is currently on view at the Leslie–Lohman Museum of Art, New York, NY.
Christopher K. Ho 何 恩 懷 (b. 1974, Hong Kong) is a speculative artist based in New York, Hong Kong, and Telluride, Colorado. His practice encompasses making, organizing, writing, and teaching. He is known for materially exquisite objects that draw from learned material about, and lived encounters with, power and otherness in an unevenly decolonized, increasingly networked world. Recent solo shows include Embassy S_ites at Tomorrow Maybe in Hong Kong (2019), Dear John at the Brooklyn Academy of Music (2019), Aloha to the World at the Don Ho Terrace at the Bronx Museum (2018), and CX 888 at de Sarthe Gallery, Hong Kong (2018). His multi-component projects have been exhibited at Asia Society Hong Kong, UCCA Beijing, ParaSite, the Guangdong Times Museum, the Queens Museum, the Cranbrook Art Museum, MASSMoCA, Storm King, and in the Incheon Biennial and the Busan Biennale. He is currently at work on a solo exhibition for 56 Henry, to open May 13. His work has been featured in the New York Times, Artforum, Art in America, Modern Painters, LEAP, South China Morning Post, Frieze, Hyperallergic, BOMB, Art Asia Pacific, Ocula, Yishu, RanDian, and ArtReview.
Sung Hwan Kim (b. 1975, South Korea) has most recently exhibited his work at the National Museum of Modern and Contemporary Art, Gwacheon, South Korea ; daadgalerie, Berlin, Germany; the 57th Venice Biennale, Venice, Italy; and Berwick Film and Media Arts Festival, Berwick, UK. With David Michael DiGregorio, he inaugurated the Asian Arts Theater, Gwangju, South Korea, with the operatic theater piece 피나는 노력으로 한 [A Woman Whose Head Came Out Before Her Name] (2015) and created two radio plays, commissioned by Bayerischer Rundfunk: one from in the room (2010), which won the Karl-Sczuka-Förderpreis, and Howl Bowel Owl (2013). His solo exhibitions include Sung Hwan Kim, CCA Kitakyushu, Japan; Life of Always a Mirror, Artsonje Center, Seoul, South Korea; Sung Hwan Kim, the Tanks at Tate Modern, London, UK); Line Wall, Kunsthalle Basel, Switzerland; as well as Sung Hwan Kim, From the Commanding Heights…, Queens Museum, New York, NY, and Golden Times Part 2: Sung Hwan Kim, Haus der Kunst, Munich, Germany . His works have been shown in the Gwangju Biennale, Performa, Manifesta, Berlin Biennale, Rotterdam International Film Festival, and Rencontres Internationales Paris/Berlin, among others. He was a fellow at the Rijksakademie van beeldende kunsten (2004 – 2005) and a recipient of Berliner Künstlerprogramm des DAAD (2015). His publications include Talk or Sing (distributed by Artsonje); Ki-da Rilke (distributed by Sternberg Press); and When Things Are Done Again (distributed by Tranzitdisplay). He is currently working on a new piece commissioned by GB Foundation for the Gwangju Biennale in 2021.
Daisy Nam is the curator at Ballroom Marfa, a contemporary art space located at the borderlands of Far West Texas. Previously from 2015–19, she was the assistant director at the Carpenter Center for the Visual Arts, Harvard University where she organized exhibitions, publications, and public programs working closely with artists to engage with the campus community and public at large. Prior, she curated and produced seven seasons of talks, screenings, performances, and workshops from 2008–2015 as the assistant director of public programs at the School of the Arts, Columbia University. Curatorial residencies and fellowships include: Marcia Tucker Senior Research Fellow at the New Museum, New York (2020); Bellas Artes, Bataan, Philippines (2020); Surf Point in York, Maine (2019); Gwangju Biennale Foundation, Korea (2018). She holds a master's degree in Curatorial and Critical Studies from Columbia University and a bachelor's degree in Art History and Cinema Studies from New York University.